Old-style music classes offer higher-class instruction
December 11, 2014 - 2:00 am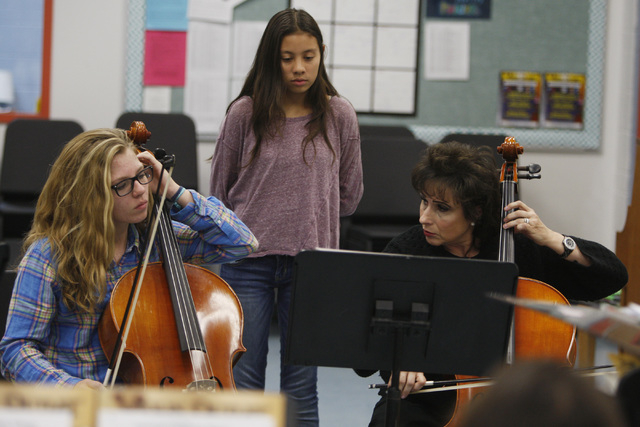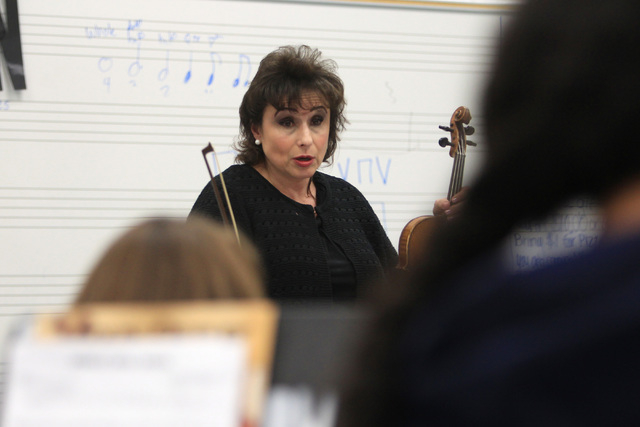 Las Vegas is no stranger to the art community. The downtown area is filled with artists, performers, musicians and a glut of studios to teach students the tricks of the trade.
Although thankful for the opportunities, northwest residents Mandy Hubbell and Kristin Bushman did not want to drive 20 minutes downtown to provide their children with a decent music instructor. Instead, they decided to start their own music program: Iron Mountain Music Studios.
"We got to talking about how we wanted more opportunities in the north end of town for our own kids and other young musicians in the area," said Hubbell, co-owner of the studio. "There are a few music studios near downtown, but we just didn't want to drive that far. We have a lot of talent up here, so we decided to organize it and open our own music studio."
Hubbell, along with co-owner Bushman, approached recently retired orchestra teacher Stephanie Smith to teach group lessons to students who are taking private classes or learning instruments in school.
"This program is for students who need additional reinforcement," Smith said. "The classes are centered on personalized feedback. I'm old-school. I have high expectations, and I believe every student is capable."
Before retiring, Smith was an orchestra teacher in the Clark County School District for 27 years. She began her teaching career in 1982 in St. George, Utah.
She studied music performance with George Sopkin and the Fine Arts Quartet at the University of Wisconsin-Milwaukee and graduated with a degree in music from Brigham Young University.
"She taught two of my kids and made them into accomplished players," Bushman said. "When I found out Ms. Smith was retiring, I was devastated because I wanted my daughter to have what I call the Ms. Smith experience."
Since securing a room at Shadow Ridge High School, the studio is able to offer tuition at $60 a month for small group instruction or $50 a month for ensemble classes with a $15 registration fee. Tuition is due by the first lesson of each month.
Lessons offered include intermediate sinfonia orchestra, advanced chamber orchestra and beginning, intermediate and advanced violin, viola and cello. Classes are taught once a week for one hour every Tuesday or Thursday.
"Even though she's tough, she does it for good reason," said Alyssa Ounphonchareune, 14 and a student. "She's a really good teacher. She's very precise and really cares about her students."
There are two instructors and 30 students enrolled at the studio.
"The benefits of taking a music class like this is that it's a little more personal," said Valerie Reives, the other instructor at the studio. "You get that extra attention that you wouldn't receive in a bigger class."
Students who miss a class are welcome to attend another class if there is an opening, but participants must arrive 10 minutes before their lesson time.
"A lot of parents are familiar with Ms. Smith and her reputation," Hubbell said. "Her teaching style really makes all the difference."
The studio has a holiday music performance scheduled at 5 p.m. Dec. 13 at Town Square Las Vegas, 6605 Las Vegas Blvd. South.
To register or for more information, visit ironmountainmusicstudios.com or call Bushman at 702-376-4577.
Contact North View reporter Sandy Lopez at slopez@viewnews.com or 702-383-4686. Find her on Twitter: @JournalismSandy.