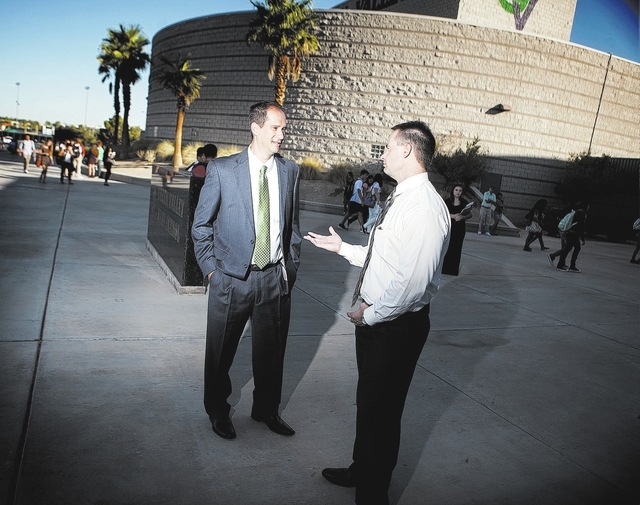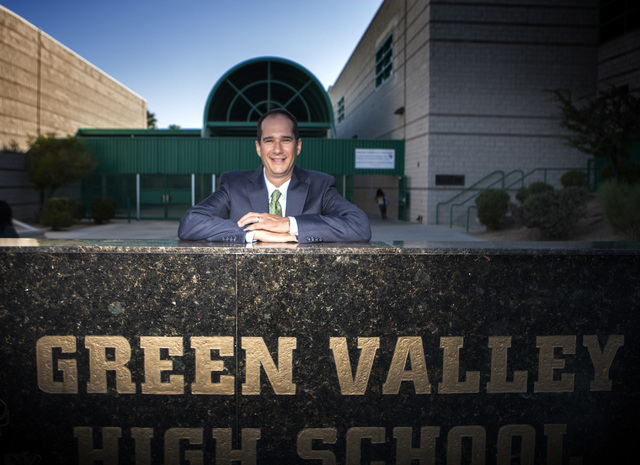 Stepping into his Clark County School District office, it's not hard to know where Jeffrey Horn transferred from just by looking at the decor.
With Gator pens, hats, photos and statues, the Henderson resident's pride in Green Valley High School runs deep.
After a 23-year run as teacher and administrator at the school, 460 Arroyo Grande Blvd., Horn now serves as an assistant chief student achievement officer for Performance Zone 10.
His new role is to supervise the schools that feed into Green Valley and Silverado high schools, which includes 12 elementary schools and three middle schools.
"I just think it was time in my career to do something a bit different and experience a new supervisory role where I'm able to spread out and affect more teachers and administrators," Horn said, "but I will always, always, always miss Green Valley and being in the classroom."
Born in Washington, Horn moved to Las Vegas with his parents in elementary school. He graduated from Chaparral High School, 3850 Annie Oakley Drive, in 1981.
"I went to UNLV and got a degree in secondary education in math," Horn said. "I started teaching math at Rancho High School in 1988 and opened Green Valley in 1991 as a math teacher."
Horn taught math at Green Valley for eight years before becoming a dean, generally handling student discipline and school security.
"I actually enjoyed being a dean. It was one of my favorite jobs, honestly," Horn said. "It was about separating the behavior from the student. I've always connected with kids who have challenges, and I love watching them grow and improve their lives."
In 2001, Horn became assistant principal. Two years later, he was named principal.
"Being a principal is completely different because you're in charge, and your personality and philosophies emanate with the rest of the staff," Horn said. "If you're full of life and excitement, your staff is going to feel that. If you're subdued and negative, they will pick up on that, too."
As principal, Horn said he stood up for the students and school, despite being involved in some controversial decisions.
Green Valley became the first public high school in Nevada in 2008 to implement a student drug testing program for its sports, band, choir and other clubs that traveled.
"We saw a climb, not just in our school but overall, where drugs were a destructive force in kids' lives," Horn said. "We did a lot of research and brought in the school and community, and what came of it was to start the program."
The school provides counseling and resources for the students who test positive, Horn said.
"It also gives kids the option to say, 'No, I want to play basketball, and I might get tested,' " he said. "It gives them the ability to save face in front of their friends and not have that peer pressure."
In 2009, a court case was filed against the school to prohibit its theater students from performing "The Laramie Project," a play about the murder of a gay college student in Wyoming, and "Rent," a musical about artists coping with AIDS and drug addiction.
Despite an uproar from some parents, the school was given permission to continue with the performances.
"It was a controversial thing, but I supported the kids because they were passionate about the messages of the productions," Horn said. "I always tried to stand up for what was right and never said 'no' just to take the easy way out."
In addition to the controversial milestones, Horn enjoyed listening to the school's symphonic band perform at Carnegie Hall in New York and in President Barack Obama's 2009 inauguration parade.
He walked with the marching band in the Macy's Thanksgiving Day Parade and watched theater students perform "Mary Poppins" at The Smith Center, 361 Symphony Park Ave.
"In a district this size, it's very uncommon for someone to stay at the same school for as long as I did," Horn said. "There were hints and nudges to move and go, but I always rebutted them. I enjoyed it too much to leave."
Kent Roberts replaced Horn after serving three years as principal at Boulder City High School. He said he will have to adjust from running a school of about 600 students to one of almost 3,000.
"Obviously the size differential makes the jobs a little different," Roberts said. "At Boulder City, I had to have my hands directly on many different programs. Green Valley is more complex because of its size, so I won't be able to touch as many programs directly."
In addition to increasing graduation rates and academic performance, Roberts said he hopes to produce "intelligent, well-rounded, responsible citizens that will help make our community a better place."
For more information, visit greenvalleyhs.org.
Contact Henderson View reporter Caitlyn Belcher at cbelcher@viewnews.com or 702-383-0403.