Parent advocacy group brainstorms education funding options
December 15, 2014 - 10:00 am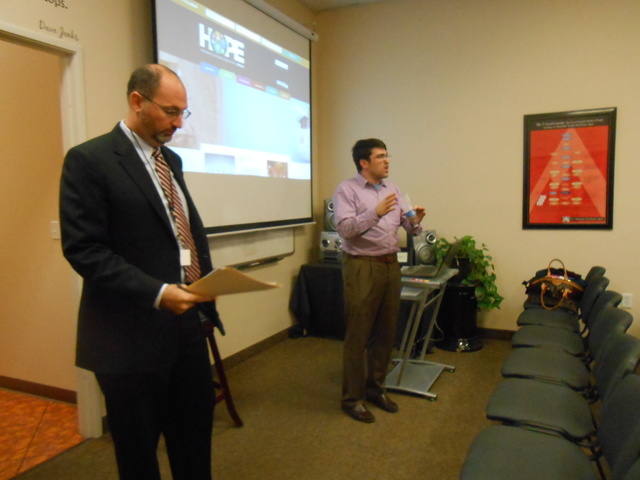 The statistics are staggering: Nevada ranks last in education funding.
According to Education Week's 2014 Quality Counts report, which evaluates school systems in every state and Washington, D.C., Nevada earned a "D" and was in the bottom 10 states for fourth-grade reading and math and in eighth-grade math. The state's graduation rate – 63 percent – ranked 48th nationally.
To combat numbers such as these, a grass-roots parent advocacy group, HOPE (Honoring Our Public Education), has sprung up in Southern Nevada in the past couple of years.
Jenn Blackhurst, president of HOPE, said the group has 215 members and that she'd like to grow it to thousands of parents. She has three children, a daughter in college and two sons, 14 and 17.
"We're here to represent the parents of children in the school district and help facilitate more at a legislative level," Blackhurst said. "… Our message is that we need to have a priority on education."
She said taxes collected in the name of education should be funneled to schools and not redirected to non-education issues. HOPE's other goals include all-day kindergarten, preschool opportunities for at-risk students and professional development so teachers are more effective.
The Clark County School District is the fifth-largest in the nation and continues to grow. In a perfect world, said Blackhurst, the school district would have 28 more schools to handle current demands.
HOPE held a Lunch and Learn program Nov. 13. Speakers included Seth Rau, policy director for education advocacy group Nevada Succeeds, and Craig Stevens, director of intergovernmental relations for the school district.
Stevens said the newest piece in the education-funding arsenal is the State Fiscal Stabilization Fund. The program was a one-time appropriation of $53.6 billion under the American Recovery and Reinvestment Act of 2009. The funds helped stabilize state and local government budgets in order to minimize and avoid reductions in education and other essential public services. The school district received approximately $82,239,828.
The school district has a $6 million surplus in a $3 billion program.
"Because of the Great Recession, the Legislature had no backup," Stevens said. "It had fewer dollars coming in and couldn't afford to pay for the programs it had in place. The Legislature was in a bind. So, they had to cut, cut, cut. If you take that $6 million and had taken (similar surpluses) over the last 12 years, they wouldn't have had to cut a dime. They would have been able to move forward and not raise taxes."
HOPE noted that Nevada's funding formula for education was developed in 1967 and has seen little change since then.
"Our No. 1 priority is the literacy rate crisis in Southern Nevada," said Rau, "the fact that 39 percent of fourth-graders can't read at (grade) level."
According to the National Assessment of Educational Progress, 39 percent of Nevada's fourth-graders are reading at below acceptable levels, which means they are able to read the words but not comprehend their meaning.
Rau said the state is looking at social impact bonds and other mechanisms where the private sector can invest money into high-quality programs so more children, especially those from low-income families, have access to pre-kindergarten programs.
Social impact bonds, also known as pay for success contracts, bring together private investors, a financial intermediary, a government agency and one or more social service providers. Together, they create a contract with specific performance measures in order to achieve a specific social outcome, such as higher literacy or graduation rates.
In a report from the Annie E. Casey Foundation, Nevada had the lowest preschool participation rate in the country, with 30 percent of children in pre-kindergarten programs. The national average is 46 percent.
"If we can get them into the system earlier, it's more likely they'll (perform) at grade level and save a lot of money in the long run," Rau said. "We'd rather be investing early in kids than invest in on the back end in the welfare system and the prison system."
For more information on HOPE, visit hopefornevada.org.
Contact Summerlin Area View reporter Jan Hogan at jhogan@viewnews.com or 702-387-2949.