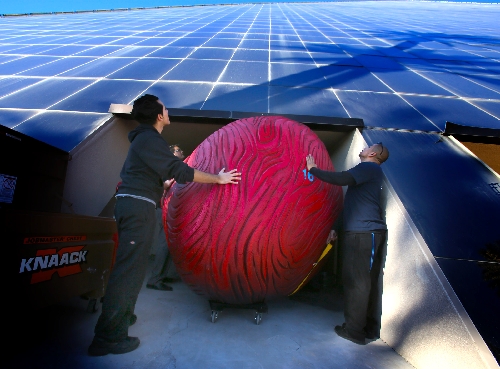 Brian Cirricione , 28, sees some wild things as a paramedic.
Nearly every day, something new and crazy comes along that tops what he did and saw the day before. So he hesitates to describe the wildest thing he's ever seen.
But this, he says, this is pretty wild. A 600-pound heart being hauled along the Strip?
"It's definitely a first," he says as he follows behind the heart in his Medic West ambulance. "Right?"
Cirricione was part of a unique caravan Friday morning: Four Medic West ambulances, with lights flashing, escorted a giant, anatomically correct heart to Luxor. There, it was met by heart coach Amanda Daniels, a spokeswoman for the American Heart Association.
"Bodies … The Exhibition" brought the heart to Luxor to highlight National Heart Month, which runs through February. The heart sculpture – made of foam and covered with red paint used for car exteriors – was originally commissioned by the attraction as a fundraising tool in New York. Once it serves its purpose in Las Vegas, it will be stored until it's needed again.
Measuring 11 feet tall, 7 feet wide and 13 feet long, the heart wasn't visually as massive as its weight and dimensions suggest. But the spectacle of transporting and debuting it was.
After the caravan along the Strip, which drew curious looks from joggers and early morning tourists, Daniels posed with the foam sculpture until a crew broke the heart in two and carried it to its pedestal in the hotel's lobby. About 150 Cheyenne High School students crowded around the sculpture to hear Daniels as she talked about her own heart.
Daniels, who coaches people on how to heal their broken hearts while living a heart-healthy lifestyle, described being diagnosed with an irregular heartbeat at 18, after a visit to the dentist to get her wisdom teeth pulled. She stressed the importance of being aware of what the teenagers put in their bodies and she asked them to help get the message out about heart health.
"One in every three women die from heart disease while one in 30 women die of breast cancer," Daniels says.
Heart disease is the leading cause of death in the United States, according to the Centers for Disease Control and Prevention.
Daniels made the students laugh as she described being hooked up to a heart monitor in the dentist's office and freaking out when she thought she had no heartbeat. The monitor was simply unplugged.
Daniels held the students' attention with her story, getting "oohs" and "ahhs" from them a couple of times. One girl nearly fainted from what she later said was hunger and sadness over the thought of people dying from heart disease. Luckily, paramedics were already on the scene. Friends pumped juice and Starburst candy into the girl and she continued with the field trip.
For the past six years, teacher Jennifer Thomas has brought her early childhood development students to the "Bodies" exhibit, mainly to see the fetal development gallery. It helps the students better understand the material they're learning in class, Thomas says.
This year, their visit coincided with the giant heart's arrival. She planned to discuss the heart and heart disease with her students on Monday. Several students told Thomas that they were affected by Daniels and her speech.
"It was, like, interesting," says Jo Melendrez, 17. "I can relate to it because I was a premature baby and had heart problems."
When she saw the heart, Melendrez thought "it was interesting. I was like, that's what our heart looks like," she says. "I wondered how it got here?"
Contact reporter Sonya Padgett at
spadgett@reviewjournal.com or 702-380-4564.
Follow @StripSonya on Twitter.