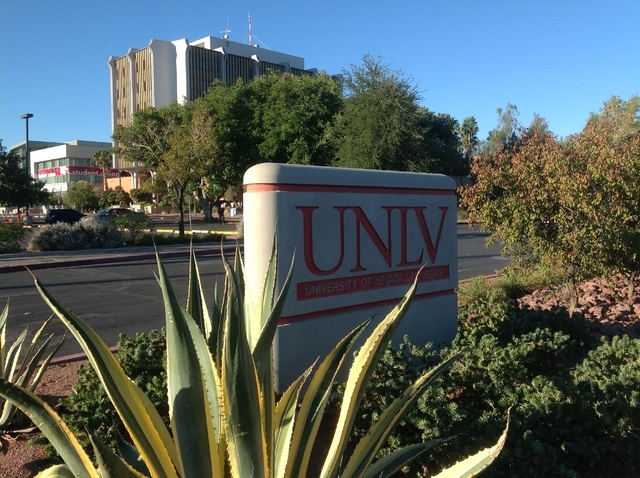 In 2010, Lea Williams decided to finish what she had started 20 years earlier — her bachelor's degree in education.
The bad economy and the Grant-in-Aid program at the University of Nevada, Las Vegas spurred her return to the classroom.
"I just said, 'Enough is enough,'  " the 42-year-old administrative assistant in UNLV's Department of English said last week. "The economy was getting worse, and the only way that I could see myself advancing in the workforce was to finish my degree."
Williams completed her undergraduate degree in 2012 and is now working toward a master's degree in education.
The nontraditional student is among many UNLV employees who are taking advantage of the Grant-in-Aid program. The program, funded by the state, provides educational assistance to academic faculty, professional employees, classified employees and part-time employees and instructors who want to advance their education.
Program participants are able to attend classes at a discounted rate, which varies according to their position with the university. Most of them can take only a maximum of six credits per semester, the cap set by the program. Dependents of academic faculty and professional employees also are eligible for the benefits.
The program helped finance Williams' bachelor's degree and now helps pay for her graduate classes.
As of the beginning of October, the number of UNLV employees taking classes was 252, according to university statistics. The number of employee dependents — spouses or children — taking classes was 133.
The funds can be used to take courses at any Nevada System of Higher Education institution. Last year, the UNLV financial aid office disbursed $1.2 million to Grant-In-Aid recipients, according to a UNLV spokesman.
During the 2011-12 academic year, the UNLV office of financial aid disbursed $1.1 million to Grant-In-Aid recipients.
Gregory Brown, vice provost for faculty, policy and research at UNLV, said the program is extremely important.
It's an incentive for employees to better themselves. Public organizations and private businesses base employee compensation on the level of their qualifications, including college degrees, Brown said.
"I think it's valuable," he said.
Williams is currently taking two classes.
"It pays for half of my tuition," she said of the program. "It's definitely an incentive for people who can't afford it."
It's been an incentive for her to go beyond what she originally planned to pursue. She never thought she would go back to finish her undergraduate degree, much less enroll in a master's program.
"I thought I was going to have that feeling that I was accomplished," she said of finishing her four-year degree. "My bachelor's degree wasn't enough."
Reporter Yesenia Amaro can be reached at (702) 383-0440, or yamaro@reviewjournal.com.