Prom night extra special for two seniors from Basic Academy
April 16, 2016 - 10:46 pm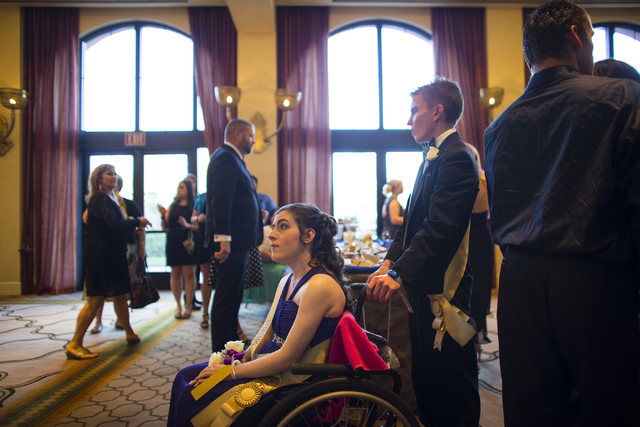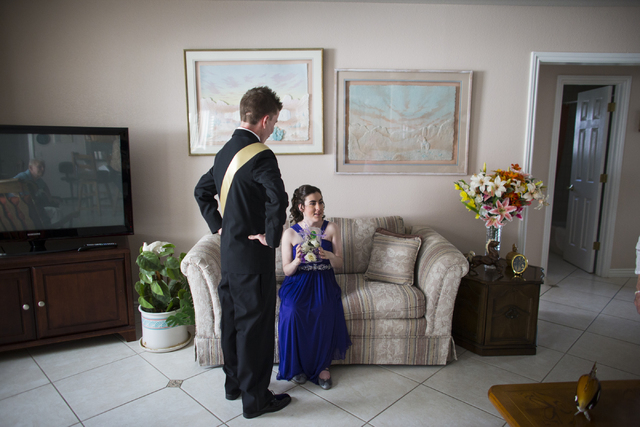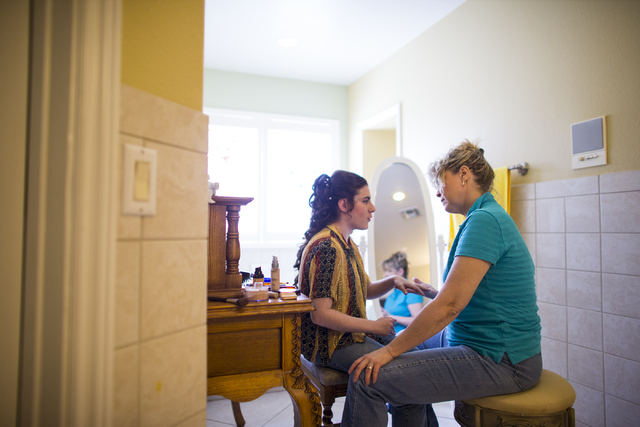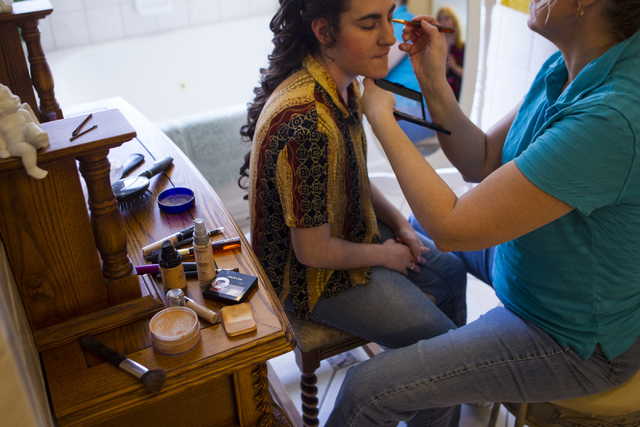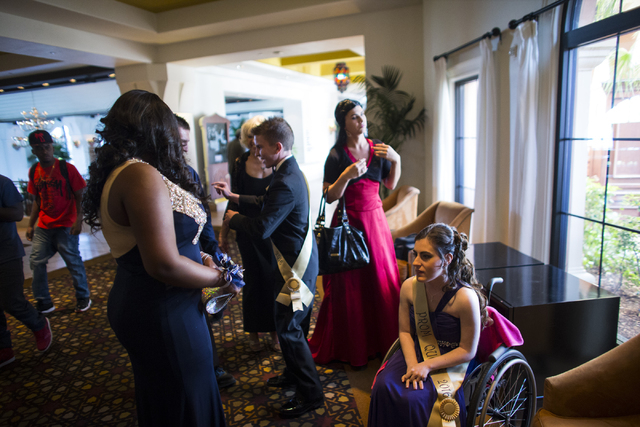 Basic Academy of International Studies senior Blake Hernandez walked into Jill Spatafore's special education class March 4, alongside a group of peers holding a long yellow banner and The Partridge Family's "I Think I Love You" playing in the background.
"Larissa, Blake has something to ask you," special education teaching assistant Mary Bernier told senior Larissa Evans.
Blake, holding a dozen red roses, red balloons and a basket full of heart cutouts, heart boxes and a big, pink pompom, asked Larissa to their senior prom.
While that familiar scene plays out every year for many thousands of American teenagers, it isn't as common for special education students.
Including Blake and Larissa, just three of more than 400 special education students attended Saturday's prom at the Westin Lake Las Vegas.
"It's a rarity, which is too bad," Spatafore said. "It's a huge event for them, being on the same level with their general education peers, and it gives them more confidence to say, 'I'm a teenager and I'm a high schooler,' which should be their first identity."
NEVER GIVING UP
Blake was born 18 years ago with 10p14 Trisonomy, a rare chromosomal abnormality.
"There's been very little research done and few known cases," said his mother, Brenda Hernandez. "His expectations were poor yet he overcame them."
Her son had a ventriculoperitoneal shunt put in his head at age 3 to relieve the pressure on his brain that was caused by fluid accumulation. Four years later it was removed, and a metal piece was put in its place.
"If his brain ever swelled he would lose his balance or get headaches, which are indicators of water developing," she said. "We've had no issues since he was 7 years old."
She notes he does have "issues with fine motor skills and cognitive delays but other than that he's healthy. He never gets sick and he has no pain. If he does have pain he's always smiling so we wouldn't know if he was in pain anyway."
Larissa was born premature at 23 weeks old, weighing 1 pound.
"She also has cerebral palsy, is developmentally delayed and she had a seizure disorder but has since grown out of it and hasn't had one for five years," said her mother, Kelly Evans. "Initially we were told she wouldn't survive then we were told she wouldn't walk and that she'd be blind and deaf."
Learning her daughter had a disability was a lot to take in at first, she said.
"One of the problems is the doctors don't tell you this stuff when you have these kinds of kids; they only tell you the good news, not the bad news," Evans said. "After I left the hospital, another doctor told me she had cerebral palsy and that she'd never walk or talk. I carried her to the car and started hysterically crying. No one told me this was a possibility."
When she called her husband, Glenn, he told her that it wasn't fair to say that their daughter would never walk or talk because there are different spectrums to the disability.
"As a parent you listen and say, 'OK, maybe she'll never be able to do something,' but you don't give up until you know for sure," Evans said. "That's why she walks and does things now because we didn't give up on her. She does the work and she'll let us know when she can't do something."
Like the Evans family, the Hernandez family has never placed limits on Blake's potential.
"What he has is what he has, and he's the one writing this story," she said. "He's capable of doing a lot, and we don't give up, either," she said, noting his five siblings don't treat him differently. "There are no limitations to being Blake just because he's special because in our house he's not special. He's setting his own path and will continue to do so."
RETURN OF A LOST TRADITION
Blake and Larissa first met a decade ago at James I. Gibson Elementary School in Henderson before he transferred to a private school and later relocated to Reno. The pair renewed their friendship last fall when Hernandez returned to the Las Vegas Valley.
Right after Blake asked Larissa to the prom Spatafore reached out to Evans to let her know her daughter would soon be in need of a prom dress.
"Jill asked Larissa what color dress she wanted, and she said purple," Evans said. "After trying on about 50 dresses, it was purple."
Blake said he got a purple tie to match his prom date.
"My tux looks like a big suit," he said the night before the prom. "I have a white shirt, pants, shoes, a purple tie and I'm wearing my vest underneath."
As if the excitement of going to the prom wasn't enough, the couple learned they were named prom king and queen by their special education peers.
"I was very happy," Larissa said.
While it was shocking for Brenda Hernandez to learn her son had been named prom king, it also seemed very natural.
"That's the way it should be, I guess, because I think it's the most correct thing," she said. "… and they deserve that recognition because they're them."
Basic Academy senior and prom committee chair DeJeigh Herrera said her teacher received a call from a special education teacher wondering whether the school wanted to return this year to an earlier tradition of having an additional crowning of a prom king and queen named from among the school's special education students.
"The school used to elect special education students as prom king and queen before I went to school there, and it's awesome to bring it back and do it again," she said. "We're bringing back a tradition that got lost."
Herrera said Larissa and Blake participated in a special crowning ceremony at prom on Saturday evening in front of more than 400 of their peers.
This year's prom theme was "Forever Neverland," Herrera said.
"It's the last big event before you graduate so it's the moment when people start to realize it's almost over so we need to enjoy it and live in the moment," she said, explaining how the theme was chosen. "It's all about living in the moment and not worrying about growing up."
Herrera added that she couldn't be more excited for Blake and Larissa.
"I hope they're as happy as everyone is for them and that (being prom king and queen) made their prom experience so much better," she said. "They deserve it."
The couple also will attend Joy Prom, an event for teenagers with cognitive and physical disabilities, on May 7 at M Resort.
While both Blake and Larissa are graduating Basic Academy in June, Larissa will stay at least one more year with Spatafore.
"Most of my students are over the academics and just want to go to job sites, but she loves to learn and she reads and writes," Spatafore said of Evans. "She thrives on the academics, and she wants to keep learning."
"The minute I put the light on to wake her up in the morning, she bolts up," Larissa's mother confirmed. "She loves school that much."
Blake said he'd like to become an RV salesman.
That may be in the cards, his mother said.
"Ideally, we want to own a motor home park because he could be an assistant," Hernandez said. "We've been looking along the coast, and we want to let him be in charge of part of it. That's the plan for now."
Although the immediate future is planned out, Hernandez said she's unsure of what the long-term future holds for her son, though it's something she thinks about often.
Someone once asked if he'll get married someday or whether he'll have children, and Hernandez said she responded she didn't know.
"The time might come when we need to think about that but it hasn't come yet," she said.
Still, Hernandez acknowledged, "You have to think about the future, and while a lot of people say, 'Let's live in the here and now,' with a child like this, you can't. You need to know what's happening in the future."
But on the night before the prom, thoughts of the future took a backseat to the young couple's eager anticipation for the special event.
"I'm excited," Larissa and Blake said in unison Friday night.
The big event lived up to expectations, Evans said.
"They had so much fun, they didn't want to leave," she said late Saturday.
Blake and Larissa weren't the only ones who had the time of their lives. Evans and Hernandez celebrated too.
"We both had tears in our eyes," Evans said. "Brenda said she felt grateful that the kids were recognized. I was in awe of them and so happy to see the joy on their faces."
Contact reporter Ann Friedman at afriedman@reviewjournal.com or 702-380-4588. Follow @AnnFriedmanRJ on Twitter.