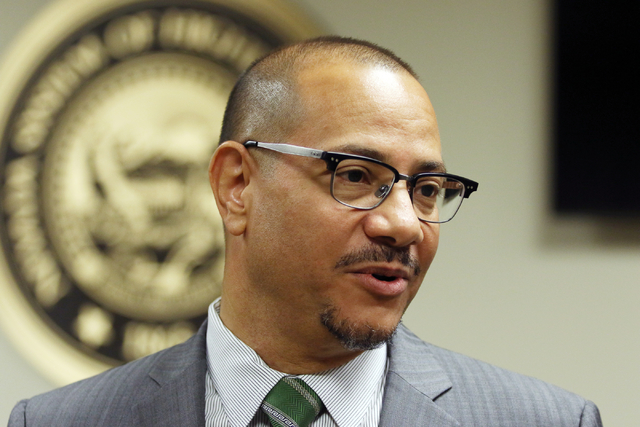 The Board of Regents will continue to search internally for a candidate to lead the Nevada System of Higher Education after Acting Chancellor John White backed out one day before he was to be appointed full time to the job.
"There was some noise," White said Tuesday, referring to rifts among some regents. "I wasn't really interested in being in the middle of what's going on. I don't really care that much at this point."
Board Chairman Rick Trachok said he likely will call a special meeting in June to discuss what steps should be taken next. Regent Kevin Page, search committee chairman, said he thinks that the system needs to have a chancellor in place before White's current one-year contract ends June 30, even if it's in an interim capacity.
Page said the board didn't continue talking to other candidates after White had agreed to a new contract. But Monday, White changed his mind, citing a board dispute. As a result, Tuesday's meeting to appoint him was canceled.
Assemblyman Elliot Anderson, a sponsor of Assembly Joint Resolution 5, said in an emailed statement that the latest development shows that problems can develop in all governing boards. The Las Vegas Democrat believes, however, that the Board of Regents could benefit from more outside accountability.
"Unlike other governing boards, the Board of Regents is the only governing board insulated from accountability by the Nevada Constitution, which must change," Anderson said. "I am growing concerned about our inability to attract talent to the system. The Legislature should step into this situation to ensure that our higher education system is set up for success. We owe the students, taxpayers and citizens of Nevada no less than excellence."
Both Page and Trachok wouldn't speculate on the board dispute, but Regent Sam Lieberman said he believes the dispute is related to differences of opinion regarding how the national search process was handled once it failed.
Regent Patrick Carter on Monday called the decision to offer the position to White a "backroom deal."
"What I would have done in this situation, is that I would have had (Tuesday's) meeting, and brought these issues up for board discussion and consideration, and in a respectful way, try to find some common ground," Lieberman said.
Despite White's disinterest in the job, Page said he would consider having a conversation with White to see if he's willing to stay on for any extended period of time.
White said his current plans are to return to UNLV in a tenured faculty capacity at the Boyd School of Law — a position from which he is currently on leave.
Contact Natalie Bruzda at nbruzda@reviewjournal.com or 702-477-3897. Follow @NatalieBruzda on Twitter.
Assembly Joint Resolution 5
The resolution proposes to remove the language in the state constitution establishing the Board of Regents to give lawmakers more authority to make changes to the governance of the Nevada System of Higher Education. The board would be organized under state law just like other boards and commissions.
The measure was heard Monday by the Senate Legislative Operations and Elections Committee, but no action was taken on the proposal.