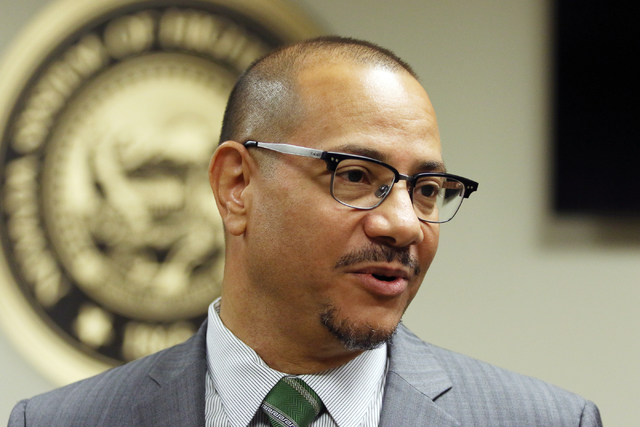 Despite turning down the job several times in the past 10 months, John White has now agreed to change his interim chancellor position with the Nevada System of Higher Education into a full-time gig.
The Board of Regents on Tuesday will consider appointing White to the position and approving a new contract. His one-year, $303,000 interim contract ends June 30.
"I think, like most people, I was surprised that their search didn't work out," White said Wednesday. "Seeing that there was chance for instability with the system and higher education more generally, I'm convinced that I could help during that time. And I thought not helping out would be worse for the system."
Board Chairman Rick Trachok said he had asked White on different occasions if he would consider staying longer than one year, but that he had "made it very clear that he wasn't interested."
"The key question is, is this something that I can benefit the state by doing, and will this benefit me and my family?" White said. Before his change of heart, White had been a finalist late last year for the chancellor's job at the University of Hawaii at Manoa, but the school ended its search without filling the position.
The agenda for the May 9 meeting was posted nearly two weeks after the board decided to search internally for a chancellor after the top five candidates withdrew from a nationwide search that began in January. During that earlier meeting, the regents floated the idea of offering it to White.
"As I went through the search process, in my mind's eye, the gold standard was John, and the job that John had done as the acting chancellor," Trachok said. "I was very pleased that when I approached him again after the committee meeting, he agreed to take the job."
Trachok said the new contract should be ready for regents to review beginning Friday. He said he's recommending a four-year contract to begin on July 1, but would not divulge White's salary package.
Regent Trevor Hayes voted against looking internally and said he didn't think the regents should halt their search just because they faced a "hiccup." The board hired AGB Search in Washington, D.C. for $100,000 to conduct a national search. On Wednesday, Hayes said his opinion hadn't changed.
Regent Sam Lieberman said he plans to vote in favor of appointing White to the position, and said doing so does not mean the regents are giving up.
"It's utilizing the skills, talents and capabilities of someone we have," Lieberman said. "He spent a year bringing credibility and integrity to a system about which people had serious concerns."
Contact Natalie Bruzda at nbruzda@reviewjournal.com or 702-477-3897. Follow @NatalieBruzda on Twitter.