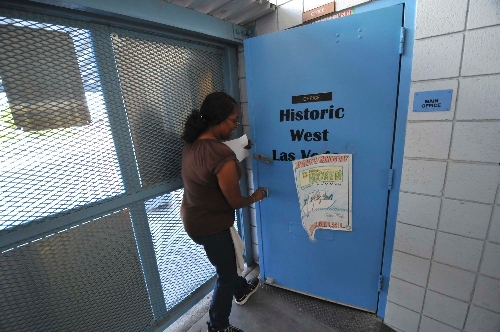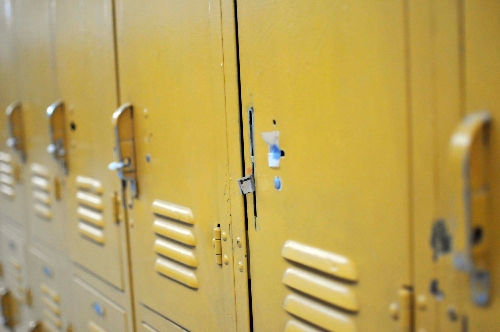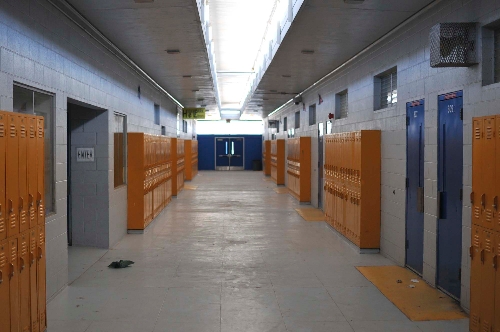 Hyde Park is one of the top-performing middle schools in the Clark County School District. After 55 years of use, it is also one of the oldest.
The school at 900 Hinson St. has patchwork roofing, water damage, erratic plumbing, caved-in awnings and dirty concrete floors in the hallways because of its antiquated, open-air construction.
It is so bad, a custodian joked, sometimes she just has to close her eyes.
Hyde Park is one of 19 schools in line for "major modernization" if voters approve a property tax rate increase on Nov. 6.
The measure would raise the rate for schools to about 71 cents from 55 cents per $100 of assessed valuation. Property tax on a home assessed at $100,000 would increase by $74.20 annually.
Educators are crossing their fingers.
"We have wonderful things happening inside the walls of our school," said Hyde Park assistant principal Anna Belknap. "It's hard to see when you have leakage from the roofs with the water damage we have. … We cringe when it rains outside (because) we know inevitably there's going to be a flood in the hallway somewhere.
"We have lots of problems, especially with major systems. There have been some changes made, but it's like putting a Band-Aid on it."
Custodians said they are constantly calling in for repairs on the same systems that were repaired days before.
Belknap said the electrical system can handle only a few computers being connected in classrooms, which is a detriment to students.
"It doesn't accommodate what we need in the 21st century," she said.
Belknap was quick to defend Hyde Park as "the best middle school in the district" and "one of the best in the nation" but stressed how much better the school could be with a face-lift.
Students are more apt to go to school and are more attentive and perform better in nicer surroundings, Belknap said.
The tax increase would be a pay-as-you-go capital program, not a loan or a bond. It would raise a maximum of $120 million per year for six years. If property values rise, the tax would decrease so no more than $120 million is collected annually.
More than 40 schools have been selected for renovation by the district's Capital Program Office if the vote passes. Director Tim Strucely said schools would be helped in order of the most need, but the order has not been determined. He also said the district would try to finish all needed projects at a school before moving on to another one.
The program would pay for repairs to heating and cooling systems, electrical system upgrades and more.
Two elementary schools also would be replaced, and two other new elementary schools would be built to alleviate overcrowding. The selection of schools and areas for those projects had not been determined, Strucely said.
Kelly Elementary School at 1900 J St. is 52 years old and also is in line for major modernization.
Principal Patricia Harris emphatically agreed with the idea that a school environment influences school achievement.
"Oh my goodness, you have no idea," she said. "Students care about their school. When you have a building that functions well, the people inside rise to the occasion.
"It's a wonderful opportunity to show students that Clark County supports education."
Contact View education reporter Jeff Mosier at jmosier@viewnews.com or 224-5524.