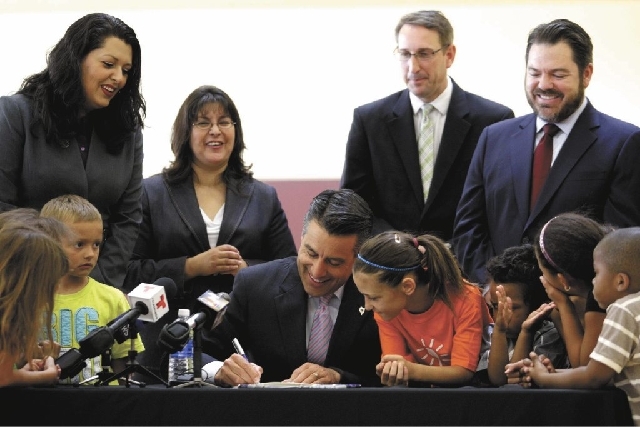 Gov. Brian Sandoval signed a bill into law Wednesday morning that will provide $50 million to Nevada schools over the next two years to improve the academic performance of students learning English.
These students number more than 70,000 in Nevada and represent 16 percent of students, according to the Nevada Department of Education. But Nevada has provided no statewide program tailored to this struggling group who speak English as a second language and lag behind their peers academically. Until now.
"This is a landmark piece of legislation," Sandoval said of Senate Bill 504 before signing it at the YMCA near U.S. Highway 95 and Valley View Boulevard.
He came to Las Vegas for the signing because the Clark County School District, which teaches more than two-thirds of Nevada students, will receive the lion's share of the funds.
The district is currently planning how to use its $38 million over the next two school years, Superintendent Pat Skorkowsky said in a Tuesday interview. At more than 40 percent of the enrollment, Hispanics are the district's largest ethnic group and also are often English-language learners.
The money will go to 15 of the district's 357 schools, dubbed "zoom schools," where second-language students are at their highest concentration, Skorkowsky said. Programs will include preschool and summer school to prevent the loss of English skills that students often experience over summer break, he said. The schools have not yet been identified.
Lucy Keaton, the district's first-ever assistant superintendent of English language learners appointed earlier this year, said she's a "firm believer" in these schools staying in session year-round to keep students from backsliding.
But it's a costly approach, which is why only a handful of schools will receive the extra funds.
"This is a small step, but a step in the right direction," said Assemblywoman Olivia Diaz, D-North Las Vegas.
Washoe County School District, the second-largest in the state with one-fifth as many students as Clark County, will receive about $7 million for two to four zoom schools. Rural school districts will split the rest.
But the districts aren't just being given checks to spend. Each must send reports to the Nevada Department of Education to show whether these students are improving. The bill also creates an English Mastery Council, which will recommend curriculum standards and a system of endorsements required of educators to teach English as a second language.
Currently, most classroom teachers have little to no additional training in meeting the challenges of teaching students who sometimes have never spoken a word of English, according to Patricia Gandara, a University of California Los Angeles education professor whom President Barack Obama appointed to the Commission on Educational Excellence for Hispanics.
About 40 percent of American teachers have ELL students in their classrooms, but only a third of these teachers have training in that area. However, this training usually amounts to just four hours over five years, she said.
Keaton acknowledged that training teachers on language development in addition to the curriculum is one of the most important things to do, but also is a great expense. Another reason Clark County is starting with just 15 schools.
But the start is encouraging, said legislators at Sandoval's bill signing, noting the bill had bipartisan support.
"Unlike Washington, where Democrats and Republicans don't work together, we work together in Carson City," said Assemblyman Lynn Stewart, R-Henderson.
"I couldn't have said it better myself," added Sandoval.
Contact reporter Trevon Milliard at tmilliard@reviewjournal.com or 702-383-0279.