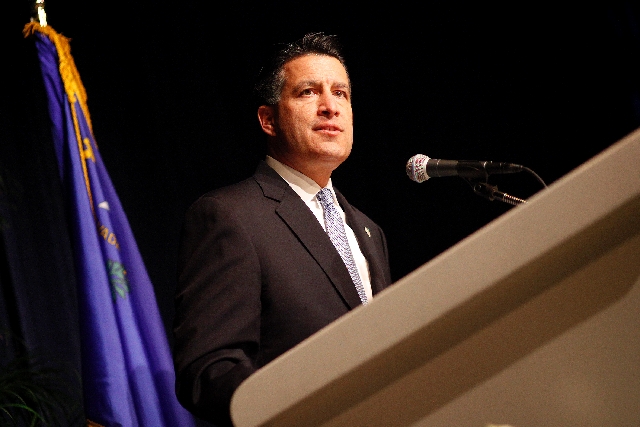 He spoke about everything from Nevada jobs to the National Guard, but Gov. Brian Sandoval glossed over the main subject of his Wednesday speech — education.
And he altogether avoided addressing the vacuum created in Nevada's public schools by the abrupt resignations of two top officials, the state superintendent and the head of Clark County schools.
Nevada Superintendent of Public Schools James Guthrie was governor-appointed — for the first time ever — under a new law granting Sandoval unprecedented control over Nevada education. But Guthrie resigned under pressure on April 2, effective immediately, not even a year after Sandoval chose him to shake up the system.
When asked after his speech what his appointee did wrong, Sandoval emphasized that Guthrie "resigned" and was not removed. But Guthrie has hinted that his resignation wasn't entirely by choice.
"I'm disappointed that I'm not able to continue the job," Guthrie said at the time of his resignation, not offering any details as to why he resigned without even a day's notice.
Sandoval wouldn't say much more about the circumstances of Guthrie's departure.
"I need to look forward, not back," he said after his speech to the conservative political action group Keystone Corporation at the Silverton casino.
The next superintendent that Sandoval appoints needs to fall in line with his reforms and work well with district superintendents, Sandoval said, adding that he was not implying that Guthrie fell short of those requirements.
Less than two weeks before Guthrie resigned, Clark County Superintendent Dwight Jones announced his intent to leave halfway through his four-year contract, giving two weeks' notice when his contract calls for 90 days. The Clark County School District is responsible for more than two-thirds of Nevada's students and is the nation's fifth-largest district.
Sandoval addressed the vacancy left by Jones only when pressed by former Clark County School Board member John Cole, who asked whether the governor's office would try to influence the local School Board's selection of a new superintendent.
"This is a process that belongs to Clark County," Sandoval said. "I'll be as involved as somebody wants me to be."
Cole said outside forces are pressuring the School Board on the decision, according to his conversations with School Board members.
Jones was considered a partner in championing Sandoval's education reforms at the Legislature.
Sandoval is seeking a $135 million increase in state education funding.
Contact reporter Trevon Milliard at tmilliard@reviewjournal.com or 702-383-0279.