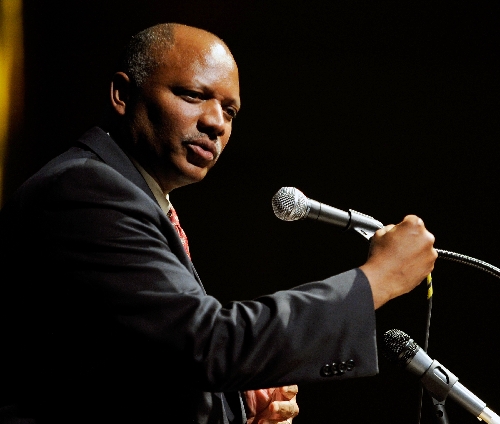 Last school year, the Clark County School District launched an unprecedented campaign to intervene with credit-deficient high school seniors, nearly half of whom were on track not to graduate.
The district identified more than 7,000 seniors in academic trouble and implemented programs to help them catch up on credits and prepare for the state proficiency exam.
According to the district, it worked.
Last month, it announced a projected 6 percent increase in the high school graduation rate over last year. The rate, 65 percent compared to 59 percent for the 2010-11 school year, also is likely to increase over the summer.
The district estimated that 15,000 students graduated in June and another 2,000 seniors would be involved in some sort of summer school. School district spokeswoman Amanda Fulkerson said the graduation rate could rise as high as 71 percent once a final tally is calculated in August.
On Aug. 15, the district will hold its first commencement for these students, who will receive a diploma or certificate of attendance. The students who receive diplomas will be added to the final tally for the graduation rate, but students receiving certificates of attendance will not.
The 65 percent projected rate included all participants in June graduations, so some students receiving certificates of attendance were counted.
A certificate of attendance is given to students who achieve the 22½ required credits but do not pass the Nevada High School Proficiency Exam. The exam, a combination of eighth- and ninth-grade material, is first administered to students in 10th grade, then each subsequent year.
The number of certificates awarded in June was not available, but last year's graduating class received 1,003, according to nevadareportcard.com.
The Nevada Board of Education created certificates of attendance in 1999. Clark County School District Superintendent Dwight Jones has expressed interest in abolishing them, but state law mandates them.
"I mean, who else does that?" asked Jones in a Sept. 18, 2011, Las Vegas Review-Journal story. "That's not acceptable. Just get rid of it."
To calculate the graduation rate, this year the district began using the Gold Standard method adopted by the National Governor's Association in 2005. A high school's graduation rate is calculated by dividing graduating seniors by the total number of students who entered ninth grade four years earlier. Transfers and dropouts cannot be accurately tracked and do not affect the numbers being calculated.
"Graduation rates are ridiculously hard to calculate because no one does it the same way," Fulkerson said. "… We also have a very high transient population."
In years past, the district divided graduating seniors by the number of students who entered 12th grade that year. This produced unrealistic, inflated rates, Fulkerson said. That method, if used this year, would show an 80 percent graduation rate.
The U.S. Department of Education adopted this Gold Standard and required that, beginning next school year, all states submit data using this method to fulfill requirements of the No Child Left Behind Act. It will allow more accurate comparisons between states and individual school districts.
Outgoing Clark County School District Deputy Superintendent Pedro Martinez said he believes "we'll sustain our graduation rate and continue to build on it" in the coming years because of a change in attitude at the district's 49 high schools.
"Once principals and staff get a sense of this success, it becomes systemic," Martinez said. "We try to change their behavior. We already have resources aligned for graduation initiatives next year, and every high school has submitted plans. I'm seeing (schools) already think this way on their own."
Contact View education reporter Jeff Mosier at jmosier@viewnews.com or 224-5524.