School gardens plant seeds of nutrition knowledge for all ages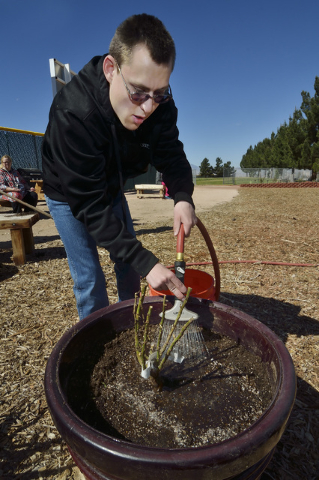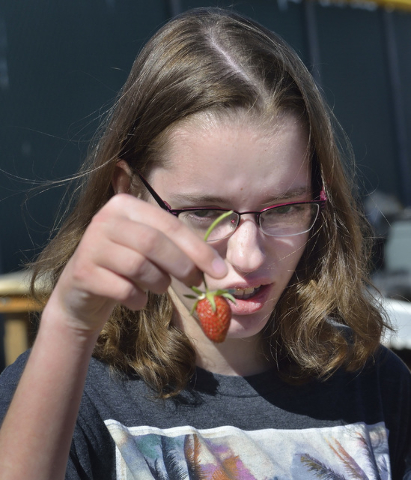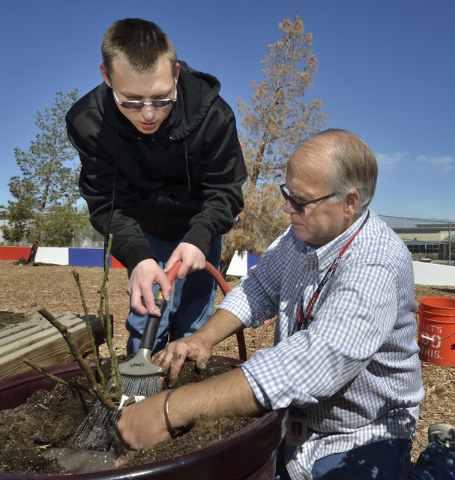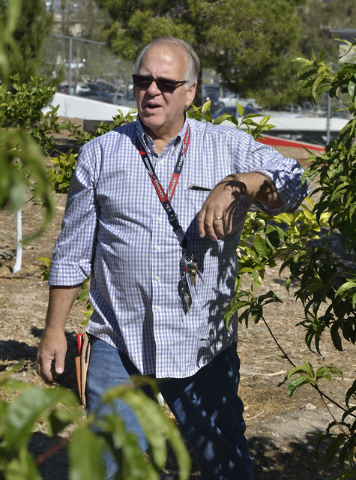 Beds of onions, cucumbers, tomatoes and peppers — along with numerous other vegetables — line the back garden at Coronado High School.
Some items are peeking out from the dirt and are ready to be picked while others need a little more time.
"Why don't you go and pull one out?" asked Gary Manning, a special education teacher at the school, 1001 Coronado Center Drive. He has been overseeing the garden for the two years it's existed.
Student Keenan Davis surveyed the onions and gave one a big tug, extracting it from the soil.
"Wow, you can really smell that," Davis said, putting the onion in his plastic bag.
The garden is one of many in the Clark County School District. According to Cheryl Wagner, coordinator for the district's School-Community Partnership Program, there are more than 120 school gardens across the Las Vegas Valley.
While they might vary on curriculum and purpose, it comes down to hands-on learning for students of every grade level. Learning gardens have been used by schools in the district for about 15 years, Wagner said.
"It helps enrich what teachers are teaching during the day," Wagner said. "There has been a lot of research out there that learning gardens are great for teaching science, health and nutrition."
If a school expresses interest in creating a garden, it can reach out to the district with a specific vision for why it needs one.
General education classes in elementary, middle and high schools use the gardens differently and tailor the lessons depending on the class.
"All lessons are correlated with the Nevada Academic Content Standards," Wagner said.
But some have variations on the classroom environment. Wagner said some schools have even created gardens specifically for after-school clubs and programming.
Manning started the garden at Coronado in April 2014. Students in his special education class visit it two to three times per week, planting, watering, maintaining and harvesting several beds of produce along with 28 fruit trees, including apples, lemons, plums, peaches and pomegranates.
Each school also determines how to use the products it grows. Students in Manning's class often try the variety of produce.
On one morning in the garden, a few strawberries started to peek through the patch, giving a couple of the students a chance to pluck them and have a taste.
It wasn't the first time they have tried their work.
"When we had Brussels sprouts, we took them back to the classroom and cooked them," Manning said. "They loved them."
Manning said he will often send some of the vegetables home with students.
A majority of the crops will be harvested in May to be used at a farmers market. Manning said a few other schools with gardens plan to participate with Coronado.
Wagner said a few schools also have partnered with local restaurants to provide produce.
Through their work in the garden, Manning's students learn job-training skills, and Manning added that, though Clark County may not have a lot of gardening jobs, it comes down to the basics.
"If I can teach them to listen or follow instructions, that is key," he said.
Manning hopes to expand the garden's mission to include general education students as well.
At McCaw Elementary School, 330 Tin St., the school's garden is used by all students. Principal Jennifer Furman-Bornsaid said the school was able to create the garden with the help of the Kasner Family Foundation.
"The garden incorporates three different components: a garden classroom, a garden enrichment club, and a chef in school program," she said.
The school has brought in farmers and chefs to help teach students about maintaining the garden and what certain items are and how to use them at home.
McCaw is finishing up its first growing season, with anything from peas to cilantro.
In addition to science and nutrition, the garden also has been used to teach math.
"Students have to figure out how far apart they have to plant each item," Furman-Bornsaid said. "So they get their rulers out and calculate so it's planted in just the right spot. (The garden) bridges all the content together."
She said there are plans to expand at some point, which could be anything from planting fruit trees to adding tables and developing an outdoor classroom.
Visit ccsd.net/community/partnership.
To reach Henderson View reporter Michael Lyle, email mlyle@viewnews.com or call 702-387-5201. Find him on Twitter:@mjlyle.