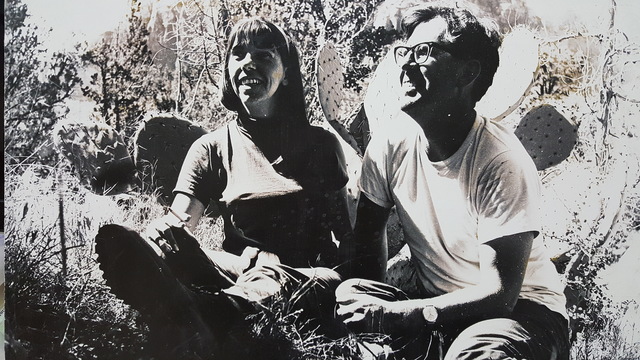 John Harrington didn't have any plans to build a life in the Las Vegas Valley when he came to visit his mother back in 1948.
But after seeing the Grand Canyon, he fell in love and never went back to his hometown of New York City. That was the start of his new life in Clark County, where he served as an adored teacher for 39 years.
Harrington, who was 87 when he died in July, is recalled by friends and family as an engaging teacher and avid outdoorsman who combined both of those interests to make a lasting impact on students.
He served as chair of the English department when Clark High School opened its doors in 1965, hosting a hiking club that exposed students to the nature that Harrington cherished.
Harrington will be remembered during a service at The Smith Center for the Performing Arts at 4 p.m. Sunday, one day after his 88th birthday.
"John opened a whole other world to me and thousands of other students who went on these expeditions," said cardiologist Keith Boman, Harrington's former student at Clark High School who later served as his doctor. "On the weekends, he volunteered his time and took anybody who wanted to go."
Yet Harrington left an impact inside the classroom as well, teaching rhetoric and American literature classes.
Jack Sawyer, a former student who now works as a librarian for the College of Southern Nevada, said Harrington turned composition class into an adventure.
"He had a way of expressing his ambition for me and the other students in a way that we wanted to live up to his vision of us," Sawyer said.
Harrington set high standards that his students strove to meet.
"Something about him was inspiring — exponentially inspiring," said his daughter, Vicki Carnes. "They couldn't help themselves but to live up to it."
Aside from the great outdoors, Harrington's other great love was his second wife, Eleanor.
The two met when Harrington was conducting interviews for English department positions at Clark, for which Eleanor had applied.
"He met her and said, 'I liked everyone that I interviewed except for her. She's too demanding and pushy,'" Carnes said, smiling. "Then they were married by Christmas of that year."
Carnes said her father loved Eleanor's two boys, Steve and Tom Lamb, as if they were his own.
Harrington also served as president of the teachers' union in the 1960s.
Ken Kucan, who taught with Harrington in three schools, recalled how Harrington resisted the central office job that the school district tended to offer union presidents.
"They did the same thing with John; they tried to entice him out of the union and move out to the 'Ed Shed,'" Kucan said. "He said, 'No way, I am a teacher.'"
In his later years, Harrington taught at the private Meadows School. He retired when Eleanor became sick around 2000.
At his home in Summerlin, the walls are lined with photographs of nature that Harrington loved to take.
Carnes remembers spending every weekend hiking, skiing or doing some other outdoor adventure with her father's students.
"I guess in retrospect, I was very lucky," she said. "Everyone wanted to be my dad's kid."
Contact Amelia Pak-Harvey at 702-383-4630 or apak-harvey@reviewjournal.com. Follow @AmeliaPakHarvey on Twitter.