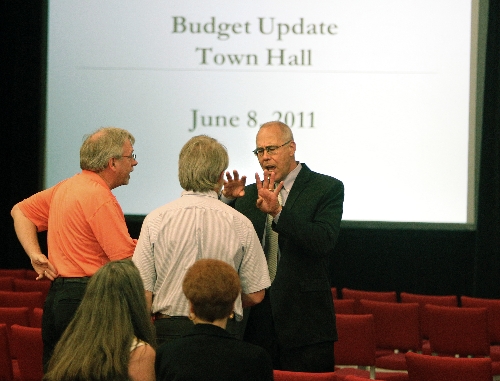 Nine departments will be eliminated at UNLV. Eighteen degree programs will be gone.
Two hundred fifteen jobs will go, and 685 students will be shut out because of budget cuts.
Those numbers, revealed Wednesday by UNLV President Neal Smatresk, are far below what was predicted weeks ago, before the governor and the Legislature came up with a deal that lessened budget cuts in higher education.
"In this budget, there is still very real pain, and there will still be people who lose their jobs," Smatresk told a packed town hall meeting at the university.
Smatresk said that the University of Nevada, Las Vegas — including the dental and law schools — will get an overall cut of just over $20 million in state funding next year compared with this year. That's about a 13 percent cut. That compares with what could have been a cut of more than $40 million if Gov. Brian Sandoval's original budget proposal had passed.
Sandoval and lawmakers brokered a deal earlier this month that extended some tax increases that were set to expire at the end of this month. The upshot for the state's higher education system is that proposed cuts were lessened by about $40 million in each of the next two years.
Overall, the state's higher education system will see a cut in state support of about $85 million, 15 percent.
With close to 500 people in attendance Wednesday, Smatresk said there will be some ways to lessen the impact of the $20 million in cuts UNLV must make.
A tuition increase of 13 percent will make up more than $3 million. Pay cuts and furloughs for tenured faculty will make up more than $2 million.
Overall, he said, he must cut about
$15 million from the university's budget.
Part of that will be saved through a recent buyout program the university offered to tenured faculty. Smatresk said 48 people took the offer, which will save more than $6 million. Some rehiring in critical areas will need to be done, so the exact savings still is unclear.
But in his proposal — he has yet to consult faculty, so details might change — he said about $9 million of the $15 million will be cut from academics. In the past, the university has made smaller cuts in academic areas and larger cuts in support areas, but Smatresk said that is no longer possible because support areas are too thin.
The rest of the cuts will be spread out among the university's administrative areas. A few more than 100 jobs will be lost in nonacademic areas. Fewer than 100 will be lost in academic areas.
Some of those jobs are vacant positions now, and many are graduate assistants, Smatresk said. But not all of them.
Some people, he said, will lose their jobs. He said he does not think any tenured faculty will be laid off, however. He had feared doing so would be necessary before the cuts were lessened.
Gregory Brown, a history professor and president of UNLV's chapter of the Nevada Faculty Alliance, said the cuts will hurt.
"That's deep," he said of the job losses and degree program eliminations. "These are things that will hold back our community. … Fewer people going to college is not good."
He said protecting tenure is critical, and he was glad Smatresk made that a priority.
Smatresk said the $9 million in academic cuts will be spread out, with the College of Education taking the largest hit, $1.5 million.
Departments will be eliminated in the School of Community Health, the College of Education, the College of Fine Arts, the College of Sciences and the College of Urban Affairs. Smatresk did not say which departments would be cut. The deans of the various colleges are still finalizing details.
Overall, Smatresk said, the university will be able to handle the cuts without too much long-lasting damage.
"We will, as you'll see next year, emerge from this stronger and healthier than we've been for a while," he said.
Contact reporter Richard Lake at rlake@reviewjournal.com or 702-383-0307.