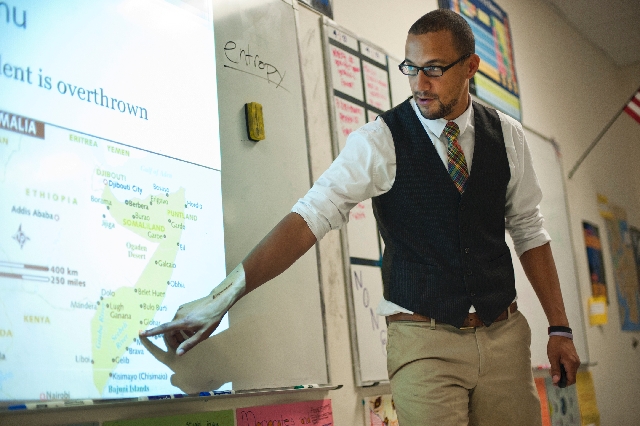 When the bell rings, many of his students don't rush out the door.
The middle school students circle around teacher Blake Miles, who is sitting down for the first time since class started. They chat and tease, they talk about their April Fools' pranks.
Miles' relaxed demeanor has a purpose. It's not just fun chatter for the sake of it.
"Kids hang on his every word," said Gayle Jefferson, principal of Somerset Academy of Las Vegas, praising the energy of the 27-year-old teacher she plucked right out of college two years ago when the fledgling charter school was just opening. "He's a gem. Honestly, he's a gold mine."
Miles' magnetic, effective style earned the science and military history teacher March's Clark County Educator of the Month award. All monthly winners will be honored at an end-of-the-school-year banquet where an Educator of the Year will be named. Miles was chosen from a list of nominees by a panel that includes members of the Clark County School Board, Public Education Foundation, PTA, Teach for America and private school representatives. The Review-Journal sponsors the program.
Miles doesn't lecture or tell students to read from their books. He converses with students as he moves throughout the classroom. That's what he did Tuesday during a lesson about the chaos in Africa and America's involvement there in the 1990s. He started with three quotes about chaos and asked students if they disagreed with any.
One student fixed on a John Updike quote. "Chaos is God's body. Order is the Devil's chains." She reasoned that if God is good but chaos is bad, how can chaos be God's body?
Miles asked the student and her classmates to name a time when chaos served a beneficial purpose, and eventually pointed to the American Civil War. Could slavery have been ended another way? Was chaos a necessary evil?
In the hourlong class covering America's military interference in African conflicts and civil wars, Miles rarely urged students to raise their hands. They talked almost as much as he did.
"They're hyper, especially at this age. I am too. I just let it happen," said Miles who wrote a school play — "Romeo and Juliet … and Zombies" — to raise money so the class could provide small loans to African entrepreneurs through the nonprofit group Kiva.
The military history class is his largest with more than 30 students but it's not required like his science classes. It's an elective that draws in students like Jacob Perkins and Justin Mathews. The boys are also on the school lacrosse team, which is coached by Miles.
"He's funny. He asks your opinion," eighth-grader Perkins said.
"And he makes it very interesting," eighth-grader Mathews added.
Miles ends with a question for students: "Should we intervene in Africa?"
Some say yes, others say no if it's an internal civil war. "It's not our business," said a student, pointing back to the American Civil War and how that was our fight to settle.
"When the class can't come to a decision, I like that," Miles tells them. "You know what it's like to be politicians."
Only one student has fallen asleep in his class during the time he's been teaching since he graduated from college at Brigham Young University, Idaho, Miles said. He handled it differently than most teachers probably would and — he'd like to think — it had a more lasting effect.
He had all the students quietly leave the room. Miles then woke the student and said, "You're still here? All the others left a long time ago."
The boy rushed out the door but quickly realized the truth.
Next year, Miles is moving from the school's North Las Vegas campus near Centennial Parkway and Commerce Street to a new campus as the K-8 academy — which requires parents to volunteer and keeps classes small — begins its expansion to high school due to demand.
"I have 1,000 kids on a waiting list and the additional campus isn't even done yet," said Principal Jefferson who was with the Clark County School District for 21 years before opening the independent academy at the request of a group of parents. "I'm blessed here. Blake is just the beginning. There are 40 others I could also tell you about."
Contact reporter Trevon Milliard at
tmilliard@reviewjournal.com or 702-383-0279.