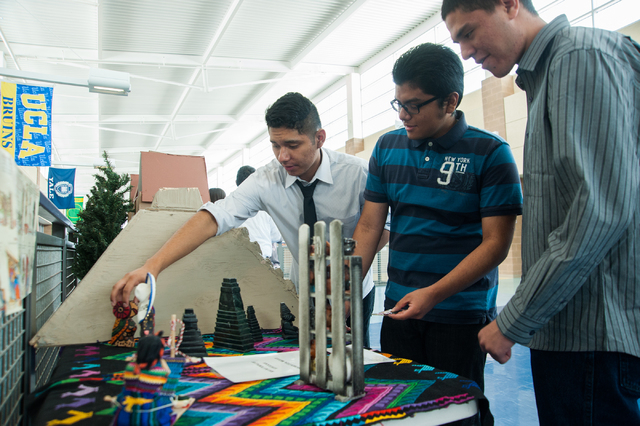 After teaching for 18 years, a Sunrise Mountain High School educator finds new ways to engage her students with the help of an in-house grant.
Advanced placement Spanish and culture teacher Beth Leinwand received $2,500 from the school's Innovative School Team to fund a mini cultural museum project for her students. Her goal was to teach bilingual skills with history and building design.
"My mission was to blend beauty, aesthetics and architecture with project-based learning," said Leinwand.
The focus of the project was to have students integrate collaboration, communication and critical thinking skills with research, math, design and language skills to construct a replica of a monument or building found in a Spanish-speaking country.
Leinwand took her students on a field trip to Lowe's in January. Each group was able to spend $500 to purchase the materials needed to build the replica of the structure.
"For many of my students, this was their first time building something of this scale," Leinwand said.
Students in groups of two to five constructed five exhibits from Mexico and Spain.
El Valle de los Caidos, or the Valley of the Fallen, was created by Alondra Diaz, Mayola Rodriguez, Joseline Sosa, Yamile Vasquez and Cathy Rios. The original monument was constructed during the reign of the Spanish dictator Francisco Franco to honor those who died during Spain's Civil War.
"The project was hard, and we wanted to give up so many times," said Diaz, a senior. "The roof of our building kept collapsing, and we ended up using Popsicle sticks to make it stay. The project encouraged me to study how people create buildings such as these."
La Sagrada Familia, or the Sacred Family, is one of Antoni Gaudi's most famous works, according to project designers Xiomara Gonzalez and Magaly Michel. The unfinished basilica has been under construction since 1882 and is expected to be completed by 2026.
"It's a very intricate building," said Gonzalez, a senior. "There was nothing as renowned as La Sagrada Familia. What drew me to this project was that the building was never complete. Gaudi died before he could finish it."
El Castillo, also known as the Temple of Kukulkan, was designed based on a Mesoamerican step pyramid that dominated the center of the Chichen Itza archaeological site Yucatan in Mexico. Alberto Delgado, Esquivel Lopez-Meza, Hakeem Sanchez and Joel Sanchez Cortez chose this monument for their project because they said it was influential to the natives.
"It was more about experience than anything else," said Hakeem Sanchez, a junior. "It taught us how to work together as a group."
La Alhambra is a palace and fortress for the residence of the Nasrid Sultans and top government officials, court servants and the royal guard, according to Valeria Ibarra, Sarai Rodriguez, Fatima Velasquez and Alejandra Carrillo.
"It was hard trying to get the right measurements at first," said Rodriguez, a senior. "After doing this, I realized that I don't want to be an architect, but it was really fun. We enjoyed it."
The last project, El Cortijo Jurado, otherwise known as the Casa Encantada or haunted house, was built in 19th-century Spain. Ulises Delgado, Vanessa Pacheco, Kimberly Verdin and Catia Villanueva built the mansion because of its mysterious appeal.
"It was a good experience. We've never done this before," said Villanueva, a senior. "They gave us responsibility, and it was all up to us. Teachers usually have guidelines, but this was broader."
Students were also asked to create a 20-question Web-based cultural scavenger hunt encompassing the historical information of their monuments for their museum visitors.
Leinwand said the principal has plans to make the projects a permanent fixture at the school.
"These kids are going to leave behind their first AP Spanish cultural museum as their legacy," Leinwand said. "I'm really proud of them."
Contact North View reporter Sandy Lopez at slopez@viewnews.com or 702-383-4686. Find her on Twitter: @JournalismSandy.