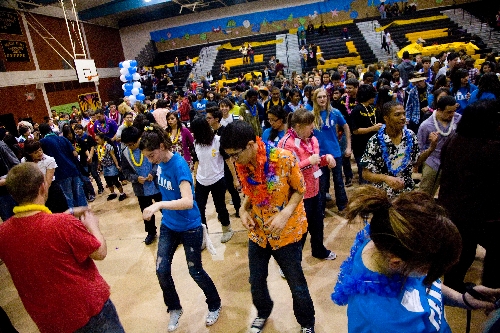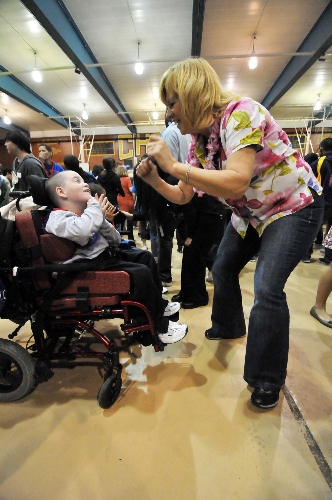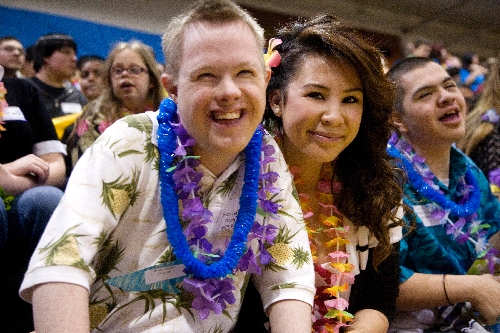 Clark High School senior Ethan Selstad almost missed the experience of a school dance. Students with intellectual disabilities usually do.
This year was different.
His school, at 4291 W. Pennwood Ave., hosted a Hawaiian-themed dance Feb. 17 specifically for students with disabilities. About 300 kids from middle and high schools in Area 3 of the Clark County School District were bused to the school.
They were greeted by hundreds of cheering students at Clark who escorted their guests into the gymnasium. All the students received leis and had their pictures taken before the dance started.
Rhonda Selstad, Ethan's mom, attended the dance, too, but kept her distance.
"He's been practicing a little bit of dancing," she said. "He gets a little shy and embarrassed."
Not this day.
Selstad, who has Down syndrome, had a certain air of comfort and confidence about him. He danced with girls, shouted, sang and just smiled for the whole two hours.
"His dad and I are just tickled and excited," his mother said. "It gives you a warm feeling to know that he gets to do something that everyone else takes for granted.
"It's just a happy thing, I'm just thrilled," she said with an uncontrollable smile and a giddy laugh. "If I could jump, I would."
Her son came dressed in style, too.
For his 18th birthday just days earlier, his parents gave him a new cream-colored shirt with a pineapple pattern to wear to the dance.
General education students from Clark danced with Ethan Selstad and the other special education students, forming a conga line nearly 100 students long at one point.
"I'm amazed," said Fernando Carmona, a special education teacher at Western High School, 4601 W. Bonanza Road. "I tried teaching them the first few periods today, forget it. The kids are excited.
"For a lot of them, this is their prom. It's important for the whole student inclusion process to be with general ed peers. A lot of (social) skills they learn here we can't teach in the classrooms."
One of Ethan Selstad's classmates, ninth-grader Tia Soucy, talked about the dance for weeks, her parents said.
"She loooves music," her father, Glenn Soucy, said. "She is a big fan of Justin Bieber."
At home days before the event, she asked her parents, "Today's my dance, right?"
"No," they had to tell her again.
Tia has a metabolic disease that damaged her brain at birth. She does not have any concept of time or when the dance was supposed to happen. She suffers from memory loss and becomes fatigued easily. She would talk about the dance with her parents and forget they had talked about it five minutes later.
Tia's fatigue did not stop her from doing the Cha Cha Slide with everyone else.
"Just to have a sense of normalcy is so important because these kids are so isolated most of the time," her mother, Pam Soucy, said. "Just to have something that's geared toward them is great. It's just so beneficial for the kids to get out there and do something they don't normally get to do otherwise."
At Canarelli Middle School, 7808 S. Torrey Pines Drive, students in Dawn Davidson-King's class danced to Rihanna in preparation for the big day.
"It's going to be fun," student Alvin Wu said. "I hope I get out of control."
Davidson-King taught her students dance etiquette, including how to ask someone for a dance.
This experience —- the memories, all of it —- came close to not happening.
Clark did not have funding for the food, disc jockey and other expenses three days beforehand. Mary Ann Pedley, Clark's special education teacher and the creator and organizer of the dance, was told to cancel it.
It would have been "devastating" for the kids, she said.
The dance was saved by donations from Clark's We R Community program, sponsored by the Public Education Foundation; Project 150 LV, a nonprofit organization that supports homeless students; and Albertsons, 2250 S. Fort Apache Road.
Students benefited most, teachers said, from the social interaction with peers.
"Students absolutely love it," said Mona Raschko, special education facilitator at Garside Middle School, 300 S. Torrey Pines Drive. "They really looked forward to it. Most special ed students don't have a lot of interaction with their typical ed peers.
"Let's face it, a lot of typical ed peers don't have the patience to deal with these kids. Even in society, most people don't have the patience. Any time you have special ed and typical peers interacting together, it fosters that tolerance and understanding. I wish more schools would do this."
Contact View education reporter Jeff Mosier at jmosier@viewnews.com or 224-5524.