Teen competes in elite graphic design contest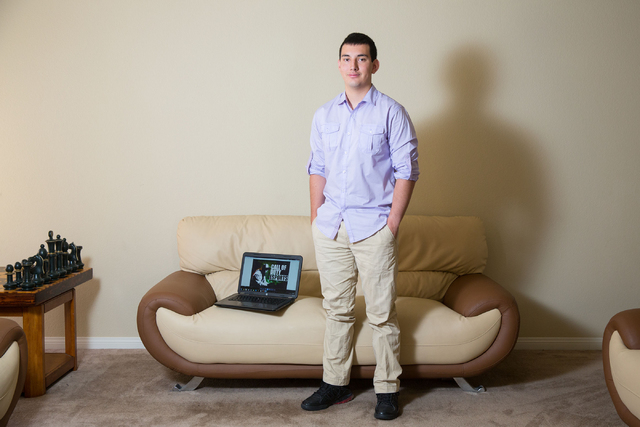 Las Vegas high school student Javier Salazar may have started doing graphic design just two years ago, but he's one of only three U.S. competitors in the Adobe World Championship in Anaheim, Calif., which pitted him against 31 others from 17 countries last weekend.
Salazar is waiting for the winners to be announced today but was glad just to be invited, as were his father and teachers at Southwest Career and Technical Academy — they know what Salazar's participation means to him.
"Three out of the whole country," was all the 17-year-old incoming senior could say Thursday before his departure. "I didn't think my design would go that far. I guess it did."
The competition, held by the maker of Photoshop, Illustrator and other design programs, started with 117,000 entrants from around the world. Less than 1 percent of them were chosen to compete. The U.S. judges picked three representatives based on entrants' graphic design submissions. The others were from the Texas cities of El Paso and Austin.
Salazar's entry was for the video game "Call of Duty." A man depicted in black and white knelt in front of a blurry urban landscape of muted colors. Next to him were large block letters reading, "Call of Duty eSports."
Last year's $5,000 top prize went to a 15-year-old girl from South Korea. Second place went to a Colombian competitor, and an entrant from Taiwan took third place. Competitors can be up to 22 years old.
Here's how the competition works. On Monday, Salazar was given a real-world client, Kiva. He was told before arrival that he would be designing a promotional poster, but he wouldn't know the client's requests or have the project materials until he arrived.
Salazar had a computer and eight hours to design the poster using Adobe InDesign, Photoshop and Illustrator.
It's much like how a professional graphic designer would work, said Craig Bushman, vice president of marketing for Certiport, which established the competition two years ago with Adobe.
Judges look for the best design and who best utilized the software tools. Is Salazar nervous?
"No," was his simple answer on Thursday, having already had his share of practice in the professional world of graphic design, working for two clients of his own this summer.
He prepared for the competition as he normally would, investigating the company and its mission. Kiva, a nonprofit, allows people to donate online as little as $25 to poor entrepreneurs in 77 developing countries.
He studied its logo and key colors, green and white. He then penciled 64 thumbnail sketches.
He learned those skills early on at Southwest Career and Technical Academy, near Windmill Lane and Rainbow Boulevard, where design teachers bring in real-world clients.
"That's how I run it," said Cindi Chang, teacher and program leader for Web design and development courses. "I need to get them career ready, and this is the best way to do it."
Called Studio C, the senior class/business requires students to interview for jobs, whether it's Web design, graphic design, content writing or a role in the advertising department. Students then learn while working for clients.
"A lot of my students have their own clients," said Chang, noting that Southwest students have won state and national competitions, including Skills USA, the Congressional App Challenge and Verizon App Challenge.
The fact that Salazar made it to Adobe's second world championships "is just one more thing that validates what we're doing," said Southwest computer graphics and animation teacher Maureen Clark.
It also will push Salazar's peers at Southwest — where the graduation rate is 96 percent — to work even harder, she said.
"There will be ones who wish they put a little more effort into it," she said. "Students are very competitive here."
Many of Salazar's Southwest peers applied for the Adobe competition. Entrants must attain certification as an associate in one of these Adobe designing programs to compete, said Bushman, whose company does the sales and marketing for Adobe's certification processes, annually completed by 250,000 people.
Certiport started similar world championships with another client, Microsoft, 13 years ago for its programs Word, Excel and PowerPoint.
No matter how he places, Salazar said he will be happy to add "Adobe World Championship competitor" on his resume for future clients. He plans to attend one of the University of Nevada campuses to study computer science or enlist in the Air Force.
Contact Trevon Milliard at tmilliard@reviewjournal.com or 702-383-029. Find him on Twitter: @TrevonMilliard.