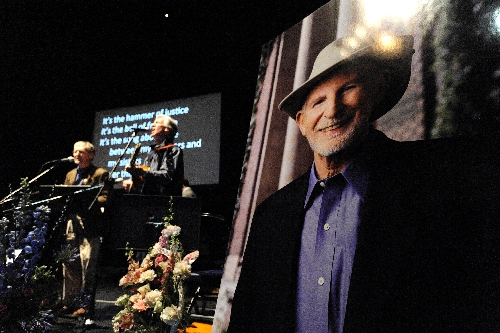 RENO — University of Nevada, Reno President Milton Glick was remembered Thursday as a great community leader and compassionate human being who fought for education as thousands celebrated his life at a public campus memorial service.
Glick, who died of a stroke Saturday at the age of 73, was "a man of clear principles," UNR provost Mark Johnson said during the service at the Lawlor Events Center.
"He always stated them clearly with a mixture of decisiveness and decency that was rare," Johnson said. "His decisiveness was needed on many occasions, certainly. But just as important was his inherent goodness and decency."
Glick was appointed UNR's 15th president in 2006. His tenure in Nevada was marked by numerous campus milestones and an increased emphasis on student success while leading the university through a period of unprecedented growth.
"He was human, he was real, he was approachable," said Howard Rosenberg, a longtime UNR art and film professor who served 12 years on the state board of regents.
"He loved everybody around here and he worked himself, unfortunately, to death," he told KTVN-TV.
Harvey Whitemore, a developer and UNR benefactor, said Glick created an institution that will succeed despite the current economic challenges.
"His legacy is going to be the students who are graduating from this university," he said.
Before that he held leadership or faculty positions at Arizona State University, Iowa State University, the University of Missouri and Wayne State University in Detroit.