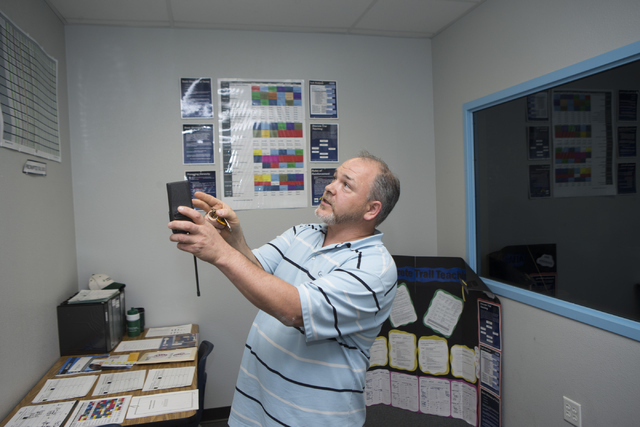 They might be in the mood for George Gershwin or grooving to the Goo Goo Dolls. Whatever playlist Douglas Trinkle's class chooses, he's focused on relaxing students with autism and helping them overcome troublesome sensory experiences.
Trinkle, 43, also keeps his kids at Variety School going with fist bumps and his contagious grin. He, along with two other Clark County educators, were recently honored for their work by the National Association of Special Education Teachers. Francis Rodgers, of John R. Hummel Elementary School, and Brenda McNair, of Dorothy Eisenberg Elementary School, join him in being among 27 outstanding special education teachers recognized nationwide.
Rodgers, 63, teaches third through fifth graders with disabilities. He said his strategy for helping students succeed is simple.
"I believe in them so they believe in themselves," the 21-year veteran teacher said. "They leave knowing they can do anything."
Shirleyann Beles wrote a letter describing how Rodgers turned her grandson around with persistent encouragement. "He conquered the demons that caused his frustration and anxiety, and he became an excellent student," she wrote.
McNair, 33, has a similar approach in her classroom of 3- to 5-year old students with autism.
"Having a positive attitude everyday is what's best for these students," McNair, a three-year teacher and longtime substitute, said.
Trinkle knows his mindset matters, too.
"I have a kid-like attitude," he said. "That's how I renew everyday."
His classroom has a two-way window so other educators can watch his teaching without disturbing students.
With help from three staffers, Trinkle is among a handful of educators across the country to track student progress for a Cleveland Clinic Children's hospital program.
He uses a teaching method that focuses on understanding the reason behind every behavior, Variety Principal Jason Fico said. By knowing the likes and dislikes of each student, Trinkle motivates them to act appropriately in different situations.
"Many parents have said we've brought peace back to their homes," Fico said. "It's heartwarming to hear."
Beyond his classroom, Trinkle has come up with ways to benefit the school. Students get to study the stars in a planetarium and learn about the world by walking on with giant maps because of him.
Trinkle left a job selling office equipment to become a teacher after having his daughter, Madison, 13. In the future, he hopes to get educators into his classroom, instead of just watching him with students.
"My kids give me so much energy," Trinkle said. "It's a gift to be able to work with them."
Contact Amy Nile at anile@reviewjournal.com or 702-477-3871. Find her on Twitter: @AmyNileReports