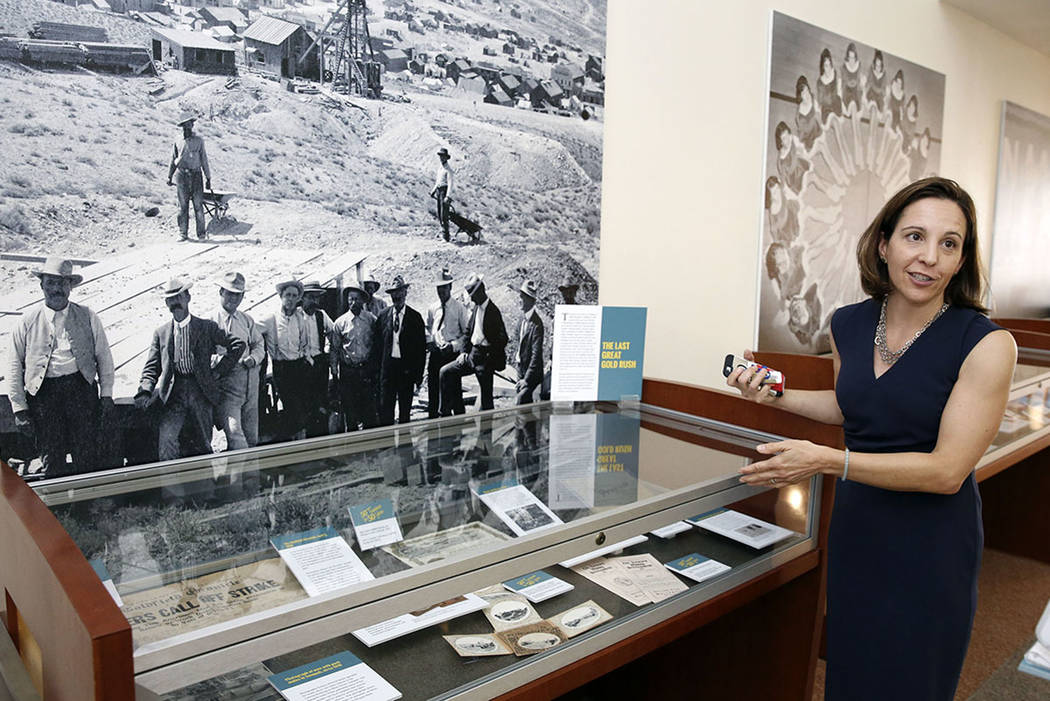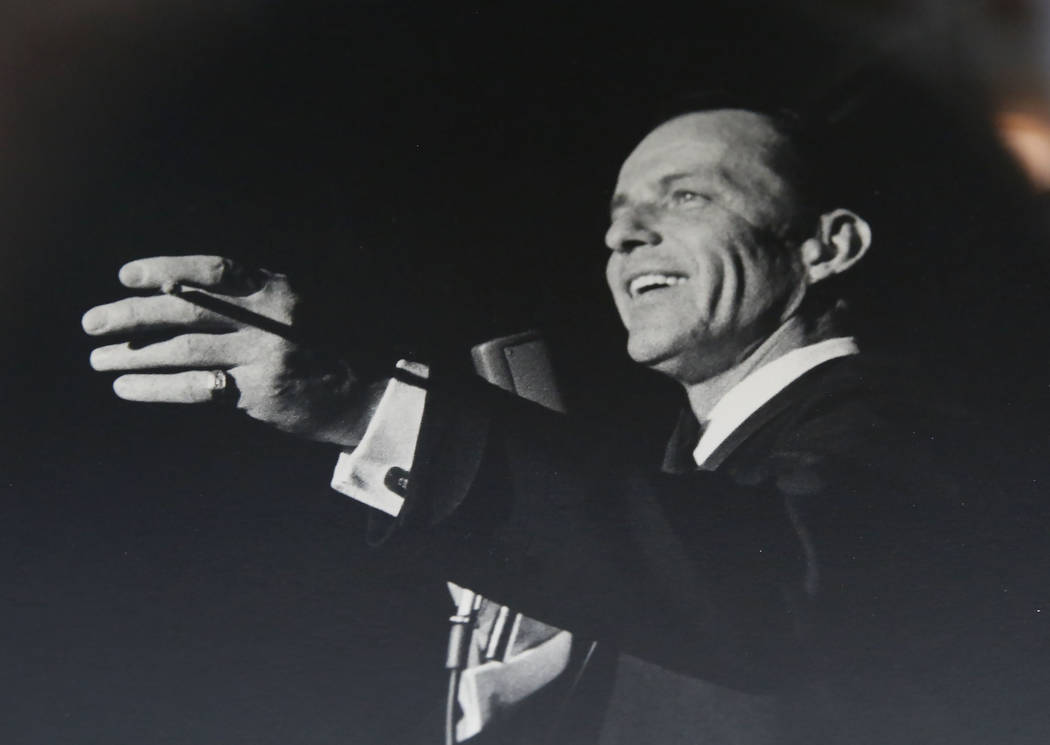 Imagine Fremont Street free of profane language.
Or a downtown Las Vegas landscape where cattle, horses, burros, sheep and goats run free.
These images are a far cry from the Las Vegas now known as a worldwide tourist destination, but they are part of its treasured past on display at UNLV.
"That's a really fun snapshot of what Las Vegas looked like in 1911," said Michelle Light, director of UNLV Special Collections and Archives, as she pointed to the first minute book of the Las Vegas City Commission. "There are really interesting ordinances and laws in there."
The minute book, circa 1911-1922, is one of 50 "treasures" chosen for the Lied Library exhibit celebrating the 50th anniversary of the university's Special Collections and Archives.
Preserving the past
"In many cases, we often have the only copy, or the only photograph, or the only piece of correspondence in existence about Southern Nevada history," Light said. "In that sense, we are the resource if you want to study Southern Nevada history."
The exhibit showcases the diversity and uniqueness of the collections housed and safeguarded by the university, Light said. Some material — donated by individuals, families, businesses, and community groups and organizations — is so rare that it doesn't circulate like everyday library books.
"Ours is unique," Light said. "There's nothing quite like it. I think that's why we protect them so much, because if this disappears, there's nothing really left like it."
The items are snapshots of the materials used not only by UNLV students and professors. Scholars, journalists and filmmakers from around the world visit the Lied Library's third floor for their research.
"If you want to study Las Vegas, or if you want to write a history book about Las Vegas, we are an absolute first stop," Light said.
Glitz, glamour and gaming
Nevada was associated with gambling before it was legalized in 48 states. So it's only fitting that the first case of the 50th anniversary exhibit highlights the state's largest industry.
One of the earliest card games played in Las Vegas —a faro board, circa 1900 — is on display. So is a 1950s Flamingo slot machine.
On the other side of the case, a photo of Frank Sinatra — taken by Hollywood director George Sidney in 1960 — is featured prominently.
"The Rat Pack is one of the most popular questions we get at our reference desk," Light said. "You can see anything from candid photographs to the telegrams that went back and forth between the Sands and the Rat Pack performers. You can see a lot of the behind-the-scenes correspondence, business records that goes into making a show, making a performance. Those records are very fun to go through."
While the Rat Pack — composed of Sinatra, Dean Martin, Sammy Davis Jr., Peter Lawford and Joey Bishop — is synonymous with Vegas entertainment, visitors can also get a sense of the diversity of Strip shows from the early days in the "entertainment capital of the world."
"This wonderful program for the 'China Doll' revue kind of reveals some of the diversity on the Strip that a lot of people aren't familiar with in terms of entertainment," said Su Kim Chung, co-curator of the "Glamour, Glitz, and Girls" case.
Pink, blue and gold colors pop from a set design diorama for "Pink Champagne" in Le Folies du Liban, brightening the case.
"This is one of my favorite cases because it's so vibrant, so colorful," Light said.
Water and early Las Vegas
One of Light's favorite pieces comes from 1927.
It's a promotional brochure from the Las Vegas Chamber of Commerce advertising the city as a place with a limitless water supply, ripe for farming and ranching.
"When you open it up you see fields and crops, and there's a totally different sales pitch for what Las Vegas offered back in this period," Light said. "When you would sink a well, water would just sprout up like it was oil — there was so much pressure underground.
"Eventually, the water ran out."
The other side of the case describes how precious a resource water is in the desert. An ordinance from May 31, 1950, prohibited lawn sprinkling from 9 a.m. to 6 p.m. and midnight to 5 a.m.
"This is the period when people started worrying about the decline of water and its future availability," Light said.
Item No. 25, however, trumps all others in the exhibit, Light said. It's a digitized replica of the photographic record of the construction of the Hoover Dam — the engineering marvel that helped to make Southern Nevada habitable.
The photographs were taken by a Bureau of Reclamation employee and presented to the Six Companies, the consortium that built the dam.
"We couldn't put the original out, because it's one of a kind," Light said. "We think there's only three copies in existence."
Contact Natalie Bruzda at nbruzda@reviewjournal.com or 702-477-3897. Follow @NatalieBruzda on Twitter.
50 Treasures for 50 Years exhibit
Where: First floor, Lied Library, UNLV
When: Now to December
Case 1 — Gamesters and their games
Case 2 — Glamour, glitz and girls
Case 3 — The birth of Las Vegas
Case 4 — A city in the desert
Case 5 — The last great Gold Rush
Case 6 — Remarkable women in southern Nevada
Case 7 — Organizing for a stronger community
Other items: 1955 map of Las Vegas vicinity, Vegas Vic design drawings, 1943 Hotel El Rancho Vegas menu
What makes a collection?
Michelle Light, director of UNLV Special Collections and Archives, said not everything is kept from a donated collection.
"One of the things that we do, is we figure out what will have long-lasting historical value," Light said.
Annual reports, correspondence, publications and meeting minutes usually make the cut. But items such as receipts that document how much it cost to throw a party, or what an executive ordered for lunch, will get shredded.
Professionally trained archivists and librarians can sometimes spend up to 20 hours organizing a "really messy" collection. For the donors who use folders, it takes an archivist between six and eight hours.
According to Light, only 2 to 3 percent of all paper that is ever created is saved and archived for future use.
"So we'll work very carefully with donors, with people or with organizations, and go through their files and figure out what are people going to want to study in 50 years," Light said. "We're building the historical record of Las Vegas so we have to be very thoughtful and careful for how we collect that.