UNLV researcher works to eradicate invasive plant
Updated July 3, 2017 - 10:18 am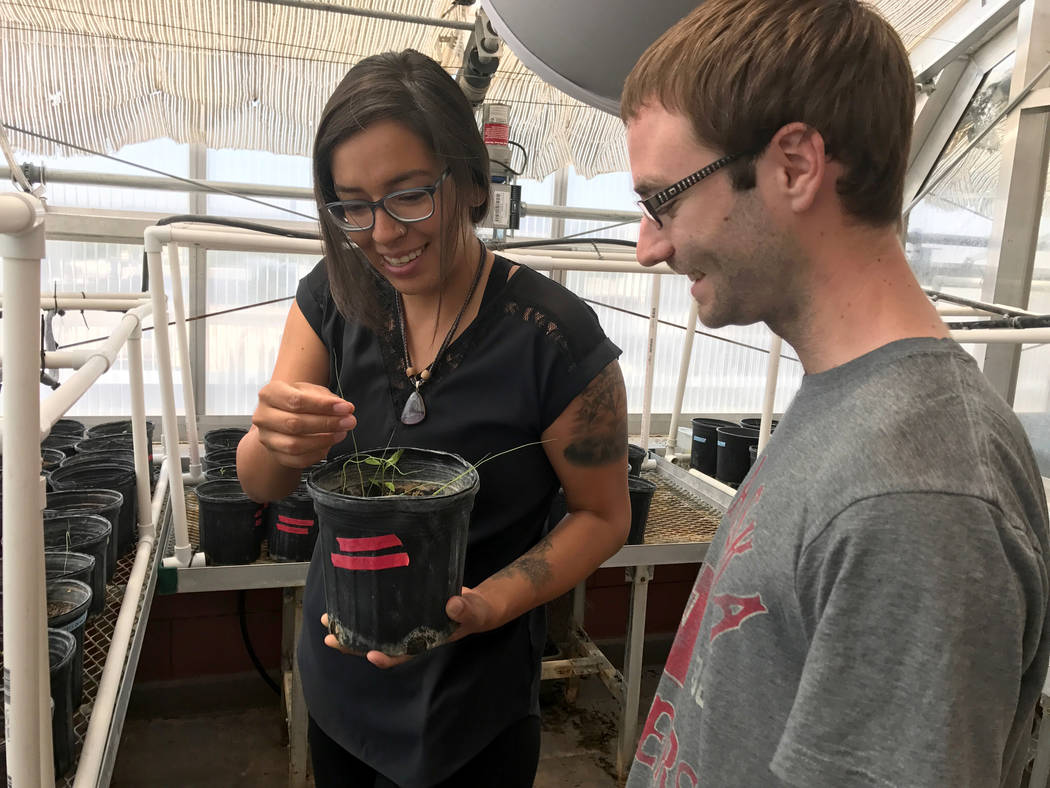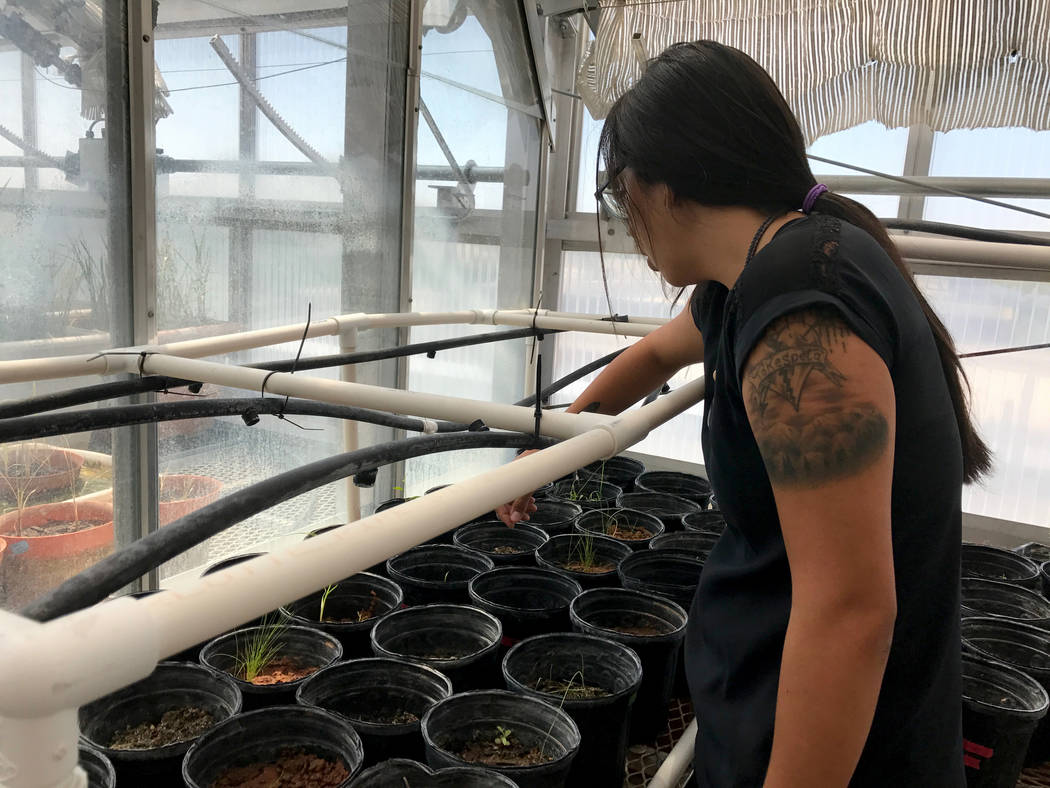 A pink flower bloomed from the cactuses.
The small sign of life appeared just one month after UNLV student Ka-Voka Jackson began a project to research the best way to eradicate invasive plants and bring new, but familiar life to her ancestral land in the Glen Canyon National Recreation Area. The cactuses may be one way.
"It's impressive for a desert plant," Jackson said. "We're testing out different methods, and we want to find the method that works best. The one that is the most efficient, most cost-effective."
Jackson, a Hualapai Indian who grew up on the Peach Springs, Arizona, reservation, is collaborating with the National Park Service to determine how to best remove and eliminate nonnative ravenna grass weeds from five canyons along the Colorado River.
The ravenna, which is crowding out native plants in the canyons, can be a nuisance. Its serrated edges can harm humans and animals. Because the grasses grow close together, they can create a fire hazard.
Digging with a shovel and pick is one way to remove the grass; herbicide is another. Jackson is testing a specific mixture.
Ka-Voka studied biology at the University of Utah and is now studying ecology and evolutionary biology at UNLV. Her master's level project replaces the invasive grasses with plants sacred to traditional ceremonies and everyday life of the Hualapai tribe. White sagebrush and willow baccharis are examples.
"Our culture is really dependent on the plants and animals that are in our environment," Jackson said. "If we don't have those same plants, or the same animals, or if we have a lot of foreign plants and animals coming in and destroying what we always used traditionally, then it's killing our culture at the same time."
The leaves and stems of white sagebrush can be boiled into teas, and used as a poultice. Willow baccharis can be used for basket making, arrows, brooms and roofing.
"I'm taking steps to help other Native Americans' realize that they can do this as well," Jackson said. "It's giving them an opening, or segue into science so they can do this as well. … It's not a lost cause."
Along with her project's broader, cultural implications, Jackson wants to ensure her method of eliminating the ravenna grasses, which are found up and down the Colorado River, can be universally applied elsewhere in the Southwest.
"She's trying to contribute to a larger game plan of how to deal with ravenna grass," said UNLV student Kevin Berghel, who is assisting Jackson with research. "Her herbicide mix might be one of the better ones and then she is essentially helping other parks, too."
Jackson plans to take her first monitoring trip to Glen Canyon this month to see whether the native plants are growing, and whether the herbicide mixture, or digging, would be more effective for removing the ravenna weeds.
While she envisions a broader goal, her project's contract with the National Park Service, designed for Glen Canyon, ends in May 2019. If her techniques were to be applied in another park, a new contract would have to be established for it.
"I want to set this project up to be able to be continued," Jackson said. "I don't want it to just end and everybody forgets about ravenna grass, and everybody forgets about the revegetation we did. … I want it to be sustainable."
Contact Natalie Bruzda at nbruzda@reviewjournal.com or 702-477-3897. Follow @NatalieBruzda on Twitter.
Useful blooms
Cultural plants and dropseed: Seeds used as a food source
Arrow weed: Nectars in the flowers are a source of honey
Fourwing saltbush: Food source
White sagebrush: Leaves and stems boiled into teas
Willow baccharis: Basket making, arrows, brooms, roofing material