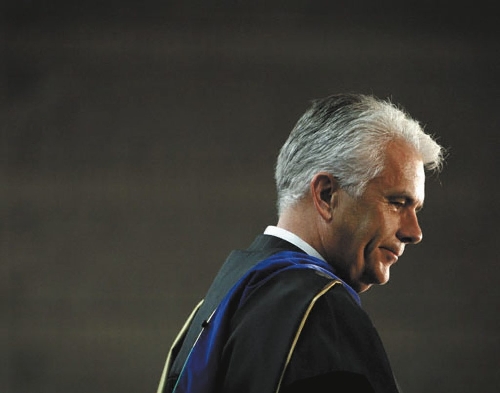 WASHINGTON — Facing multiple ethics investigations on allegations of wrongdoing stemming from an extramarital affair, Sen. John Ensign has established a defense fund and will solicit donations to pay mounting legal bills.
In taking the step, the Nevada Republican acknowledged that he has spent several hundred thousand dollars and that his legal problems will be protracted and even more costly.
Paperwork setting up the Ensign Legal Expense Trust Fund was filed Friday afternoon in the Senate. It will be a year on June 16 that Ensign acknowledged he had an affair, which led to allegations that he violated Senate ethics standards and federal lobbying and employment laws.
In the trust documents, Ensign, R-Nev., said he was raising money to pay expenses in investigations by the Senate Ethics Committee and the Department of Justice. The fund was set up in a 10-page document he signed and had notarized May 21 in Clark County. He contributed the first $10 himself.
"After spending several hundred thousand dollars of his own money, Senator Ensign has decided to establish a legal defense fund to help pay for the legal expenses stemming from the lengthy and drawn out process of the investigations," spokeswoman Jennifer Cooper said in a statement.
Ensign discussed the fund further in Las Vegas with the Review-Journal as he was heading into a small town hall meeting with workers of Martin Harris Construction.
"It's just something I need help on," Ensign said. "I've been paying out of my own pocket at this point. Lawyers are just incredibly expensive these days."
Ensign, who has denied any wrongdoing, said putting on a defense like this "takes huge amounts of hours from lawyers, and it runs up huge bills."
He said he planned to raise the money himself but did not know how much he would have to raise.
"I'm going to ask folks who've been supporters of mine, and hopefully we'll be able to get some help with it," he said.
Authorities are looking into allegations that Ensign violated Senate rules and federal law in his admitted extramarital relationship and in his dealings afterward with the woman and her husband.
The two-term senator acknowledged in June 2009 that he had a nine-month relationship in 2007 and 2008 with Cindy Hampton, his campaign treasurer, who is married to Doug Hampton, Ensign's administrative assistant at the time.
The Hamptons were longtime friends with Ensign and his wife, a relationship that was shattered by the affair. Doug Hampton has emerged as Ensign's chief accuser in media interviews.
Ensign has acknowledged that he retained at least three teams of attorneys.
The firm Fish & Richardson represents Ensign's campaign fund and the Battle Born political action committee, his personal PAC. The firm has responded to a complaint filed with the Federal Election Commission stemming from the investigations.
Federal records show Fish & Richardson, which normally is on a $500 per month retainer to handle campaign finance issues, was paid almost $25,000 in additional funds last fall.
The money was spent from Ensign's campaign accounts and did not come out of his own pocket. That has not been the case with other parts of the investigations.
Paul Coggins, a former federal prosecutor and now a white-collar defense attorney with Locke Lord Bissell & Liddell LLP of Dallas, is representing Ensign in the Justice Department investigation, his office confirmed.
Robert Walker of Wiley Rein LLP, a former chief counsel and staff director for the Senate Ethics Committee, is representing Ensign in that panel's investigation.
According to personal finance reports Ensign filed with the Senate, his family savings and checking accounts dropped significantly during 2009, when he would have begun incurring big retainer fees.
At the end of 2008, accounts with Bank of America, Wells Fargo and the U.S. Senate Federal Credit Union contained at least $401,000. By the end of 2009, those accounts held no more than $351,000.
Senators and Senate staff are permitted to establish legal expense funds to pay the costs of "any investigative, civil, criminal or other legal proceeding" related to their service.
Under rules established by the Senate Ethics Committee, donors are limited to $10,000 a year, except for family members. Details of how much is raised and spent must be reported quarterly, and those reports are made public.
Other senators who have faced ethics and criminal proceedings have established legal defense funds in recent years, including Sens. Larry Craig, R-Idaho; David Vitter, R-La.; Ted Stevens, R-Alaska; and Roland Burris, D-Ill.
In other instances, Sen. John Kerry, D-Mass., opened a fund in 2006 to defend himself in a lawsuit growing from the "Swift Boat" controversy over his service in Vietnam, and Sen. Harry Reid, D-Nev., established a fund to pay for a ballot recount in the 1998 election that he won by 428 votes.
While authorities have not confirmed details of the Ensign investigations, complaints filed by Citizens for Responsibility and Ethics in Washington, a watchdog group, have alleged Ensign might be guilty of sexual harassment in his dealings with Cindy Hampton, who was his worker.
Investigators also reportedly are looking into whether Ensign conspired to break a federal law that requires a one-year "cooling off" period before high-ranking aides can lobby the Senate.
Ensign has acknowledged recommending Doug Hampton for lobbying jobs with friends and supporters in early 2008 after the affair was discovered but has insisted his actions were legal.
Authorities have questioned Republican political figures in Nevada over their contacts with Ensign during that period and have spoken with executives of Las Vegas pay-card companies after it was alleged Ensign might have used the promise of help with an industry problem to place Hampton in a job or acquire donations for GOP Senate candidates.
Contact Stephens Washington Bureau Chief Steve Tetreault at stetreault@stephensmedia.com or 202-783-1760. Contact Jeff German at jgerman@reviewjournal.com or 702-380-8135 .