Ensign's approval rating drops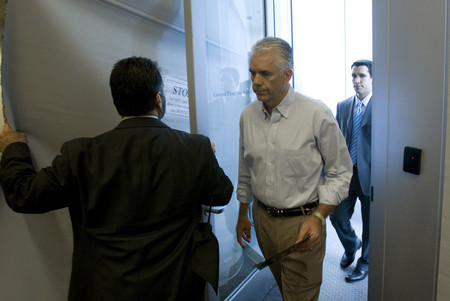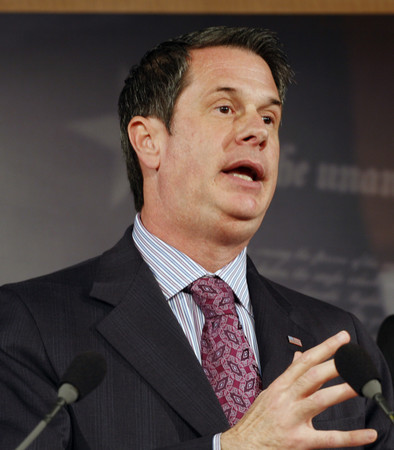 Since admitting an extramarital affair with a former staffer, Sen. John Ensign's approval rating in his home state has plunged.
In a new Las Vegas Review-Journal poll of Nevada voters, 39 percent had a favorable view of Ensign, a drop of 14 percentage points from a month ago.
The percentage who regarded Ensign unfavorably, 37 percent, was up 19 points from a month ago, when just 18 percent viewed him negatively.
Yet most Nevada voters — 62 percent — do not think Ensign should resign from the Senate over his admission last week that he carried on a nine-month affair with a married campaign staffer.
Nearly half say their opinion of the Republican senator is unchanged by the news.
In fact, Ensign remains relatively well regarded in a state whose other two top statewide officials, Gov. Jim Gibbons and Sen. Harry Reid, were already quite unpopular.
The poll of 625 Nevadans who vote regularly, conducted Thursday and Friday by Mason-Dixon Polling & Research Inc. of Washington, D.C., represents the first snapshot of voters' reactions to the Ensign scandal. It carries a margin of error of plus or minus four percentage points.
The new poll contrasts with a similar survey conducted May 12-14 in which Ensign's favorable rating was 53 percent.
Ensign, 51, announced the affair in a news conference Tuesday, saying he has reconciled with his wife since the dalliance with 46-year-old Cindy Hampton, which began in December 2007, ended last August. Ensign said he plans to remain in office.
Until May 2008, Cindy Hampton worked for Ensign's campaign committees, while her husband, Doug, was a top staffer in Ensign's Senate office. Both were longtime close friends of the Ensigns.
Mason-Dixon Managing Partner Brad Coker said Ensign can be grateful that he doesn't have to face voters again until 2012. Provided there are not significant further revelations, voters' anger over this type of scandal is likely to fade over time.
"His numbers have obviously dropped. He's obviously suffered damage because of this," Coker said. "But it could be a lot worse for Ensign. The really significant question is that only 29 percent think he should resign right away. He does have the ability to stay on and turn this around."
The question about his potential resignation was framed in the context of former Sen. Larry Craig. Ensign called on Craig to resign after the Idaho Republican was arrested on charges he sought sex in an airport men's room.
In light of that situation, 62 percent of Nevadans said Ensign should not resign "because of his admitted affair," while 29 percent said he should.
Republicans (17 percent) and men (25 percent) were least likely to want Ensign to step down, while Democrats (40 percent) and women (33 percent) were more likely to call for his resignation.
Poll respondents appeared troubled by the fact that Cindy Hampton got a significant pay raise during the affair.
Her combined pay from Ensign's campaign fund and his political action committee — all money from campaign contributions, not tax dollars — doubled from about $2,000 per month to about $4,000 per month while the affair was going on.
About a third of those polled considered that a very serious concern, while another third called it somewhat serious, for a total of two-thirds viewing the salary increases as a serious matter. Just 28 percent said it was not too serious or not at all serious.
"Time is going to be his greatest ally with this," Coker said. "As long as there's nothing more to it and he goes back to Washington and does his job, he could come back. He wouldn't be the first politician to have an affair who didn't get booted out of office for it."
Coker drew a parallel with Sen. David Vitter, R-La., who in 2007 admitted having been a client of a prostitution service run by the so-called "D.C. Madam."
Vitter stayed put despite the firestorm over that scandal and now is favored for re-election in 2010.
"His (Ensign's) standing has been dropped, and any thoughts of the presidency are definitely out the window," Coker said. "He's paid a price politically, and in the short term he will continue to pay a price. But we'll see what three years brings. If Vitter could bounce back in a much more socially conservative state than Nevada, Ensign has at least a 50-50 shot at it."
Larry Sabato, head of the Institute for Politics at the University of Virginia, said Ensign is helped by the fact that he was very popular in his home state before the scandal.
With sex scandals involving politicians becoming commonplace in recent years, voters are increasingly willing to forgive, especially if the scandal is a matter of simple infidelity and the politician involved confesses quickly and fully.
"We are in a new era," Sabato said. "What would have killed the king 20 years ago is a flesh wound today."
But he cautioned that the Ensign story clearly is not over, with new details of Ensign's relationship and dealings with the Hamptons continuing to dribble out and many questions remaining unanswered. Ensign's office has acknowledged the senator helped Doug Hampton find employment upon his departure from the Senate staff.
On Friday, an Ensign spokesman said Doug Hampton, through an attorney, had made an "outrageous demand" for a large amount of money in the past month, with the implication that it would buy the couple's silence.
Through their Las Vegas attorney, the Hamptons have blamed Ensign for choosing to go public with the affair, but a letter has since surfaced in which Doug Hampton described the situation to the Fox News cable network and pleaded with anchor Megyn Kelly to expose the affair.
"Today, people are basically saying, 'He had an affair. We've been through this before. We generally give politicians a second chance,'" Sabato said. "But people are going to learn a lot more unpleasant things about Senator Ensign. That much is already obvious. People don't know just how messy the truth is and how nasty it's going to get. This is not going to be a simple controversy where you have a press conference, the wife stands loyally by you, and then it's over."
At 39 percent, Ensign's diminished favorable rating is slightly higher than that of the state's senior senator, Majority Leader Harry Reid (34 percent), and far above that of the dismally unpopular Gov. Jim Gibbons (10 percent).
"That sure says something, that the guy involved in the adultery scandal is the most popular senior elected official in the state," Sabato said. "I don't know what it says, but it says something."
Contact reporter Molly Ball at mball @reviewjournal.com or 702-387-2919.