Entering tonight's debate, poll shows Angle ahead of Reid
October 13, 2010 - 11:15 pm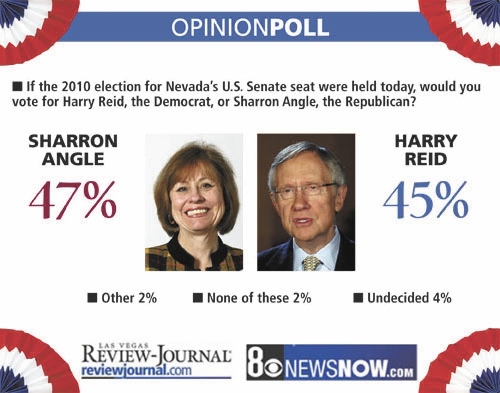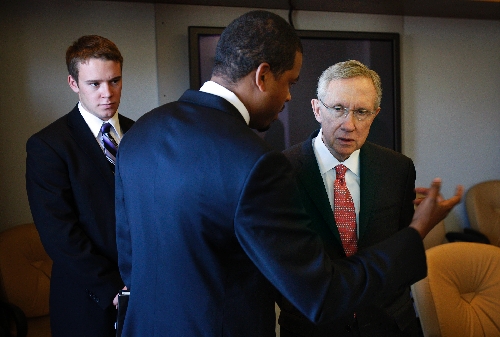 For the first time since Sharron Angle won the GOP primary, she's edging out U.S. Sen. Harry Reid in a new poll for the Las Vegas Review-Journal and 8NewsNow highlighting the high stakes of tonight's only debate in the race.
The survey by Mason-Dixon Polling & Research shows Angle with 47 percent support compared with 45 percent for Reid. That's within the margin of error of plus or minus 4 percentage points. Another 4 percent were undecided, 2 percent chose other candidates and 2 percent "none."
Angle gained among Republicans and even Democrats. She also maintained a healthy advantage over Reid among swing voters aligned with neither party, although Reid narrowed the nonpartisan gap to 8 points, or 48-40, keeping the race in dead heat territory.
Republicans point to several recent polls that show Angle over Reid to argue she has momentum, but a couple also show Reid up, further testament to the tight race. Most analysts believe the election could go either way, with the Senate majority leader struggling to survive as Nevadans start early voting this Saturday.
"I wouldn't call it momentum so much as what you would expect to happen as undecided voters start to drift a little bit toward the nonincumbent," Mason-Dixon pollster Brad Coker said of Angle's slight gains. "At the end of the day, if Nevada voters really want to get rid of Reid, they'll vote for just about anybody. And I've always said this race is a referendum on Reid."
When "leaners" are included, Angle remains 2 percentage points over Reid, 48-46. Leaners are undecided voters asked to make a choice among candidates as if the Nov. 2 election were now.
The survey also found that Angle and Reid supporters were largely locked into their decisions, with only 1 percent of her backers saying they might change their minds and 5 percent of his.
"She needs to hold the majority of independents to stay competitive," said Jennifer Duffy of the Cook Political Report. "It's going to be one of those races where every single vote counts."
Duffy drew a comparison to Olympic figure-skating to describe what voters might be looking for in the debate, to be broadcast live from the Vegas PBS studio.
"You want to either see some quadruple jumps — or you want to see somebody fall," Duffy said. "The outcome depends on whether or not one of them makes a mistake."
The telephone survey of 625 likely Nevada voters statewide was taken Monday and Tuesday.
Reid remains highly unpopular, with 52 percent of voters having an unfavorable opinion of him compared with 40 percent who have a favorable view. Opinions of Angle are less harsh: She has a 43 percent unfavorable rating and 41 percent favorable, a slight improvement over three weeks ago.
Both candidates and outside groups have been running millions of dollars in negative TV ads to sway voters. The spots initially damaged Angle, giving Reid the edge after the June 8 primaries. But the ad wars seem to have settled into a brutal back and forth that has left viewers a bit numb.
More than two-thirds of voters, or 64 percent, said the TV ads are "not an important factor at all" in affecting their voting decision, according to the poll.
"They're lying," said Eric Herzik, political science professor at the University of Nevada, Reno. "Everybody says they don't like negative ads, but they watch them. And if you ask them specific questions about the candidates, the information comes from the negative ads."
Several of Angle's ads attack Reid as the "best friend" of illegal immigrants for pushing for comprehensive immigration reform that could one day allow undocumented workers to become U.S. citizens, an unpopular move as Nevada suffers a record 14.4 percent jobless rate.
More than half of Nevadans oppose such immigration reform, including the key nonpartisan swing voters, according to the new Mason-Dixon survey that tracks with previous polls on the issue.
Also unpopular are some of Reid's signature accomplishments in the Senate, including passage of the $787 billion economic stimulus and the new health care reform law, which more than half of Nevadans want to repeal, according to the latest poll.
Asked about President Barack Obama's actions to stabilize the economy, 45 percent said they have hurt, 29 percent said they have improved things, 21 percent said no effect and 5 percent weren't sure. As Senate majority leader, Reid is responsible for passing Obama's agenda.
Nevada voters were divided on whether they agree with the "agenda" of the Tea Party movement, which backs Angle and her philosophy of smaller government and less taxes and spending.
Some 44 percent said they support the agenda, 44 percent said they did not and another 12 percent were not sure, according to the poll. Among Republicans, 77 percent support the philosophy while 73 percent of Democrats do not. There's much division among independents, with 41 percent not supporting the agenda, 36 percent agreeing with it and 23 percent not sure.
Duffy said the Tea Party movement has two layers, one consisting of conservative Republicans such as Angle and the other involving people "who wear funny hats and go to rallies," including fringe elements that have hurt the reputation of the "Tea Party" label.
"There are a lot of people who are sympathetic to the movement, but they wouldn't necessarily tell a pollster, 'I'm in the Tea Party movement,' " she said. "They're not necessarily into funny hats."
The Angle campaign said the latest Mason-Dixon poll tracks with what it sees as an election starting to go her way, although spokesman Jarrod Agen said he expected a close race to the end.
"Sharron is slowly gaining in support and this is an encouraging sign for us," Agen said. "The economy is the No. 1 issue to voters and Harry Reid is responsible. I don't see how Harry's going to change this trend. He's spent a lot of money on negative ads, and he hasn't been able to put any separation between him and Sharron. I think we are right on course to win."
The Reid campaign dismissed the poll findings and took a shot at the Review-Journal, which recently endorsed Angle on its editorial pages.
"The paper has to do everything possible to try to help her because its editors know that Nevadans are rejecting Angle's lies and her extreme agenda," Reid spokesman Jon Summers said in an e-mail. "Fortunately the R-J's polls are historically poor predictors of election day results."
The last Mason-Dixon poll for the Review-Journal ahead of the GOP primary predicted Angle would likely win, although she gained far more support than anyone expected at 40 percent.
Coker of Mason-Dixon agreed with most political analysts that the Senate race probably would come down to whether Angle's grassroots supporters and the enthusiastic GOP base will turn out to vote in higher numbers than Democrats, which have a 60,000 registered voter advantage in Nevada.
Reid and the Nevada Democratic Party are highly organized and have been working closely with Obama's "Organizing For America" extension of the national party to get out the vote. The question remains, however, whether Reid can move voters to the polls a dozen years after his last close race.
"It's been 12 years since he really had to turn out people," Coker said. "If you haven't driven your car on the highway for a while, you're never quite sure how fast it's going to go when you get out there."
Contact Laura Myers at lmyers@reviewjournal.com or 702-387-2919.
Senate debate between Sharron Angle and Harry Reid
Today, 6 p.m.
Moderated by Mitch Fox at VegasPBS studio
Debate is closed to the public, but airing live on many TV and radio stations
PRESIDENTIAL VISIT
President Barack Obama's rally for U.S. Sen. Harry Reid will be held in an open space east of Orr Middle School in Las Vegas. The Oct. 22 event, which starts at 3:30 p.m., is free and open to the public.