Family, friends suspect foul play in death of 'Buffalo Jim'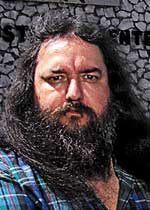 Controversial in life, James "Buffalo Jim" Barrier has become controversial in death.
The auto repair shop owner who gained notoriety for his years-long feud with former strip club owner Rick Rizzolo, was found dead Saturday night at a Motel 6 at 4125 Boulder Highway, near U.S. Highway 95. Barrier was lying on a bed fully clothed except for his shoes and clutching a bottle of Valium pills.
Las Vegas police said Monday that the 55-year-old's death did not appear suspicious, but friends and family believe Barrier may have been killed.
"Our friends and family think it's a homicide," said Barrier's 24-year-old daughter, Jennifer. "He was so excited about life. I couldn't imagine him doing this on his own. He would never commit suicide."
Jennifer Barrier and Steve Miller, a Las Vegas writer and former city councilman, said Barrier had received death threats in print and over the phone during the last few months. Barrier also told Review-Journal writers recently that his life had been threatened.
Barrier's attorney, Gus Flangas, said Barrier wasn't concerned about the messages.
"All I can say is the circumstances (surrounding Barrier's death) seem suspicious; obviously it will warrant further investigation," Flangas said. "Beyond that, it would be nothing other than speculation on my part."
Lt. Lew Roberts, head of the Metropolitan Police Department's homicide section, said Barrier's death doesn't appear to be the result of foul play.
But "due to the concerns brought forth by the family, we are taking a look into it, as we would in any other case where we were requested to do so," Roberts said.
Jennifer Barrier said she was contacted by FBI agents on Monday and questioned about her father's death threats. The FBI would neither confirm nor deny the claim.
Barrier had been embroiled in a lawsuit with Rizzolo since 2002. Rizzolo's company owns the property on which Barrier's business, Allstate Auto and Marine Electric shop, was located. During a 2007 hearing, Barrier testified that Rizzolo planned to expand his Crazy Horse Too strip club and take over his repair shop. He said cars at his shop were frequently vandalized and towed.
Rizzolo was ordered to set aside $1 million from the sale of Crazy Horse until Barrier's harassment lawsuit was resolved.
Barrier provided information on Rizzolo to the federal government during its tax evasion investigation in 2006. Rizzolo served nearly one year in federal prison after pleading guilty to conspiracy to evade taxes. He was formally released from custody on Friday.
Attempts to reach Rizzolo's attorney, Tony Sgro, for comment late Monday were unsuccessful.
Miller, who often challenged Rizzolo alongside Barrier, said Barrier told him Saturday that he had received an anonymous phone call Friday from a man claiming to be a hit man preparing to kill him.
Review-Journal writers Corey Levitan and John L. Smith both said they had spoken to Barrier in recent weeks — Smith as recently as Friday — and that he had made mention of threats on his life.
Jennifer Barrier said her father left his home Saturday evening and told a younger sister that he would be back by midnight. Jerica, 15, called her father several times, but he did not answer. They never saw him again.
Jennifer said there was no reason for him to be at a motel on Boulder Highway. When he stayed at hotels, he rented rooms in high-end places. He recently rented a penthouse at the Bellagio for Jerica's 16th birthday party on April 13.
When Barrier's body was found, Miller said, his Rolls Royce was in the motel's parking lot.
Barrier was easily recognizable with his large frame, long dark hair and scraggly beard. He moved to Las Vegas from Cleveland in 1970 and opened his auto repair shop and a wrestling school. The wrestling school closed in 2003. Barrier also hosted a local cable wrestling show called "Jim Wars," and wrote an auto repair column for the Review-Journal.
"His personality and his appearance were totally different," said Miller, who befriended Barrier nine years ago. "He just happened to use an image he created earlier to build a fantastic auto business."
Barrier catered to regular Las Vegas residents as well as celebrities. He publicly battled with former casino mogul Bob Stupak over a $20,000 repair bill. He battled Kid Rock after the engine in a 1961 Cadillac loaned to the rock singer blew up. Barrier said he told Kid Rock not to drive the vehicle more than a mile or two. The partying star took it to Primm, where he proposed to actress Pamela Anderson.
Barrier was divorced but remained close to his ex-wife and doted on his four daughters.
"He was not a swinger, not a carouser, not a philanderer; he was just a guy who loved his kids," Miller said. "He was an ordinary guy."
Barrier was negotiating to purchase the land on which Sahara RV was located, which would have seemingly ended his battle with the owners of the Crazy Horse. He was also negotiating a television deal for a reality show, Miller said.
Jennifer Barrier described her father as a health nut, taking vitamins and herbs daily. He was prescribed Valium to help him sleep, but only took half a pill at night. She said doctors told her that even if he ingested the entire bottle, he would not have died.
"We just need to get an investigation under way," she said.
Review-Journal writer Francis McCabe contributed to this report.
Contact reporter Adrienne Packer at apacker@reviewjournal.com or 702-384-8710.