Family mourns 9-year-old's death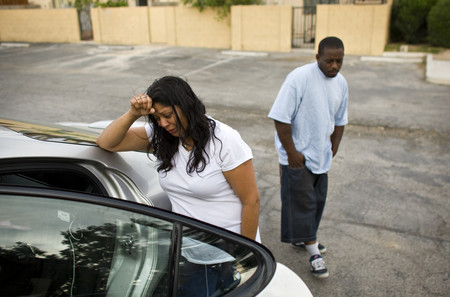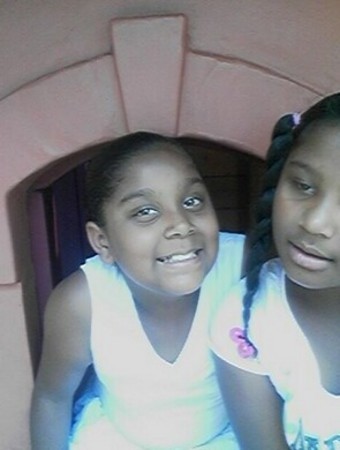 Late Friday night, Will Bullins opened the screen door on his two-story apartment and walked onto the balcony to get some air.
In the living room, just a few feet away, two of his daughters were watching TV and playing on the couch.
The older one, 9-year-old Savannah, had arrived the day before from California with her mother, who was leaving her there for the summer.
Savannah was excited. She had just won first place in her school science fair.
As Bullins looked out into the temperate desert night, he saw a man jump out from around the corner of the building across the parking lot.
Bullins squinted. The man seemed to be looking up at him.
The man raised a gun with two hands.
And fired.
As he whirled around and ran inside his living room, Bullins immediately looked to his daughters.
Savannah had been hit, but was moving toward the stairs, at the front of the house and away from the line of fire.
Her sister, with her 2-year-old legs, was not moving as fast.
Because they weren't close to each other, Bullins could grab only one at a time.
"One of them is in danger and the other one is hurt," he said. "That's a real (expletive)-up decision to have to make."
He scooped up the 2-year-old and placed her in the stairway and out of danger.
He went back for Savannah, who had fallen and was bleeding.
As he ran downstairs with her, his mind was racing. All he could think about was how to save her. He thought the best thing to do was to lay her down.
Once on her back, the bleeding became worse. He covered her heart with his hand as she stopped breathing.
His wife, Kimberly Bullins, performed CPR.
"She said, 'Baby, I got her breathing again. I got her breathing,'" he said. "It was like a load off my shoulders. It was like hope."
An ambulance arrived several minutes later and took Savannah to University Medical Center.
An hour later, as he stood talking to North Las Vegas police, an officer came up to him.
"There is no easy way to tell you this. …"
He was expecting to hear that his daughter was going to be OK. Will Bullins screamed, "Why?"
"What did I do to you?" he shouted into the night. "I'll (expletive) kill him! Why?"
• • •
Bullins, 29, moved to the apartment complex at 2112 Sun Ave., near Civic Center Drive and Cheyenne Avenue, 12 days ago with his wife and children.
The neighborhood wasn't great.
"I don't let any of the kids play outside," his wife, Kimberly Bullins, said Saturday. "Trying to protect them, you know."
Will Bullins said he had seen people in the neighborhood — young men and boys — glaring at him from time to time. They'd walk by, look over at him, get on their cell phones.
They knew he had a house full of kids, he said.
As he stood outside the apartment Saturday afternoon, he stared grimly at a group of people across the street.
He returned to the apartment with his wife and 33-year-old Raji Kaur, his ex-wife who is Savannah's mother, to get some belongings.
North Las Vegas police officers stood at a distance as he loaded his car with clothes, suitcases and whatever else he could fit.
"They know who it was. They know who did it," he said of the people across the street. "They just won't say anything."
Bullins said he doesn't know why somebody would want to shoot at him, but it was clear that from the numerous bullet holes in the side of his apartment — still labeled "A" through "J" by police — that the gunman was determined.
Police have not released any information on a suspect or suspects. Bullins said he is certain it's someone in the neighborhood.
But he's not confident that the killer will be caught, because he doesn't believe anybody will come forward with information.
"They just stand around saying, 'I don't know nothing,'" he said. "I don't call myself a snitch or anything; but if it's babies and kids involved, if you know something, come forward."
Kaur had been crying so much that by Saturday afternoon tears wouldn't fall from her eyes.
"They didn't take my daughter," Kaur said. "They took my life."
Her daughter loved cooking. Loved the beach in the Venice area of Los Angeles, where she grew up. Loved helping around the house.
"She was mature for her age. She was a loving, caring person. I always called her my angel," Kaur said.
A year and a half ago, Bullins was "blessed with a son."
After his wife was giving birth, a doctor came up to talk to him. The doctor said a bunch of stuff he can't remember.
What he does remember is the doctor saying, "Your son is dead."
There was a problem during delivery.
Bullins thought that was the worst he would ever feel. But it wasn't.
"It seems like every time life takes a swing at you, it's just a little bit harder than the time before."
Contact reporter Lawrence Mower at lmower @reviewjournal.com or 702-383-0440.