Family says private investigator needed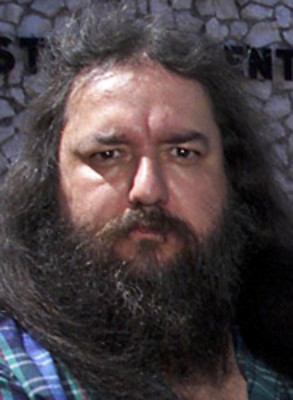 Citing bizarre twists surrounding the death of their father, James "Buffalo Jim" Barrier, the iconic auto mechanic's daughters said Tuesday they plan to hire a private investigator to determine how Barrier died.
"I just want people to take this seriously because it was definitely a murder," Jennifer Barrier, 24, said. "It's a mystery, and it needs to be solved."
James Barrier, known for an ugly, long-running feud with Rick Rizzolo, former owner of the neighboring Crazy Horse Too topless cabaret, recently had received a barrage of death threats. Most were handwritten in capital letters; at least one was a phone call from a self-proclaimed hit man, his family said.
Barrier, 55, was found dead Sunday afternoon by a maid in a Motel 6 room at 4125 S. Boulder Highway. He was last seen by family members on Saturday evening.
Nagging the Barrier family are two circumstances surrounding his death: the condition of the motel room and that his Rolls-Royce was not in the motel parking lot when his daughters arrived to identify his body, but which reappeared later Sunday night.
Jennifer Barrier said Tuesday the Rolls-Royce is the same automobile at the center of a battle between her father and Bob Stupak, the colorful gaming entrepreneur who built the Stratosphere hotel-casino.
She also acknowledged speculation that her father was with a prostitute at the motel on the night of his death.
But she said he was found fully clothed with the exception of his shoes, which were neatly placed beside the motel bed. The bed was perfectly made as if it was untouched. He was lying on his back on the bed with a half-filled glass of water on the bedside table, Jennifer Barrier said.
She added that her father always carried at least $1,000 in cash. When his body was discovered, there was a single $1 bill in his wallet.
Her father was not a trusting individual and grew to be especially cautious after he began receiving death threats, the daughter said. She suspects somebody drugged him and dragged him into the bottom-floor room to make it look as though he died of natural causes.
He had a bottle of Valium in his possession, but there were still pills in the container, she said, adding that he had a prescription to help him sleep at night.
"If you saw the scene, it was a setup," she said.
Las Vegas police officers who responded to the motel at 1:30 p.m. Sunday determined that the death was not suspicious. Officials with the coroner's office were called, and James Barrier was officially declared dead at 2:30 p.m.
"If it doesn't look suspicious, then you notify the coroner," Las Vegas police officer Marty Wright said.
Wright added that a deputy coroner did not find the death suspicious. Police took photos of the scene, Wright said.
Police contacted the daughters and handed them an envelope with his belongings when they arrived. Wright confirmed that nothing was dusted for fingerprints.
Sgt. John Loretto would not comment on whether James Barrier had filed a formal police report into death threats made against him.
Loretto said the department would not release any more information on the case until the coroner's office releases its report.
On Tuesday, mechanics at James Barrier's auto shop, on Industrial Road, continued to work on cars. Photos of Buffalo Jim, his daughters and dozens of celebrities crammed the walls of the small lobby. Two flower bouquets sat on the front counter besides stacks of paperwork.
"He always told me if something happened to him, he wants his business to go on," mechanic Ulises Arguelles said. "That's why we're here."
Arguelles said James Barrier appeared to be increasingly bothered by the death threats.
But James Barrier's lawyer, Gus Flangas, was skeptical of whether he ever filed a police report on the threats.
"Just knowing him, I doubt he did," Flangas said.
"He used to copy everything, newspaper articles, documents, anything pertinent" to his dispute with the Crazy Horse, Flangas said. "He used to tell me he would spend thousands of dollars a month on copying charges."
Flangas said James Barrier would send the documents to an extensive mailing list, which included Flangas and friends in law enforcement. He copied the death threats too, Flangas said.
"But I don't know if that (information) made its way down to the responding officer level," he said.
James Barrier had 15 months remaining on a contract to lease the property from Rizzolo but was in negotiations to buy a nearby RV rental business.
Arguelles said James Barrier was looking forward to distancing himself from Rizzolo and moving forward with a more peaceful existence.
He and Rizzolo had been embroiled in a feud for years. In 2002, James Barrier filed a harassment lawsuit against Rizzolo and alleged that cars awaiting repairs were vandalized and towed. James Barrier testified last year that Rizzolo wanted to run him off to allow the Crazy Horse Too to expand.
Rizzolo lost the business after he pleaded guilty in 2007 to a charge of conspiracy to evade taxes. James Barrier provided information to the federal government during its investigation of his nemesis. Rizzolo was formally released from custody on Friday.
Rizzolo's attorney, Tony Sgro, did not return phone messages Tuesday.
In regards to the Rolls-Royce, a February column by Review-Journal writer John L. Smith said Stupak brought his 1979 Silver Shadow to James Barrier for repairs shortly before Christmas. When attempts to collect the nearly $20,000 repair bill failed, James Barrier took possession of the car. The Rolls-Royce went missing from the shop, but before a police report was filed, it was returned.
Jennifer Barrier said the keys to the luxury car were with her father when his body was found, leading her to suspect someone else possesses a spare set.
"Somebody took his car and brought his car back to the scene," Jennifer Barrier said.
Attempts to reach Stupak for comment late Tuesday were unsuccessful.
Arguelles and the daughters agree that James Barrier was in good spirits last week and was not in a suicidal state.
Robert Karman, a customer, said he spoke on Friday with James Barrier, who told him to call for an appointment on Monday.
"He was planning the week ahead," Karman said. "The guy didn't look to me like he was ready to go to a different world."
Arguelles and Jennifer Barrier also said James Barrier, despite his large frame, was in good shape.
Jennifer Barrier dismissed the possibility that her father could have suffered a heart attack and said he just recently visited his physician and was told he was healthy.
An autopsy was performed on his body Monday, but the cause and manner of his death is not expected to be known for at least two weeks, said Samantha Charles, a spokeswoman at the Clark County coroner's office.
Charles said autopsies are typically performed to determine the cause of death of seemingly healthy people who die with no one around.
Although they are not done frequently — in 2006, the office performed 1,312 autopsies though 10,000 bodies were delivered — the exam does not mean a suspicion of foul play exists.
The public is invited to services for James Barrier at 11 a.m. Saturday at Palm Mortuary, 7600 S. Eastern Ave.
Review-Journal writer Lawrence Mower contributed to this report. Contact reporter Adrienne Packer at apacker@ reviewjournal.com or 702-384-8710.
VIDEO
Meet Buffalo Jim