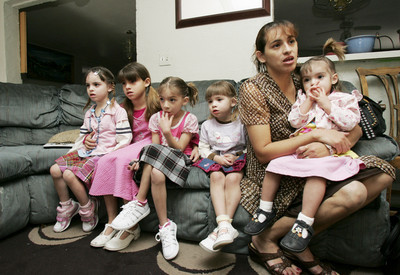 Four-year-old Celeste Quezada came bouncing into the living room Tuesday morning and, with a soberness far beyond her years, said something that had her four pig-tailed sisters quickly nodding in agreement: "I want my dad back."
But the girls' 34-year-old father, Raymundo Quezada, won't be back anytime soon. He's stuck in Mexico, where he was deported last week.
He and his wife, 33-year-old Baudelia Quezada, knew they were taking their chances when they crossed into the United States illegally about 14 years ago, hoping for a better life.
But their six American-born children, including their eldest, an 11-year-old son who was in school on Tuesday, don't really understand that. They just want their dad back.
"His name is Raymundo," 10-year-old Geovana said while her sisters watched "Tom and Jerry" reruns on the family's television. "When he went outside, the police got him."
It happened the evening of Feb. 23, when Baudelia was getting her children ready for bed. Someone began pounding on the front door.
Two men and two women, dressed mostly in black, stood on the front porch of the family's east Las Vegas home, holding a photo of a man Baudelia had never seen before.
They told her in Spanish that they were looking for the "dangerous man" in the photo and believed he was hiding in the family's backyard.
Baudelia called to her husband that police were at the house. She ushered her frightened children into a back bedroom.
When Raymundo opened the door and stepped outside, he was pushed against the side of the house and handcuffed, Baudelia said.
"They said, 'He's the one we're looking for,'" she said.
One of the four people handed her a card that read: U.S. Immigration and Customs Enforcement.
Illegal immigrants get deported all the time, said Malena Burnett, the owner of a local business that helps immigrants with citizenship applications and other legal issues and who is trying to help the Quezadas.
The children and their parents, who are hard-working and own their house, got to Burnett.
"I can't stand sending these kids to the border," she said. "I know what life is like in Mexico."
Burnett criticized immigration officials for using a story about a "dangerous man" that scared the children to get access to their father. She doesn't think Raymundo should have been targeted anyway.
"We are deporting folks who pose no threat to our national security," she said. "There are six children whose safety and welfare are now in jeopardy, who have no place to go in Mexico."
ICE officials wouldn't comment specifically on the case, citing privacy concerns.
Spokeswoman Virginia Kice said ICE does prioritize its enforcement efforts "by targeting fugitives who have demonstrated a threat to national security or public safety."
"But we have a clear mandate to pursue all those who have defied court orders to leave the country," she said. "It's our responsibility to enforce the orders handed down by our nation's immigration judges."
Kice said ICE "fugitive operations" officers wear jackets clearly identifying themselves as ICE.
"That said, in some instances, those officers may employ ruses to help safely effect an arrest," she said. "Ruses are used by virtually every law enforcement agency."
A few days after he was picked up, Raymundo, who worked for years as a cabinet maker in Las Vegas, was deported to Nogales, Mexico, with the clothes on his back and a cell phone, Baudelia said.
Her first instinct, she said, was to pack up the kids, who have never been outside the U.S., and drive straight to the border to be with Raymundo.
"I need my husband," she said. But, she added, "we have nothing in Mexico."
Raymundo's brother-in-law, who lives in Las Vegas, sent him enough money for a hotel room in Nogales for a few days. Raymundo has since moved further south looking for work and an affordable place to live that would accommodate all the children.
He's had no luck, Baudelia said Wednesday.
"He called me crying," she said. "He's sleeping in a church."
Baudelia, who works at a local day care center during the week and cleans houses on the weekends, fears for her husband's safety and welfare in a country where he no longer has any family connections. The thought of moving her children to Mexico makes her shudder.
"It's horrible there," she said. "It's no place for my kids. This isn't their faults."
Raymundo and Baudelia Quezada have been fighting deportation since 2001, she said. They have filed numerous appeals, all of which have failed.
But Baudelia insists that neither she nor Raymundo knew until last week that a final, official "order of deportation" against both of them had been issued.
The family's immigration attorney did not return calls seeking comment.
Baudelia also wasn't sure why immigration officials didn't nab her along with her husband.
Kice said that if immigration officers go to a home where both parents have final orders of deportation, officers "may allow one of the adults to remain free … to care for those children while the agency makes preparations for the fugitive's removal."
It is up to the family to determine what will happen to their children in the event parents are deported.
"If the children are in the country lawfully, the parents may choose to have them remain in the United States in the care of relatives or family friends," Kice said. "If the family wants to have the children accompany them when they are repatriated, ICE will seek to accommodate the family's wishes."
In a 2007 report, Human Rights Watch estimated that about 1.6 million spouses and children living in the U.S. had been separated from their parents, husbands or wives because of deportations between 1997 and 2005.
While the data are several years old, the estimated rate of families being separated by deportation hasn't changed dramatically in recent years, a Human Rights Watch spokeswoman said.
Baudelia, through her attorney, has applied for a temporary "stay of deportation" to give her time to try to sell the family's Las Vegas house and prepare for the move to somewhere in Mexico. She's waiting to hear whether it will be approved.
"I am a fighter and I want to stay, but if he (Raymundo) isn't here, I don't want to be," she said. "I will leave voluntarily."
Raymundo will not try to cross the border back into the United States.
"He doesn't want to break the law again," Baudelia said. "It wasn't easy for us to break the law; we are not delinquents. But we wanted opportunity, to work and to raise our children in a safe place."
Now Baudelia feels that opportunity slipping away.
"I just pray that God will take care of us."
Contact reporter Lynnette Curtis at lcurtis @reviewjournal.com or 702-383-0285.
Slideshow