Father, son sentenced to life terms in slaying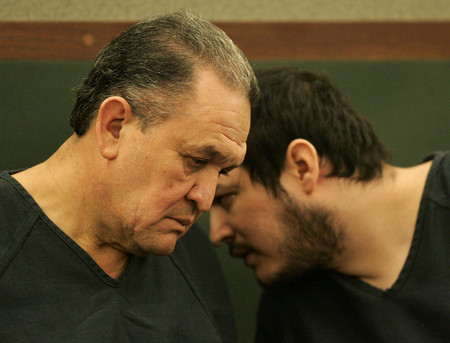 The former owner of the Palomino strip club defiantly spoke out in court Tuesday, saying he was innocent of killing an ex-employee believed to be bad-mouthing the business.
Luis Hidalgo Jr., who stood shackled next to his son, Luis Hidalgo III, said during his sentencing that he was merely "a trophy" for prosecutors who wanted a high-profile defendant in the 2005 slaying.
"I had no reason at all whatsoever to go ahead and do any harm to this gentleman," he said. "I don't function that way."
At the end of the hourlong hearing, District Judge Valerie Adair sentenced Hidalgo Jr., 58, and his 27-year-old son to spend life in prison.
Both will be eligible for parole in 20 years.
A jury convicted them of second-degree murder, conspiracy to commit battery with a deadly weapon or battery resulting in substantial bodily harm in connection with the death of 44-year-old Timothy Hadland.
Hadland was found shot in the head in the middle of a deserted road near Lake Mead on May 19, 2005. Fliers for the club, located on Las Vegas Boulevard in North Las Vegas, were littered around his body.
Authorities said Hadland, a former Palomino doorman, was killed because he was bad-mouthing the club to cab drivers. That in turn cost the Palomino thousands of dollars in lost revenue, authorities said.
The contract on the victim's life was for about $5,000, authorities said.
But Hidalgo Jr. denied he had a grudge against Hadland, whom he described as a "good man." He said he rarely saw the victim at the club.
His son declined to speak at the hearing.
Hidalgo Jr., who once worked as a civilian employee for a California sheriff's office, moved to Las Vegas in the 1990s. He opened Simone's Auto Plaza and became involved in the Palomino through his friendship with a previous owner.
Chief Deputy District Attorney Marc DiGiacomo told the judge that both defendants were responsible for Hadland's death. The prosecutor asked for the stiffest sentence possible.
"Mr. Hadland and his family are entitled to a life sentence," he said.
Hadland's relatives packed the courtroom Tuesday. His daughters described Hadland as a loving father of four whose death left a huge hole in their lives.
His daughter Allana, who is serving in the military, said she called Hadland's voice-mail for months after his death just to hear his voice.
"I don't understand how someone's life could be valued at $5,000," she said. "My father's life could not be valued in dollar amounts."
The victim's other daughter, Jennifer, was 14 when her father was killed. She said she still has trouble accepting that he won't be able to walk her down the aisle at her wedding or be a part of her life.
"I'll never be able to have him hug me. I'll never be able to see him," she said.
Several co-defendants involved in Hadland's slaying have already gone to trial or have taken plea deals.
The man accused of shooting Hadland, Kenneth Counts, 33, was acquitted of first-degree murder charges but was convicted of conspiracy to commit murder. He is serving an eight- to 20-year sentence.
Hidalgo Jr.'s ex-girlfriend, Anabel Espindola, was facing first-degree murder charges but took a plea in exchange for her testimony. She pleaded guilty to voluntary manslaughter with a deadly weapon.
Another defendant charged with murder, Deangelo Carroll, 28, is scheduled to go to trial next year.
John Arrascada, who represented Hidalgo III, said he plans to appeal the verdict. So will Dominic Gentile, who represents Hidalgo Jr.
"I believe in the innocence of my client," Gentile told the judge. "Hopefully, someday, this verdict will be changed."
Contact reporter David Kihara at dkihara@reviewjournal.com or 702-380-1039.