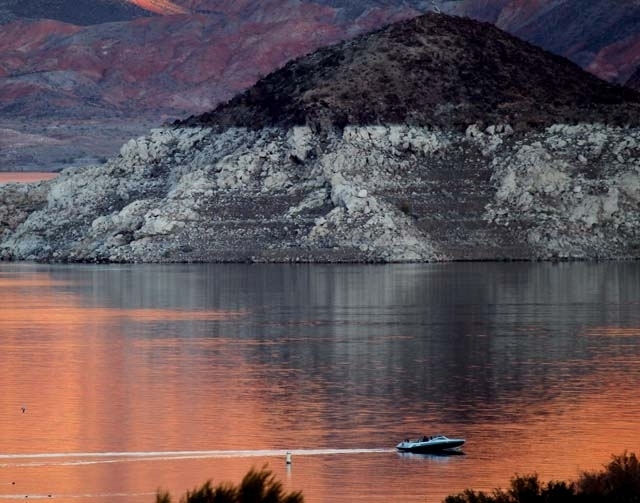 WASHINGTON — The budget sequester starts today, and $85 billion across-the-board cuts in federal services nationwide could affect Nevadans in dozens of ways in the coming months as they go to school, look for work, prepare to travel or even picnic at the lake.
Civilians working at Nellis Air Force Base are bracing for furloughs expected to start April 21. Nevadans who have been out of work for prolonged periods probably will see a 9 percent cut in their unemployment checks within the month.
State officials say they have enough money to make up for an estimated
$40 million in lost federal funds for a variety of programs, but that is only enough to cover through Sept. 30.
But if the sequester remains in effect through the summer, children in Clark County schools this fall may be seated in larger classes, particularly in low-income neighborhoods where government Title I money comprises a significant portion of school budget allocations.
"On Friday, when this kicks in, not everyone is going to see these cuts on Saturday," Sen. Harry Reid, D-Nev., said this week, adding that the cuts in the military will occur more quickly.
Even as the reductions take effect, there are many uncertainties. There also is fresh hope that with the arrival of the sequester, public anger might force Republicans and President Barack Obama and his Democratic allies to break yet another deadlock and reach agreement on alternative cuts or fresh taxes to offset the reductions.
Several programs are exempt from the sequester, most notably Social Security benefits, Medicaid and nearly all programs run by the Department of Veterans Affairs.
Also exempt are payments through Temporary Assistance to Needy Families, which is the modern-day welfare program. Also child care grants to states, child nutrition programs and children's health insurance programs.
In the meantime, here are some of the ways Nevadans might be affected.
AIR TRAVEL
As spring approaches, travelers at McCarran International Airport might experience longer lines at security checkpoints and delays in departures while federal workers might be forced into unpaid days off.
County aviation officials are expecting three federal agencies to be affected: the Federal Aviation Administration, the Transportation Security Administration and U.S. Customs and Border Protection.
"The information we have from our federal partners should sequestration take effect tomorrow is that 30-day furlough notices would go out. So we wouldn't have immediate impact, but we would probably see an impact in 30 days," airport spokeswoman Christine Crews said.
Crews said McCarran officials don't know what kind of flexibility the agencies will have in assigning furloughs to air traffic controllers and TSA checkpoint staff, but "we wouldn't want to see furloughs during peak travel hours."
Rep. Dina Titus, D-Nev., who sits on the House Transportation Committee, said she fears perceived travel hassles may already be hurting tourism. She was told by TSA that wait times for foreign visitors through Terminal E could climb to three and four hours.
MILITARY
About 500 federal employees for the Nevada National Guard will face furloughs in mid-April if automatic budget cuts kick in. About 125 of them work in the Las Vegas Valley, said spokesman Dennis Fournier, an Air Force major.
In Nevada, automatic budget cuts to the Defense Department based on furloughs of Air Force and Army civilian workers and reductions to the Nevada Army National Guard and Army Reserve operations in the state would translate to roughly $18.7 million in payroll and funding losses over the next seven months.
The Army cuts would be in addition to 1,462 Air Force civilian workers in Nevada who could expect furlough notices for 20 percent pay cuts. That translates to a combined $11.4 million pay loss for civilian Air Force workers, primarily at Nellis and Creech Air Force bases.
In addition, Air Force officials have said they probably would cancel the Red Flag air combat training exercise at Nellis in July and discontinue the Thunderbirds demonstration team schedule in April.
FEDERAL PARKS
Lake Mead National Recreation Area would remain open, but visitor services and maintenance of boat ramps and facilities would be affected by a 5 percent budget reduction, National Park Service spokeswoman Christie Vanover said.
She said lectures, the star-gazing program and programs for schools and youth at the park, which draw about 80,000 participants per year, could be terminated.
"We're also considering closing up to 50 restrooms or cleaning them less frequently," Vanover said. "Visitors may experience reduced hours at the visitors center, and the contact station at Lake Mohave may be closed."
It's unclear what effect budget cuts could have at the popular Red Rock National Conservation Area because Bureau of Land Management officials are still assessing how a 5 percent funding cut translates to services on public lands in Nevada.
SCHOOLS
The White House has painted a dreary picture of Nevada public schools after sequestration. It said a $9 million cut in federal funding would reduce the number of students it could serve by 14,000 and put the jobs of 120 Nevada teachers at risk.
But what would actually happen? Teacher layoffs? Larger class sizes? Or not much at all? And as federal cuts might not take effect until the new school year in August, there may be time to sort out the effects.
The governor's office is "working triple time" to understand and mitigate the effects of sequestration on schools, said James Guthrie, state superintendent of public schools.
To offset the cuts, Nevada schools — which receive a mix of state and federal funding — would have to find extra dollars elsewhere.
And Nevada lawmakers were considering a $135 million increase in state funding for K-12 schools over the next two years, as suggested in Gov. Brian Sandoval's budget. That would more than offset the automatic federal cuts of sequestration.
Sequestration would cut federal funding from pre-kindergarten, special education and Nevada schools with many poor students. And a record 63 percent of Clark County's 357 schools fit the "poor" category this year, relying heavily on federal Title I funding.
The state would lose $3.8 million in federal funding for 50 other teachers who work with special-needs children. Nevada's preschool program, Head Start, would be eliminated for about 300 children. About 1,150 fewer children would receive vaccines.
JOBLESS BENEFITS
While waiting for instructions from the Department of Labor, state officials are anticipating a 9 percent cut in the weekly checks sent to 23,000 Nevadans collecting federal extended unemployment benefits, according to Frank Woodbeck, director of the Department of Employment, Training and Rehabilitation. The labor department estimates recipients could lose an average of more than $400 in benefits through September, the end of the fiscal year.
Woodbeck guessed the cuts would take place in three or four weeks, the time needed to program new formulas into the payment system. The 37,000 people enrolled in the initial 26-week state-funded unemployment program will continue to receive full benefits.
STATE OF NEVADA
Gov. Brian Sandoval said the state has $16.7 million in rainy day and Health and Human Services funds that can be used to mitigate the potential loss of $40 million in federal funds between now and Sept. 30.
"We have a plan; we have prepared for this," said Sandoval, who added the effect of the cuts on Nevada would be gradual.
The list handed out by the governor shows the biggest hits would be on the poor and programs to help educate low-income children.
The Head Start education program is set to lose $5.4 million; the Women, Infants and Children Supplemental Nutrition Program, $2.6 million; Title 1 grants to local education agencies for low-income students, $5.7 million; Ryan White HIV/AIDS grants, $726,000; rehabilitation services, $1.33 million; and special education basic grants, $3.8 million.
Capital Bureau Chief Ed Vogel contributed to this report. Contact Stephens Washington Bureau Chief Steve Tetreault at stetreault@stephensmedia.com or 202-783-1760. Follow him on Twitter @STetreaultDC. Contact reporter Keith Rogers at krogers@reviewjournal.com or 702-383-0308. Contact reporter Trevon Milliard at tmilliard@reviewjournal.com or 702-383-0279.