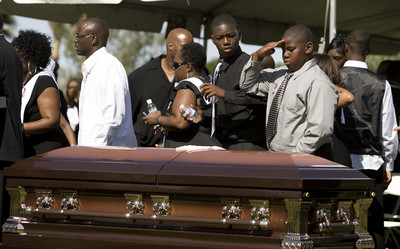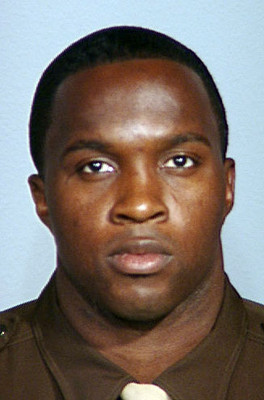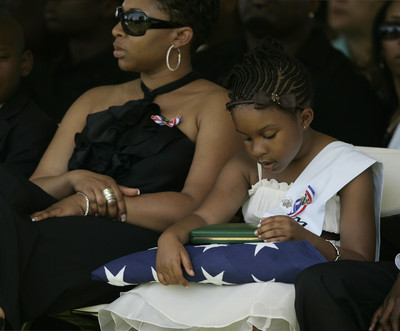 When Las Vegas police officer Stuart Bowman took the microphone to eulogize a fellow officer Friday, his words began with a whimper and a shake.
About 10 of his fellow Enterprise Area Command officers seated before him Friday at the International Church of Las Vegas jumped to the stage and surrounded him in a tight group hug.
Only then could he say goodbye to his friend and colleague, officer James Manor, who died May 7 in a collision while responding to a domestic violence call in the southwest valley.
"I want to thank anyone who helped mold him into the person I knew him to be," Bowman said through his tears. "Manor was about doing.
"He was always about 'Don't tell me what you're going to do, just do it.' "
Manor, 28, was doing his duty when he was struck by another driver near Flamingo Road and Ravenwood Drive.
Hundreds of officers and police officials from departments and agencies throughout the state gathered with Manor's family and friends Friday for a funeral and burial service.
The nickname for Manor that was repeated throughout the service — "Big Game" — matched the atmosphere of the funeral. The church was filled to capacity, the eulogies involved big sentiments and the police presence and motorcade to his final resting place were elaborate.
Tears and comforting hugs were present but so were several "amens" offered up spontaneously. The songs from the New Antioch Christian Fellowship choir, where Manor worshipped, bounced off the rafters.
Several friends and fellow officers shared memories, referring often to Manor's commanding stature, big smile and generous spirit. A photo montage aired on screens inside the church, showing snapshots of his life: on the football field for Clark High School, Weber State University in Ogden, Utah, and Eastern Michigan University; stealing a kiss from his daughter or fiancee; and, lastly, smiling in his beige police uniform.
Clark County Sheriff Doug Gillespie was among the speakers. He lauded Manor, who was two weeks shy of his second anniversary on the force, as a "fine young officer," a "cop's cop."
"I stand up at a lot of podiums and give a lot of speeches," Gillespie said. "But this is one I pray I never have to give.
"I've been asked several times throughout the last week about how a police department and family can manage through events like this, and I told them, and I speak from the bottom of my heart, it's through the support of the community."
Neighbors and onlookers lined Westcliff Drive on Friday to watch the throngs of officers enter the church. Afterward, they watched Manor's casket, draped in a U.S. flag, followed by a long police motorcade move toward his grave site.
Gayle Davis walked to the church from her home nearby and stood in the hot sun watching the procession. She dropped her shoulders and sighed as officers formed lines and saluted the casket.
"I don't even know him, but I feel like I know him now," she said. "This is the way they should do it for everyone. This will be the start of a good healing process for his family."
Calvin Darling, 45, was charged with drunken driving and failure to yield following the collision that took Manor's life. Blood tests show he was under the legal limit for being drunk and he was released from jail. But the charges still stand while an investigation continues.
The incident was referred to at the service by the Rev. Dr. Naida Parson, Senior Pastor at New Antioch.
"It'll never be OK that his life was cut short by an accident that a little patience could have prevented," she said.
"It'll never be OK to throw down a few beers and drive yourself home. It may be legal, but it'll never be OK."
But her overall message was meant to reassure mourners and lift their spirits. She said Manor "fought the good fight" and "kept his faith."
Manor's family, including his 10 brothers and sisters, mother and daughter, all wore red, white and blue ribbons and sashes embroidered with his name.
Manor's 8-year-old daughter, Jay'la, read a letter to her father at the service. Her parting words were from the Disney movie "Lilo and Stitch," and they were met with a roaring standing ovation.
"We have to be 'ohana,' " Jay'la said. "Ohana means family. Family means nobody gets left behind."
Contact reporter Maggie Lillis at mlillis@reviewjournal.com or 702-383-0279.
Video