Flash mob proposal caught on camera at Container Park
February 20, 2014 - 8:26 pm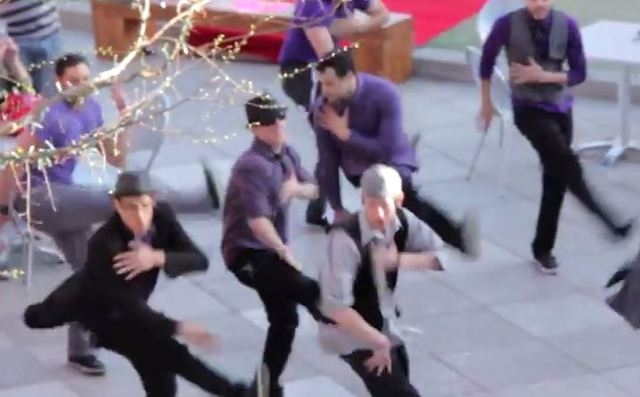 Las Vegas is nothing if not good at putting on a show.
Visitors to the Container Park on Wednesday were treated to just that when a flash mob broke out that ended in a marriage proposal.
Downtown Podcast caught wind of it shortly before it happened and posted video of the proposal to YouTube on Thursday.
The video shows a woman holding a heart balloon and being ambushed by mimes before a group of dancers catches her attention.
The dancers follow her to a different part of Container Park as amused onlookers take photos and video of the spectacle. The dancing continues as she is led to a red carpet, where her soon-to-be fiance is waiting.
She's overcome with emotion as he pulls out a ring and pops the question. Then she starts writing her answer on the balloon.
"She said 'yes'!" her fiance yells to applause.
Commenters on the video liked the idea of using downtown Las Vegas as the setting for such a heartwarming show.
"LOVE this! I love living in a community where crazy cool things like this happen," Krista Castellarin wrote.
Contact Stephanie Grimes at sgrimes@reviewjournal.com. Find her on Twitter: @steph_grimes