Former U.S. Supreme Court justice backs appointing judges
September 21, 2010 - 11:00 pm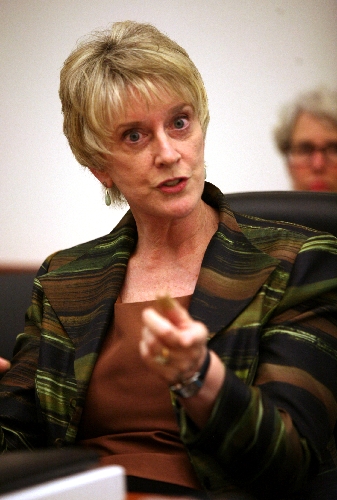 Count retired U.S. Supreme Court Justice Sandra Day O'Connor among those rallying to change voters' opinions on how judges take the bench in Nevada.
In Las Vegas on Tuesday to discuss a November ballot question that would give Nevada's governor the power to make initial judicial appointments, O'Connor compared Question 1 to what happened in her home state of Arizona 35 years ago.
"We had to convince voters," she said in front of scores of attorneys at the University of Nevada, Las Vegas. "They were not giving up their right to elect judges, so we had a lot of persuading to do."
O'Connor, who spoke to both the Review-Journal editorial board and members of the State Bar of Nevada, said the results have been "wonderful" since Arizona approved merit selection.
O'Connor, 80, did not ride into the sunset when she retired from the Supreme Court five years ago, 25 years after President Ronald Reagan appointed her as the first woman justice. Instead, she has traveled around the country advocating judicial reform. She hopes to see Nevada abolish contested judicial elections and adopt a merit selection system that would delay, not deny, voter input.
She and other prominent attorneys and business leaders in Nevada and across the country believe contested elections that require candidates and incumbents to do fundraising taint the judicial process.
Asked why judges should be vetted when other elected officials, such as U.S. senators, aren't, former Nevada Supreme Court Justice William Maupin said judges are the "last great barrier" between the power of the government and the citizenry.
Ruth McGregor, the recently retired chief justice of the Arizona Supreme Court, noted two of the three branches of government — the legislative and the executive — are representative forms of government that react to the people. But the judiciary is responsible to the Constitution and not to public opinion, she said.
Nevada is the only Southwestern state that still elects its judges, and efforts to move to a merit system have failed twice before. O'Connor hopes this third time is the charm.
She is joined in that desire by Maupin and two people who are at odds most of the time: Sen. Bill Raggio, R-Reno, and Assembly Speaker Barbara Buckley, D-Las Vegas. The Las Vegas and Reno chambers of commerce and the Nevada State AFL-CIO also support Question 1.
They've all united as members of Nevadans for Qualified Judges, a group that will spend the six weeks leading up to Election Day trying to, as O'Connor put it, do a lot of persuading. The primary concern for Nevadans for Qualified Judges is one of impartiality: How can a judge be expected to remain objective and professional when parties who appear in their court are also large campaign contributors?
Maupin, chairman of the group, said he believes voters fundamentally misunderstand the process behind Question 1. He said the key provision of the "cultural change" is the retention election, which would give voters the right to give candidates an up or down vote two years after they are appointed.
The governor, who will be given three candidates to choose from by a commission that will thoroughly vet candidates, will make the appointment. Judicial appointees will be face a retention election after two years. Judges now face election every six years. The meetings in which recommendations are discussed will be open to the public.
Additionally, voters will be provided with the judge's performance evaluation roughly six weeks prior to the election, in which they must garner 55 percent of the vote to stay on the bench. Two-thirds of the states have some form of merit selection.
Cam Ferenbach, president of the State Bar of Nevada, said the complaint he most often hears is that the public is denied the vote. The retention election simply changes when the vote is made, he said.
Ferenbach also said Question 1 only impacts District Court and Supreme Court races. Justices of the peace and municipal judges still would be directly elected.
Clearly, voters are capable of electing people who become great judges, Maupin said. But they also can pick horribly unqualified candidates. Merit selection isn't foolproof, he said, but statistics from other states where it exists strongly suggest judges who ascend to the bench in this manner are more likely to perform better than their elected counterparts.
Put another way, Ferenbach mentioned former Clark County District Judge Elizabeth Halverson, who was removed from the bench following a series of high-profile scandals. She was elected because she was a good politician, he said, with eye-catching campaign signs, a good website and lots of donations.
"Which of those things makes you a good judge?" asked Ferenbach.
Contact Doug McMurdo at dmcmurdo@reviewjournal.com or 702-224-5512 or read more courts coverage at lvlegalnews.com.
Former Supreme Court Justice O'Connor discusses Question 1
Former Supreme Court Justice O'Connor discusses Question 1 (full version)
RELATED COLUMN
JOHN L. SMITH: Sandra Day O'Connor makes case for appointing judges