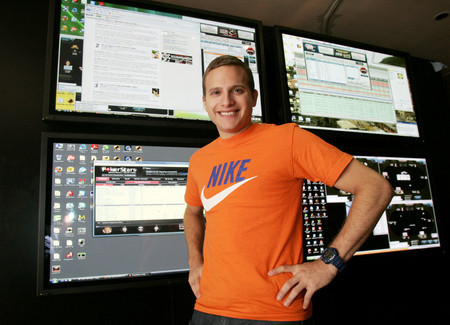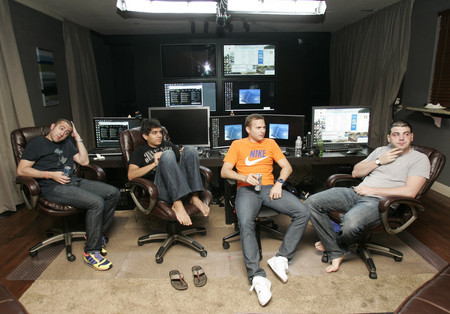 It's the kind of vintage Vegas neighborhood that veteran showroom headliners, casino executives and wiseguys call home.
But Rancho Circle's about to get a new TV close-up, thanks to four new kids on the block: the stars of G4TV's (Cox Cable Channel 340) new reality series, "2M2MM: 2 Months, $2 Million."
The 10-episode show, which debuts at 9 tonight, follows four 20-something guys who play online poker for a living and, in the process, live it up.
Their challenge: to earn $2 million in two months while calling a 10,000-square-foot Las Vegas mansion home.
But spending the summer in Las Vegas is nothing new for 25-year-olds Emil Patel and Jay Rosenkrantz and 26-year-old Brian Roberts.
The three of them, along with three other friends, did the same thing last summer, sharing a luxury home and hanging out during World Series of Poker season.
"Last year, there were six of us, but we cut the fat," says newcomer Dani Stern, 22, who joined the "2M2MM" cast after one of the resident poker aces opted for law school instead of reality TV.
The remaining regulars "needed a high-stakes poker player that we were friends with," Rosenkrantz says.
That turned out to be Stern. Like Rosenkrantz and Patel, he lives in the New York-New Jersey area. Roberts calls Austin, Texas, home.
G4TV may be springing for the quartet's swanky summer quarters, but the money they bet on poker is all their own.
How much money? Well, Stern won $548,000 at a World Series of Poker tournament in May. Alas, that was "before we started shooting" the week of June 1, he acknowledges, so it doesn't count toward the show's $2 million goal.
Not that they're worrying much about making the title amount. On this morning (or what qualifies as morning for guys who stay up all night), they're more concerned about a big bash coming up that night to celebrate the end of their two-month Vegas shoot.
In the kitchen, personal chef Robert Owens, who has cooked for the guys for more than two years, goes over the party menu (ranging from guacamole to hummus, falafel to tabbouleh), while his wife, Charlene, heads out to shop.
In the sprawling backyard, there's plenty of room for partying, with a life-size chessboard, a football field and a Slip 'N Slide — along with the obligatory swimming pool — on hand for diversion.
There's also plenty of room for partying in the living room, which seems especially cavernous because only a few furnishings — an old-fashioned jukebox stocked with CDs, a set of weights and, inevitably, a poker table — take up floor space.
Things are a bit more crowded inside the quartet's inner sanctum.
Dubbed the War Room, it's equipped with computers and giant-screen TV monitors. And it's where the show's foursome conduct their primary business: playing online poker.
An erasable board charts the team's winnings and losings.
"We make our bread and butter playing Internet poker," Roberts explains. "We come to Vegas to party and see friends."
And to film their TV series, which also features the kinds of pursuits — dodgeball, dune buggying, boating on Lake Mead, partying with Playboy Bunnies — "that 17-year-old boys worship," Rosenkrantz says. "I would geek out over this if I were 17."
The series, from Park Slope Productions, grew out of a six-minute 2007 documentary that aired on the Current cable channel and captured the players' camaraderie.
After all, playing "online poker is very isolated," Rosenkrantz explains. With the "2M2MM" format, "there are three other people who you're friends with, who are happy with you when you win a pot." Or commiserate with you when you lose.
The latter sort of empathy often occurs in the quartet's so-called Tilt Room, located in a garage, where the players — armed with baseball bats, sledgehammers and hockey sticks — take out their post-loss hostility on innocent watermelons, pottery and other easily bashed entities.
And whoever loses the most money every week has to undergo a humiliating (for them) and amusing (for everyone else) penalty stunt, as in the show's pilot (shot last October), during which Rosenkrantz went out for dinner costumed as a Smurf, complete with blue face paint.
Yet the show's producers don't seem to be as concerned with winning as the players are, Rosenkrantz notes. "They're more concerned with the friendships," he says.
After appearing in both the short documentary and the pilot, Patel, Roberts and Rosenkrantz had little trouble adjusting to life on camera.
Stern, however, "was pretty miserable the first week or two. I didn't like it, and then one day, something clicked." Part of that something was the realization "this is the most fun I'm ever going to have."
Even so, life on camera can be "a double-edged sword," Rosenkrantz says, recalling a moment when Patel was walking outside and stooped to tie his shoe. The action prompted this solemn report from a crew member: "Emil is tying his shoe."
Overall, "this is a summer I'm never going to forget," Rosenkrantz says. "But for my own sanity, I'm looking forward to a time I can walk outside and get a drink of water without a camera crew following me."
Contact reporter Carol Cling at ccling @reviewjournal.com or 702-383-0272.