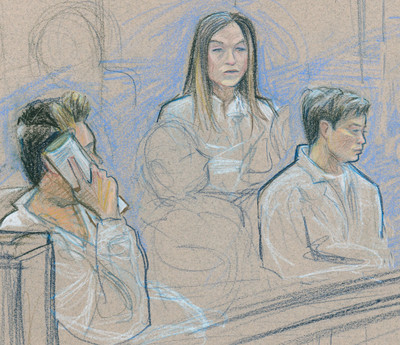 Nearly seven months after Las Vegas police and the FBI raided nine suspected neighborhood brothels, a federal grand jury indicted four people on racketeering and prostitution charges stemming from the two-year investigation called Operation Doll House.
In the first major wave of charges since the raids, federal prosecutors contend that Jia Hui Keyes, Christopher Smith, Xiao Hong Qi and Mouhua Liu brought women to Las Vegas from other states to work in their illegal brothels. Most of the women were Asians living in the United States illegally, authorities said.
They worked in run-down apartments and homes with mattresses on the floors and the stench of cigarettes, urine and feces in the air. They rotated among the brothel locations every couple of weeks, authorities said.
Las Vegas police initially said the roughly two dozen women working in the brothels had been forced into the business, but an FBI spokesman said federal investigators found no evidence of that.
"Doll House was a straightforward case," agent David Staretz said Monday.
"We don't have force, fraud or coercion. That's why we're not charging them with human trafficking."
Las Vegas police Lt. Dave Logue, who headed the investigation, did not return calls for comment on Monday.
Lauren Hermosillo, a Salvation Army social worker who helped the women, said some of them returned to their home countries, but she wouldn't provide more details.
At a Monday afternoon arraignment for the three defendants arrested last week, Assistant U.S. Attorney Eric Johnson suggested that Keyes, 42, was a key player in the operation who had made a living off prostitution since moving to Nevada in 2001.
Investigators discovered $486,000 in cash deposits to her bank accounts and another $281,000 in deposits to her 21-year-old daughter's accounts since 2003, and authorities found no legitimate source for the money, Johnson said.
Prosecutors said they intend to seize cash and properties tied to the ring.
"There's nothing to suggest she makes this money any way other than prostitution," Johnson said.
Keyes had told court officials that she was a stock investor who made $10,000 a month, Johnson said, calling such a claim a "gross lie."
She has a history of using aliases, fake Social Security numbers and bogus birth dates, and she represents a significant flight risk who probably would flee to Canada, where she is a citizen, Johnson said.
"I never do anything," Keyes told U.S. Magistrate Judge Lawrence Leavitt in broken English.
Keyes' lawyer, Kirk Kennedy, said she would stay in Nevada to resolve the case, but the judge ordered her held without bail, noting a "theme of deception" in her background.
Smith, who married Keyes in September 2006, appeared to run the day-to-day operations of the brothels while selling Ecstacy and methamphetamine to customers, Johnson said.
Despite his April arrest, Smith was caught running a different brothel in August, the prosecutor said in arguing for Smith's detention until trial.
Leavitt said Smith, 34, could be released if he paid $25,000 bail and installed a home phone line to allow electronic monitoring of him. The judge also wanted to verify Smith's jobs, which Smith said were working as a professional poker player and nightclub promoter.
Liu, 38, asked to postpone his detention hearing until Thursday so that he could finalize an agreement with lawyer James "Bucky" Buchanan.
"I didn't do this, your honor," Liu said through a Mandarin Chinese interpreter.
"I didn't do all the things you said."
The fourth defendant, Qi, remained at large.
Two other men implicated in the investigation were charged in state court.
Ping Sheng Chang pleaded guilty to attempted pandering and was sentenced to a suspended prison sentence and five years' probation.
John Gregory Keyes pleaded guilty to living from the earnings of a prostitute and also received a suspended prison sentence and five years' probation.
The federal indictment named John Keyes as an unindicted co-conspirator who opened his first brothel with Jia Keyes no later than 2004, three years after their 2001 marriage.
Their operation eventually grew to at least seven locations, including 4008 Calle Mirador, 3755 Arville St., 3474 Eldon St. and 4325 San Joaquin Ave., according to the indictment.
Review-Journal staff writer Lynnette Curtis contributed to this report. Contact reporter Brian Haynes at bhaynes@reviewjournal.com or (702) 383-0281.