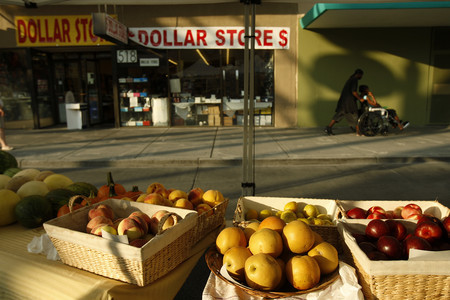 Every week, Debi Garrison drives seven hours from her farming community near Fresno, Calif., to deliver produce to several farmers markets in the Las Vegas Valley, ending her rounds at a newly established market on Fremont Street at Las Vegas Boulevard.
It's by far the slowest market she attends, and its newness and the Las Vegas summers have taken a toll. Of 17 vendors who were there when the market opened in May, only four were there Friday to maintain hope that the Fremont East entertainment district will eventually live up to its potential.
"As soon as it cools down, it'll build back up again," Garrison said.
The rest of the district, meanwhile, is waiting for the economy to heat up.
It was with optimism and fanfare that the Fremont East entertainment district was dedicated by the city of Las Vegas in August 2007. There were enough proposed projects at the time to line much of the three-block area: a live music venue; a retro burger bar; an art museum; a piano bar; a reception hall/comedy club.
The aim was a mix of unique, nongaming offerings relying on locals as much as tourists. That goal remains unfulfilled though, mostly because of the sour economy.
"I don't think we're exempt from all the things that are going on in the world," said Michael Cornthwaite, owner of the Downtown Cocktail Room on Las Vegas Boulevard and Fremont Street. "Las Vegas is going to feel it really deeply for a couple of years."
Of the planned new businesses, only the piano bar, Don't Tell Mama, has opened, joining the Beauty Bar, the Griffin and the DCR as downtown nightspots.
An old building at Fremont and Eighth Street has been demolished to make way for the Venue of Vegas, a planned reception hall and nightclub. Construction was set to begin when the economy went south, said co-owner Marty Olson.
"We're moving forward," he said. "It's just the timing was kind of bad. We're back at the drawing board again."
As with many other aspiring developers, the problem is securing finances for a project in Las Vegas, he said. Olson still projected optimism, saying that there are people interested in hosting events in a building like his, if he can get it built.
The other projects, for now, have gone by the wayside, leaving a highly visible stretch of Fremont Street with a mix of upscale bars, mid-range ethnic restaurants, empty storefronts, dollar stores and vacant lots.
"We are still pushing forward, doing the best that we can," said Las Vegas Councilman Ricki Barlow, whose ward includes the district. "We believe that at the end of the day when the economy improves, the district will be exactly what we set it up to be."
The City Council turned down a man who wanted to set up a new club at Fremont and Seventh Street recently in what was once the Take 1 Nightclub.
The proposal was for a Hispanic-leaning club called Gato 1, but council members didn't like the fact that the owner had no nightclub experience and that one of his associates allegedly stole checks from the business and bounced some.
"Whenever there's some hot issue in someone's background, I'm very cognizant of pumping the brakes a little bit in order to slow that process down," Barlow said.
"Should that applicant come forward with some partners or some investors that we feel comfortable with … I'll be willing to sit down and speak to him and find out how, in fact, he's going to make us all proud."
At Friday's farmers market, manager Steve Johnson said he was proud of the increased foot traffic he said he's seen between the Fremont Street Experience and the El Cortez hotel.
"We're trying to give this sector a shot in the arm," he said. "I'm not pleased with the amount of vendors, but I am pleased with the foot traffic.
"Every week, I get at least one to two locals who say, 'I'm glad you're here.' "
And he envisions a day when there will be enough activity for his market to stretch all the way from Las Vegas Boulevard to Eighth Street.
"It's got a lot of potential," he said.
Contact reporter Alan Choate at achoate@reviewjournal.com or 702-229-6435.