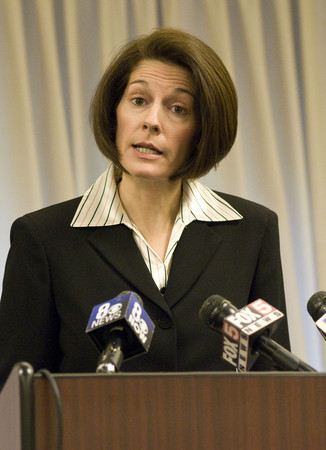 If Gov. Jim Gibbons is going to file suit to stop U.S. Sen. Harry Reid's health care reform bill, it will require help from Attorney General Catherine Cortez Masto.
And Masto says it is way too early to know whether she would file such a lawsuit.
On Friday, Masto said Gibbons doesn't have the authority to file a lawsuit without her help and that it is premature to even consider such a move because the health bill hasn't become law.
"No legal action can be taken right now because we don't have a final law," Masto said.
If the bill becomes law and Gibbons thinks it doesn't comport with the Constitution, Masto said she would look into the matter.
"I would be willing to examine closely for any constitutional flaws where there is some sort of negative impact for the state of Nevada," she said.
But Masto, not Gibbons, would determine if there was merit to such a lawsuit, she said.
"I'm the legal adviser. If we feel there is no ground to move forward, we are going to tell them that and we won't move forward," Masto said.
Masto cites Nevada Revised Statute 228.110 that states, "The Attorney General and his duly appointed deputies shall be the legal advisers on all state matters arising in the Executive Department of the State Government."
Retired State Archivist Guy Rocha said the law and the historic record appear to be on Masto's side.
"When it comes to filing a lawsuit, the chief legal counsel of the state handles that," Rocha said. "There's no way on God's green earth the attorney general is going to let that happen independently."
In a written statement Thursday, Gibbons said he intends to sue the federal government if the health reform bill becomes law.
"There is nothing healthy about Reid's health care plan; the first thing it will do is kill Nevada's economy," Gibbons said, "and then it will crush the working families of Nevada."
On Friday, Gibbons' spokesman Dan Burns said the governor is convinced the health reform bill will have unconstitutional elements.
He's particularly concerned about a deal Reid made with Sen. Ben Nelson, D-Neb., that would extend federal matching funds for Medicaid to Nebraska in perpetuity while most other states get the subsidy for just three years.
"The governor would be shocked if the attorney general wouldn't go to bat for the taxpayers for the state of Nevada. But that is certainly possible," Burns said.
After Nevada's three-year Medicaid subsidy expires, Gibbons says the cost to the state would be $613 million over six years, which he says would bankrupt the state.
When told Masto said the governor doesn't have authority to hire outside counsel to file a lawsuit on behalf of the state, Burns raised the possibility that Gibbons could seek attorneys who would do such work pro bono.
Both the U.S. Senate and House of Representatives have passed bills to overhaul the nation's health insurance rules. Reid is working to combine the two bills into one that can be sent to President Barack Obama to sign into law.
Reid says reform would give free preventive care to 328,000 Nevada Medicare beneficiaries and lower premiums for Nevada families by as much as $1,600.
Critics say it is an unnecessary government intrusion into the health care system that would increase taxes and decrease the quality of care.
Contact reporter Benjamin Spillman at bspillman@reviewjournal.com or 702-477-3861.