Gibbons still faces challenging campaign
February 26, 2010 - 12:00 am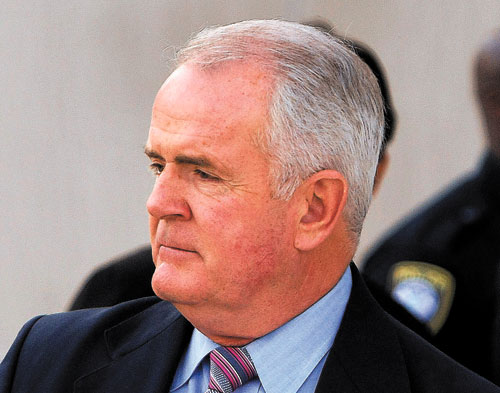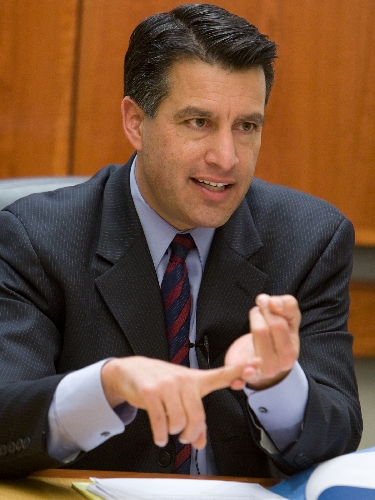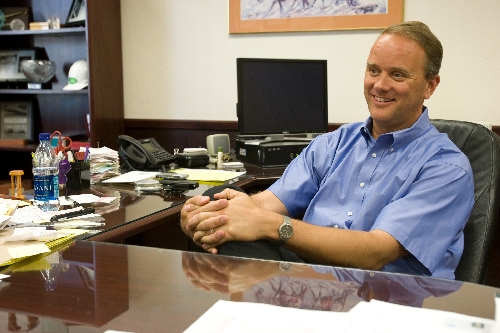 This week, Gov. Jim Gibbons found himself ambushed by a TV news crew at the Reno airport and under siege by lawmakers of both parties.
Despite the controversy, and perhaps partly because of it, some of his poll numbers have jumped, putting him within 7 points of Republican gubernatorial frontrunner Brian Sandoval, according to a new poll commissioned by the Las Vegas Review-Journal.
If the primary election were today, 37 percent of Republican voters would chose Sandoval, compared to 30 percent who would vote for Gibbons, the survey said. Former North Las Vegas Mayor Michael Montandon would get 9 percent of the votes.
That compares to a January poll that showed former federal judge Sandoval leading with 39 percent, Gibbons with 23 percent and Montandon with 7 percent.
The survey of 625 registered Nevada voters was taken Monday through Wednesday by Washington, D.C.-based Mason-Dixon Polling & Research. Its overall margin of error was plus or minus 4 percentage points. Questions concerning the Republican primary were asked of 300 Republican voters in Nevada; the margin of error was plus or minus 6 percentage points.
University of Nevada, Reno political science professor Eric Herzik expressed surprise "at that much of a gain" for Gibbons, especially after the governor was caught on videotape earlier this week lying about whether a woman with whom he has been accused of having an affair had accompanied him on a trip to Washington, D.C.
The governor's courting of "the most conservative wing of the party" appears to have paid off, Herzik said. "I think that's the boost he's gotten. For a third of the Republican party, no new taxes is the only thing they care about."
Gibbons "could be an ax murderer" as long as he doesn't raise taxes, Herzik said.
Such voters have become disillusioned with legislators and might have favored Gibbons for butting heads with lawmakers, Herzik said.
The governor has done plenty of that this week during the Legislature's special session to deal with the state's $887 million budget gap.
At one point he called on his staff members and department heads to abruptly stop testifying, saying they were being "badgered."
He fought with Senate Minority Leader Bill Raggio, R-Reno, after alleging Raggio didn't attend meetings the governor held in advance of the ongoing special session. And he ordered lawmakers to adjourn the session by 11:59 p.m. Sunday, threatening to disband it if they failed to do so.
Still, Herzik doesn't think Gibbons will gain much more in the polls.
"How much more can he milk that particular part of the party?" he said of conservative Republicans.
Pollster Brad Coker also doesn't think Gibbons will do much better in the long-run.
"Sandoval is still the clear front-runner both for the primary and general election," Coker said.
That's in part because Sandoval's unfavorable rating was only 7 percent, compared to Gibbons' 51 percent. Just 17 percent of voters had a favorable impression of Gibbons, while 33 percent thought favorably of Sandoval.
"Gibbons is at his highest peak right now," Coker said. "The undecided votes will go against him."
Mary-Sarah Kinner, a spokeswoman for Sandoval, said the campaign was encouraged by the poll results, especially because Sandoval "spent the last five years as a federal judge and completely out of politics."
"But we understand we have a great deal of work yet to do," Kinner said.
Meanwhile, things looked a little less rosy for Democrat Rory Reid.
If a general election were held today between Sandoval and Reid, who is chairman of the Clark County Commission, Sandoval would get 51 percent of the votes compared to 29 percent for Reid, according to the poll. In January, Sandoval's lead over Reid was 53 percent to 31 percent.
A contest between Reid and Gibbons would be much closer. Reid would lead 42 percent to Gibbons' 38 percent. In January, Reid led Gibbons 43 percent to 36 percent.
Reid spokesman Mike Trask said he was unconcerned by the numbers.
"Only one poll matters, and that happens the first week of November," Trask said. "We're confident that come the first week of November, we'll win."
Reid is the son of Senate Majority Leader Harry Reid, D-Nev., who was recognized unfavorably in the poll by 51 percent of voters, the same percentage as Gibbons.
Asked whether the younger Reid might have suffered in the poll because of his father's ratings, Trask said, "we'll leave it to the pundits and the media types to determine all that."
Contact reporter Lynnette Curtis at lcurtis@review journal.com or 702-383-0285.