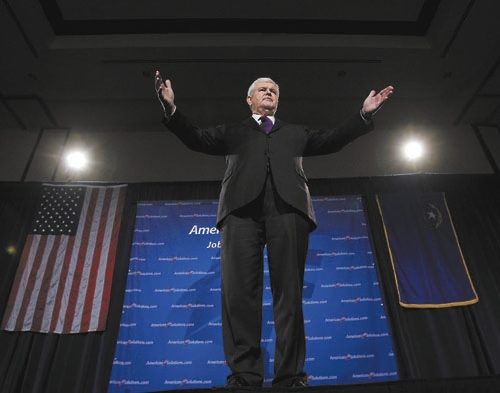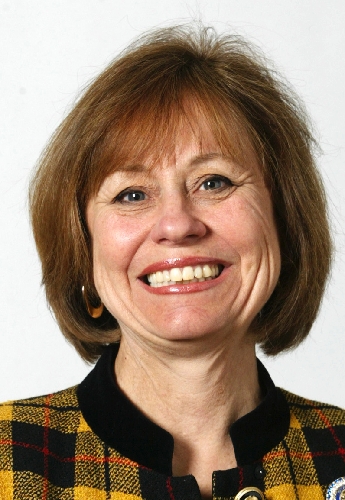 Campaigning for Sharron Angle in Las Vegas, Former House Speaker Newt Gingrich told a lively conservative crowd Thursday night that he had only one positive word that applies to Sen. Harry Reid: Goodbye.
Gingrich, who's flirting with a presidential run in 2012, said it's time to replace Democrats such as Reid with Republicans such as Angle who want smaller government, fewer taxes, less regulation and more free enterprise to create jobs.
"Nevada has become the sort of epicenter of this whole debate" between the two political parties about how to fix the economy, Gingrich said, speaking to more than 700 people in a conference room at the J.W. Marriott in Summerlin. "Senator Reid belongs to the school of 'I don't quite know how this all happened.' "
The GOP firebrand is touring the country to tout his ideas and was on his way to Iowa, the first caucus state. He said he is confident Angle can beat Reid if enough conservatives get out to vote to overcome the Democrat's deeply organized effort.
"I believe that she's going to win," Gingrich said. "The key to her winning is for each and every one of you to get your friends and family to vote. This isn't complicated. It's just hard."
The call to replace the Senate majority leader was made the day before President Barack Obama visits Las Vegas for the third time this year to energize Democrats who hoped to build a crowd of thousands by busing supporters to Orr Middle School Park.
Obama's stop today in Southern Nevada is part of a White House mission for Reid, who is in danger of losing his Senate seat to the Tea Party-backed Angle. She's neck and neck with him in the polls despite several campaign gaffes and Reid's attempt to portray her as outside the mainstream.
With early voting under way, Vice President Joe Biden rallied 500 supporters with Reid in Reno earlier this week. And first lady Michelle Obama is scheduled to come to Las Vegas on Nov. 1, just before Election Day, to try to preserve Reid's political career and Democratic control of the Senate.
Gingrich noted that the high-stakes Senate contest "has been a very harsh and a very hostile campaign."
"I was trying to think of a phrase that would be positive and happy that would apply to Harry," Gingrich said. "And it occurred to me we could just say the word 'goodbye.' "
The line drew sustained applause and laughter from the audience, who came as much or more to see Gingrich as Angle.
Angle spoke for 10 minutes before Gingrich's 30-minute speech. Both got standing ovations from the anti-Reid crowd.
Angle peppered her stump speech with repeated calls for Reid to "man up," a favorite challenge she first issued to the four-term senator during the candidates' only debate last week.
"We're saying tonight and on Nov. 2 and every day of early voting, 'Man up, Harry Reid,' " Angle said, drawing applause. "He needs to take some responsibility. He says it's not his fault for the economy. Man up, Harry Reid. He says there's no problem with Social Security. Man up, Harry Reid."
After praising Angle, Gingrich had tough words for the Obama administration, portraying it as socialistic for passing the health care law requiring Americans to buy insurance.
Gingrich also criticized Obama, Reid and House Speaker Nancy Pelosi, D-Calif., for not cutting taxes, for excess spending and for putting more government money behind programs such as food stamps instead of creating jobs so people can collect paychecks to buy groceries.
He compared Obama with President Jimmy Carter, who lost during hard economic times to Ronald Reagan, the GOP icon, under whose presidency the economy turned around in three years.
Gingrich said Carter's plan consisted of "redistribution of misery" by implementing programs such as rationing gasoline instead of letting market forces determine price and supply.
"One of Reagan's campaign lines was when your brother-in-law loses his job, it's called a recession," Gingrich recounted. "When you lose your job, it's called a depression. When Jimmy Carter loses his job, it's called a recovery.
"Any of you who would like to substitute Reid for Carter, there's a sort of parallel."
Gingrich said that the Democratic policies of Obama, Reid and Pelosi "are doomed to fail," and he urged the audience to get as many people as possible to vote "because the odds are pretty high that the people in this room are going to vote for us."
Obama is expected to deliver the same sort of message, that Democrats need to vote for Reid and give him and the president's economic program more time to lead to a rebound.
Ahead of Obama's visit, the Angle campaign launched a new TV ad that begin airing today to remind voters the president promised to fix the economy, which started to dive as President George W. Bush's second term wound down two years ago.
The 30-second spot replays a clip of then-candidate Obama from September 2008 citing dismal economic statistics and saying that Washington had not lived up to its responsibilities.
Then it fades to images of Obama and Reid embracing amid figures of Nevada's unemployment, foreclosure and bankruptcy rates that it said occurred after "Harry Reid and the president got to work."
"Welcome to Nevada, Mr. President," the ad ends.
Reid spent Thursday defending Democratic policies, including the $787 billion stimulus that critics have said hasn't turned around the economy quickly enough, especially in hardest-hit Nevada where the situation has grown steadily worse.
"I'm sorry the economy is as bad as it is," Reid said at a Las Vegas cafe, where he began his day by handing out free Obama rally tickets. "But I've worked hard" to create jobs, he added.
During an MSNBC interview from Henderson, Reid said he knows that voters are angry.
"People have been hurting. And I understand that," Reid said. "And it doesn't give them comfort or solace for me to tell them, you know, but for me, we'd be in a worldwide depression."
Republicans pounced on the comment and said that Reid recently claimed he had nothing to do with Nevada's record 14.4 percent unemployment rate.
"We look forward to Senator Reid explaining these comments to the voters of Nevada because if he was so busy saving the rest of the world, why didn't he take the time to help save Nevada as well?" said Brian Walsh, communications director of the National Republican Senatorial Committee.
During a Thursday campaign event at the Gritz Cafe in Las Vegas, Reid accused Angle of not wanting to discuss the issues, and he said she doesn't care about people either.
Reid said Angle has angered minorities, especially Hispanics who back him, by running anti-illegal immigration ads and by recently telling Latino high school students that some of them looked Asian during a bungled effort to talk about multiculturalism.
"She's done everything she can to marginalize minorities," Reid said. "People are afraid of her."
Reid's re-election hopes come down to whether he can turn out his supporters in full force, from minorities to unions to the business establishment that appreciates his power. With that in mind, he has been wooing Hispanics, Asians, African-Americans and union workers every day.
More than 50 African-American backers greeted him at the nine-table Gritz Cafe.
Jacket off, Reid helped serve eggs and chicken-fried steak beneath a wall poster of Obama that read, "Our destiny is not written for us, but by us."
"The only tip I got was a kiss," joked Reid, who was followed around by a TV camera crew recording the image of Reid, the incumbent, fighting for his political life by urging his longtime supporters to vote.
Contact Laura Myers at lmyers@reviewjournal.com or 702-387-2919.
Newt Gingrich speaks at event with Sharron Angle