Gingrich urges 'clean break'
September 26, 2007 - 9:00 pm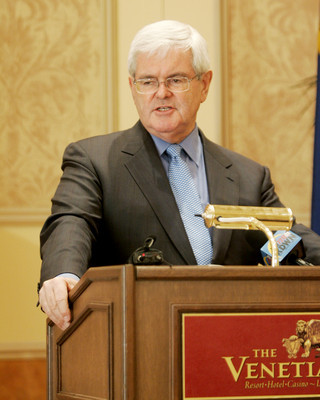 It was a sweeping call for change, a fiery demand for courage and honesty, a lecture on unity and shared ideals, a meditation on history with little modesty about his place in it. It was laced with heady promises and catchy slogans. A topical screed topped it off.
At a moment when speculation about his possible presidential candidacy is in mid-crescendo, Newt Gingrich gave what could have been an awfully convincing campaign speech.
"I am fed up with the excuses we're given for spending too much, doing too little and not being honest about reality," the former House speaker told the audience at a conservative think-tank fundraiser in Las Vegas on Tuesday night.
"I think we need to have the moral courage, and frankly the psychological courage, to understand that politics is not a game," he said. "I am for a clean break. I agree with Nicolas Sarkozy, the new president of France, that we are in a time when doing more of the past won't work. This is not an attack on George W. Bush, it is an attack on the entire system."
Gingrich, the architect of Republicans' 1994 takeover of Congress who retains rock-star status among partisans, is not running for president, not yet. But he has made it clear that he has not decided not to, and that he believes he knows what the winning candidate ought to be saying.
His speech at the Nevada Policy Research Institute Tuesday came on the eve of a political ideas conference that the sometime professor and novelist will host starting Thursday and continuing Saturday. Called "American Solutions," Gingrich's conference promises to present new approaches to issues such as immigration, education, taxes and the environment.
Gingrich's appearance here coincided with mounting Republican restlessness and increasing speculation about whether he will step in.
Earlier this year, he said he would consider it if no one else was saying what needed to be said. That must be the case because now he says he might do it if his chief adviser can collect $30 million in fundraising pledges in about three weeks.
That would be an enormous political feat. But Gingrich says he cannot ignore the fact that people keep asking him to run.
In his address, Gingrich excoriated the Republican Party, saying it has become part of a broken system contrasting with the ideal of free enterprise that the party claims to embrace.
Noting that the GOP lost all six competitive Senate races last year, he said, "They earned it. Unless we're ready to have an honest conversation about the future of conservatism, about the future of the party, we're going to wallow in incompetence."
Gingrich said a "shallow, stupid and ignorant" class of political consultants has created a false sense of division, turning a conversation that should be about "red, white and blue" into "red versus blue."
He laid out a menu of seemingly simple propositions for which he said there was broad support: "Levees should not break. … Bridges should not fall. … Students should learn. … Borders should be controlled. … Congress should control spending."
On Iraq, he said, "We should have the courage to say that American troops should not be bogged down in a long war — that we are engaged in a strategy for victory."
Gingrich credited himself with what he said was the most recent of eight major "waves of change in American history," beginning with the American Revolution and continuing through the Jacksonians, the New Deal, the Reagan revolution and his own Contract With America.
"I am confident that … you will see an astonishing sweep in which the American people will once again decide to organize themselves against their elites and change their country," he said.
Government at all levels, he said, is "a stunningly obsolete model … which would survive in the private sector for about three minutes. And yet we tolerate it. Why?"
Gingrich ended with a strong condemnation of recent speeches by Iranian President Mahmoud Ahmedinejad at Columbia University and the Washington, D.C., National Press Club.
Citing the Iranian regime's record on human rights and support for anti-American violence in Iraq, he said, "I find it very unacceptable that the United States allowed him to have any access other than allowing him to go from the airport to the United Nations to his hotel room, and back to the U.N."
Giving Ahmedinejad a forum, Gingrich said, conferred upon him a veneer of acceptability when instead he should be a universal pariah.
Gingrich has passion, but does he have presidential hopes?
In his news conference, the adamant idealist was pragmatic. He said he did not want to run a vanity campaign.
"I think you're very foolish to go out with a very tiny amount of money and try to communicate complex ideas in a very short campaign," he said.
"And so," if $30 million doesn't come through, "I would focus then on the second annual American Solutions workshop, which will be in September 2008."