Golden Gate's shrimp cocktail special a sign of times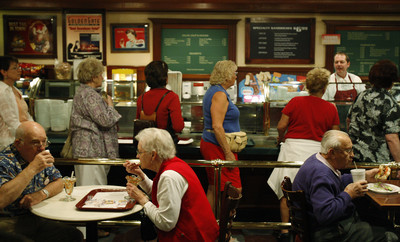 A downtown casino's signature shrimp special just took a giant kick in the tail.
After almost 50 years of selling chilled crustaceans in spicy sauce for less than a dollar, the Golden Gate hotel and casino has raised the price of its shrimp cocktail to $1.99.
"It's certainly not a gasoline-type gouging we're going for here," said Scott DeAngelo, vice president of gaming and marketing for Golden Gate. "It remains a good value, and it remains damn good."
Food and Beverage Director Michael Storm blamed the price increase on a sharp rise in the cost of cold-water shrimp, which have been seriously overfished in some parts of the world.
However, a few of the regulars were ticked off about the new price, even after learning they could still get the shrimp for 99 cents if they joined the casino's free player's club.
But Ben Norgress has no complaints.
The retired welding inspector has stopped in at the Golden Gate about twice a week for the past 18 years to play the slots and a little blackjack. Each visit usually involves a meal at the shrimp bar and deli, where his order rarely changes: a draft beer, a bowl of soup and two shrimp cocktails.
Price hike or not, it's still a good deal, the 86-year-old said.
"Everything has gone up. What can you do? If I objected to any of it, I'd just stay home and die."
The 106-room Golden Gate is Las Vegas' oldest hotel-casino. The building opened in 1906 as the Hotel Nevada, its address 1 Fremont Street.
DeAngelo said a group of Italian-Americans from San Francisco bought the property in 1955. One of them, a man by the name of Italo Gheli, is credited with bringing the shrimp cocktail to the Golden Gate, and Las Vegas as a whole, in 1959.
Since then, the casino claims to have sold more than 30 million of the cocktails, which cost 50 cents until 1991 and 99 cents until last week.
DeAngelo said the cocktail itself hasn't changed much over the years. It still is served in what he called a "tulip sundae glass."
"And we don't use any filler in the glass," Storm added. "It's all shrimp."
Then there is Golden Gate's special cocktail sauce, a secret recipe that has been closely guarded for decades. All Storm would say about that was, "It's a proprietary sauce. It's our sauce."
The Golden Gate sells an average of 2,000 shrimp cocktails a day, Storm said. On a busy Saturday during the summer, the total can easily top 3,500, with a line of customers winding through the small, buffet-style restaurant and out onto the casino floor.
Wyman and Vicki Dobson ate their first Golden Gate shrimp cocktails during a trip to Las Vegas in the late 1960s, back when they still sold for 50 cents.
The Renton, Wash., couple has been coming back ever since.
At lunchtime on Friday, they munched their $1.99 shrimp while listening to the Golden Gate's piano player peck out the theme from "Chariots of Fire."
"Isn't this better than losing money?" Vicki Dobson asked.
Wyman Dobson said the special at the Golden Gate is well-known back home. Mention you're headed to Las Vegas, and people probably will tell you to go downtown and "have the dollar shrimp," he said.
Even at the higher price, Vicki Dobson said, the cocktail is still worth recommending.
"With the way everything else is going up, this doesn't surprise me," she said. "It's still good, and it's still a nice size."
As broad economic indicators go, the cocktail increase is a little hard to read. It took effect on April 26, a Saturday. The following Monday the Dow Jones Industrial Average fell more than 20 points, though market analysts were slow to blame decline on the rising cost of crustaceans.
When asked what he makes of the higher-priced cocktail, University of Nevada, Las Vegas economist Keith Schwer chuckled and said, "Hard times hit Vegas."
The truth is, though, it could be worse.
If adjusted for inflation, a shrimp cocktail that cost 50 cents in 1959 would cost $3.65 today, said Schwer, who leads UNLV's Center for Business and Economic Research.
By comparison, the 99-cent shrimp cocktail from 1991 would cost $1.55 today based on inflation alone.
"So they're still below the 1950s price in real terms, but they've raised it slightly above what the 1991 price would be in real terms," Schwer said.
His only regret is that he and his finance buddies didn't go to the Golden Gate to eat some shrimp before the increase. "Economists like to pay the lowest price," he said.
If the shrimp cocktail wasn't Golden Gate's signature attraction already, it could be soon.
The hotel-casino is about to launch a marketing blitz, complete with T-shirts, touting the special as "the best tail in town." The cartoon shrimp pictured on the women's T-shirt sports lipstick, rouge, eyelashes and a beauty mark.
The Golden Gate also has launched a cross-marketing promotion with the Las Vegas 51s in which fans receive a free shrimp cocktail if the minor league team scores 10 or more runs in a game. That has already happened three times this season, including twice last weekend.
Even at $1.99, Storm insists the Golden Gate will continue to lose money on every cocktail it serves, though he declined to say how much.
"It's not a profitable venture," he said. "But it's something we're known for. It's the best in town."
Contact reporter Henry Brean at hbrean @reviewjournal.com or 702-383-0350.