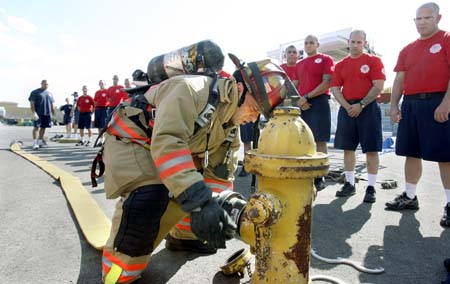 Las Vegas, for now, has the funds to pay for union contracts that have been hammered out or altered in light of a grim economic picture, Mayor Oscar Goodman said Thursday.
But only for now.
"We've probably managed our funds better than anyone else in the entire valley, to be quite frank with you, and we can't say that we're broke," he said.
"We have money. They know we have money. We're going to pay them. If we run out of money, and that's coming soon, then we're going to sit down and renegotiate."
Goodman subsequently rephrased, saying contracts would need to be revisited if the city faces a "dire situation."
"Once we can't afford it, we'll have to take other kinds of action," he said.
The alternative to waiting, he said, is to go into arbitration over a contract, something he said is risky for the city and demoralizing for employees.
Las Vegas and other local governments should have been taking different kinds of action all along, said Knight Allen, a professional investor who monitors government spending.
"This is the pigeons coming home to roost after years and years and decades of disconnecting the public sector compensation from the private sector," he said.
When contracts come due, there should be major reductions in raises, medical benefits and retirement contributions employees are eligible for. And the Las Vegas firefighters contract due for consideration by the City Council next week should be turned down, he said, although he doubts that will happen.
"I think government officials are genuinely frightened about the government unions going up against them," Allen said. "How did we get into a situation where the unions have so much power over the process?"
Since the beginning of the economic slowdown, city officials have said personnel costs, which make up most of the city's operating budget, are going to outstrip the city's ability to pay.
There were worries about that happening even without the bad economy, which has led to slashed city revenues as valley residents lose jobs, spend less and leave homes behind. Nevada's unemployment rate reached 12 percent in June, the state has been at the center of the foreclosure crisis, and tourism and construction have suffered greatly.
Union officials have said many times that they're willing to work with the city to meet budget constraints, but that the burden is on the city to show that contracts can't be met. They also have made the point that public sector workers are taxpayers and consumers too, and play an important role in being stable members of the community.
Three of the city's four unions agreed to reopen their contracts with the city to reduce how fast wage and benefit cuts were growing. The Las Vegas City Employees Association and the city's detention center workers agreed to a smaller annual cost-of-living increase, and the city marshals reduced the amount allocated to them for uniform cleaning and equipment maintenance.
City firefighters were due to negotiate a new contract this year and on Tuesday ratified an agreement that this year would eliminate a cost-of-living wage increase, which has been about 3.5 percent in previous years. In return, the city would pay more for firefighters' retirement and health care benefits.
Annual step raises for firefighters were not affected, meaning many workers are still eligible for annual raises of 4 percent to 6 percent. However, Goodman said Thursday that many city firefighters have reached the top of their pay scale and are ineligible for step increases.
The cost-of-living cut saves $1.5 million, but the benefit increase costs $1.75 million.
"The bottom line is, they recognized that we are in challenging times," Goodman said. "I'm glad that we haven't gotten into a fight with them. I think they do a great job for us, and I want them to be happy."
Allen, the critic, had a different view of what the unions conceded to in their contracts: "They're not giving up anything. It's make believe."
The city's bottom line isn't looking very pretty.
The tentative 2010 budget introduced in May shows expenses in the general fund, which pays for city operations, growing 4 percent to $533.1 million. Revenues, meanwhile, were projected to drop 2.5 percent compared to the previous year, to $496.8 million. There are reserves to make up the difference.
The biggest component of that increase is $18.2 million for contractually required wage and benefit hikes, according to city documents.
Those numbers were prepared before the firefighters' new contract was put forward, so the increases might be slightly smaller.
The city did not provide updated budget numbers that were requested Wednesday and Thursday.
The fact that the shortfalls are materializing should be enough to get all public workers to recognize that the current system of annual raises and generous benefits isn't sustainable, Allen said.
"There are 167,000 private sector workers in Nevada who are not happy," he said, referring to unemployed state residents. "The police and firemen shouldn't be skipping off to the Big Rock Candy Mountain.
"They should be a little unhappy, too. At least they have a job."
Contact reporter Alan Choate at achoate@reviewjournal.com or 702-229-6435.