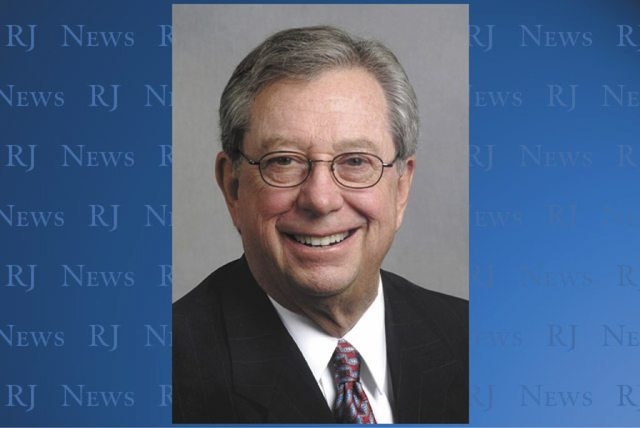 The group of Republicans gathered atop the velvety ridges of Yucca Mountain. It was a clear day, with perhaps 120 miles of visibility in every direction, from Telescope Peak to Skull Mountain, Jackass Flats to the Paiute Mesa.
"Welcome, everybody, to the crest of Yucca Mountain," the group's tour guide, geologist Chris Lewis, said. "You guys couldn't have picked a better day."
The 60 members of the state Republican Party's Central Committee would hear a lot of good things about Yucca Mountain during a day touring the Mojave Desert site where the federal government has been trying for decades to create an underground storage site for the nation's most lethal nuclear waste.
The Bush administration appointee in charge of the project, Ward Sproat, flew in from Washington, D.C., just to talk to them. A Republican former Nevada governor who spent years lobbying for the nuclear industry in favor of Yucca Mountain, Robert List, urged them to open their minds to the project that most Nevadans oppose.
For many years, Nevada politicians regardless of party have taken a hard line against the proposed repository, depicting it as a dump that would put the state's citizens and environment in danger.
Is the state's Republican Party now going soft on Yucca Mountain?
The Dec. 12 trip certainly suggested that's the case. But making the Republican Party the party of Yucca holds political risks at a time when the GOP, in disarray and coming off historic election losses, can hardly afford to take them. Within the party, some are quietly worried about recent moves that, in making the party more receptive to Yucca boosters, has the potential to alienate Nevada voters.
Nevada Republican Party Chairwoman Sue Lowden, who helped arrange the Yucca tour earlier this month, said she keeps an open mind on Yucca Mountain. In setting up the tour, Lowden said she merely wanted Central Committee members, who control the state party structure, to have an opportunity to get all the facts.
"I'm for opening a dialogue," she said. "I see no harm in talking about the future of the storage of our nuclear waste in this country."
To project foes who see the issue as closed and opposition as the only course, however, reopening the debate can only mean giving ground to those who have been trying for decades to get Yucca Mountain built and opened and filled with 77,000 tons of radioactive material.
"I realize there are people who criticize even us taking this trip," Lowden said. "But why wouldn't you experience this for yourself before making up your mind? I challenge anyone to see this for themselves. Clearly a lot of thought, a lot of years of research, have gone into this. It's not a fly-by-night operation. It's something that's taken decades to come to this point."
Sen. John Ensign, R-Nev., said the Yucca Mountain Project is not long for this world. Asked whether it was politically smart for his party to sponsor a trip there, he was surprised and a bit dismayed to hear about the excursion. He said it was not just a matter of politics.
"I would caution anybody against going there and showing their support for it, because it's not a good thing for our country," Ensign said. "Good policy usually makes good politics, not all of the time, but most of the time, and in this case they do coincide. It's a boondoggle. It's a $100 billion boondoggle."
RADIOACTIVE ISSUE
The idea of storing spent nuclear fuel rods underground in the Nevada desert wasn't always politically radioactive in Nevada. In the 1970s, the state Legislature even passed a resolution in favor of the idea.
In 1987, Congress passed the legislation that's been dubbed the "Screw Nevada Bill," which singled out Yucca Mountain as the designated final resting place for all that nuclear material, the byproduct of commercial nuclear power plants nationwide as well as military nuclear uses.
In the 1990s, as the U.S. Department of Energy pushed ahead with plans for the repository, activists and the nuclear industry fought a battle for public opinion in Nevada. The anti-Yucca forces won, as state policymakers and an overwhelming majority of Nevadans concluded that the project was unfair and unsafe.
But with 39 states eager to get nuclear waste out of their backyards and into Nevada's, the project proceeded, and in 2002 Congress and President Bush authorized the Energy Department to move forward.
Then-Gov. Kenny Guinn, a Republican who had stepped up the state's anti-Yucca strategy with lawsuits and a beefed-up state agency, exercised his right to veto the decision. But Congress immediately overrode the veto.
Guinn said he never saw Yucca Mountain as a partisan issue.
"I don't know that it's ever a partisan issue anytime 70 to 80 percent of people are against it," he said. "There were certainly people on both sides, for it and against it. There were just a lot more against it than for it."
Nevada governors and the state's congressional delegation have long opposed Yucca as a matter of course, if not gospel. The current governor, Republican Jim Gibbons, is no exception.
"I am opposed to Yucca Mountain at any cost because of its danger to the people of the state of Nevada and its inability to deal with the future of nuclear energy," Gibbons said in a recent interview.
But some believe the time may be ripe to reopen the debate and try again to win Nevadans over to the project. Chuck Muth, the Carson City conservative activist and rabble-rouser, a year ago started the Center for Yucca Facts, saying he believed Nevadans were not getting both sides of the story.
A nuclear industry trade group was a sponsor of a conference Muth put on earlier this year — the Nuclear Energy Institute supplied tote bags for attendees — but Muth says that is not why he supports a more open discussion of the issue.
"I'm of the position that we need to hear both sides," said Muth, who attended the Republican Yucca tour. "People have only been told the one side of the story. The other side of the story is buried, if it's told at all. We're trying to correct that."
Muth argues that at a time when the state faces dire revenue shortfalls, Nevada could get hundreds of millions of dollars from the federal government in exchange for accepting Yucca rather than continuing to fight it. And when you put the choice that way, opposition may not seem so monolithic.
A recent Muth-sponsored poll of Clark County residents asked whether they would rather have $500 million in tax hikes or $500 million a year from the federal government to accept Yucca Mountain. That's a false choice, of course, but two-thirds of those polled said they'd rather have the Yucca money.
Pro- and anti-Yucca advocates disagree on whether the potential for Nevada to benefit from Yucca actually exists. Yucca opponents call any negotiation for benefits an implied assent to the project, and say a price can't be put on safety.
"A lot of people in Nevada are saying, 'What'll you give us?'" said List, the Republican former governor and former nuclear industry lobbyist, who led the GOP members on their recent tour of the site. "And the government is saying, 'Well, what do you want?' So there's been kind of a standoff."
List, who served one term as governor from 1979 to 1983, began working for the Nuclear Energy Institute in 2001, becoming the highest-ranking Nevada politician to take the pro-Yucca position. (List's contract with the institute ended over the summer; he now represents four rural Nevada counties in the federal Nuclear Regulatory Commission's evaluation of the project license application.)
When List took the position, he was quickly derided as an industry shill.
"I took a lot of heat," he recalled. "Political folks said, 'That's not the politically correct position to take.'" It may not be, but it's time to look at this thing objectively. I think more and more people are coming around to that way of thinking."
THE SALES TOUR
Though it was billed as a fact-finding mission, the Republican Central Committee's Yucca Mountain field trip was largely aimed at making the case in favor of the project to an influential audience.
The group's two tour buses left from the Energy Department's Summerlin office on a Friday morning. As they traveled the 100 miles up U.S. 95 and into the Nevada Test Site, the city fell away and the rocky, scrub-dotted desert opened up.
The first stop was the site information center, a linoleum-floored room lined with aging posters addressing different aspects of the site ("Operating a Repository," "Radiation," "Environmental Studies," "Cultural Resources Studies"). A stopped clock hung over an ancient soda machine on one wall, next to a topographical map.
Nye County Commissioner Gary Hollis, a grizzled man with a beard dressed in a jean jacket with a leather collar and a cowboy hat, addressed the group.
"Politically, my board is neutral, but personally I am in favor of Yucca Mountain," Hollis said. "I think it is the only place to do this. … All these myths you hear, we're just going to put them in a hole and cover them with six inches of gravel."
Sproat, a former nuclear industry executive, has directed the Yucca Mountain program for the Energy Department for the last three years. On his way out with the changing of the guard in Washington, Sproat welcomed the group and thanked them for coming to the site to learn about it firsthand.
Sproat gave a detailed talk about the history of the project, the licensing phase it is currently in, and the legal, political and economic battles it faces.
Led by Senate Majority Leader Harry Reid, D-Nev., whose name is guaranteed to elicit boos in a room full of Republicans, the Nevada congressional delegation has sought to starve the program by cutting off its federal funding. One result of the budget cuts has been a reduction in tours of the Yucca Mountain site.
"When you go up to the top of the mountain today, I'm going to ask you to take your Nevada had off and put your U.S. citizen hat on," Sproat said. "Ask yourself, if we as a country can't put our spent nuclear waste here, where the hell can we put it?"
List was next to speak, wearing a silver belt buckle with a turquoise inlay in the shape of the state of Nevada.
"I think our job as Nevada citizens is to carry this message to our elected officials," List said. "Frankly, a lot of them have painted them into a corner."
He mentioned Ensign, Gibbons and Rep. Dean Heller, R-Nev., in that category.
"You have got to tell them that you will give them political cover. Tell them you will give them the support they need to open their eyes."
List said most states would be begging the federal government for a public works project of such huge proportions.
"This can spur our economy beyond belief," he said. "We're at a time in this state where our economic situation is dire. The state budget is more than $1 billion short. This project could put us on a solid basis, frankly, into the next century."
The group applauded.
After a technical lecture from a site scientist, the group split up for a tour of the tunnel into the rock face of the mountain and a trip down unpaved roads to the top of the mountain. Gathering at the 4,946-foot summit, the Republicans posed for a photograph.
On the way back down, Nye County Republican Party Chairwoman Fely Quitevis turned around in her seat. Seeing the site and hearing the case for it, she said, had changed her thinking.
"Before, I was against it, but now I am for it."
As the group settled in for the long drive home, a survey was distributed with questions about the impact of the tour.
"My understanding of nuclear waste has increased." "I am confident that nuclear waste could be stored safely in Yucca Mountain." "I am confident that nuclear waste could be transported safely to Yucca Mountain."
Results of the questionnaire weren't released, but several people could be seen checking boxes on the sheet: "Agree."
The next day, at the Central Committee's semi-annual meeting in Las Vegas, a member asked Gibbons why the state wasn't more supportive of Yucca Mountain. As the meeting broke for lunch, Lowden announced that the group would be addressed by a young Republican activist who had been on the tour and changed his mind about Yucca as a result.
A DEAD PROJECT?
With a president about to take office who says he is opposed to Yucca Mountain and with Reid commanding ever more power in Washington, some say the debate over the project is about to become moot.
"Yucca Mountain is going away anyway," Ensign said. "It's just a question of whether it dies a real slow death or a faster death. … The bottom line is, Yucca Mountain is literally on a ventilator and the writing is on the wall. It's in hospice care right now."
The nuclear industry and the Energy Department disagree. Sproat points out that the project is the result of an act of Congress, and now that it is in the regulatory pipeline it has momentum to keep going.
Eric Herzik, a political scientist at the University of Nevada, Reno, said coming out in favor of Yucca Mountain is not a good idea for any politician who hopes to have a future in elected office in Nevada beyond a safe Republican district. But as energy costs and concern about the environment have risen, nuclear power has gained favor as a source of clean energy.
Because of that, Herzik said, attitudes toward Yucca Mountain may have shifted a bit, even in Nevada. But now, Herzik said, it is Democrats who have promised to stop the project who face political risks if the issue lingers.
"Barack Obama has promised that Yucca Mountain is gone. So what are the Democrats going to say if a couple of years from now it hasn't gone away?"
Contact reporter Molly Ball at mball @reviewjournal.com or 702-387-2919.