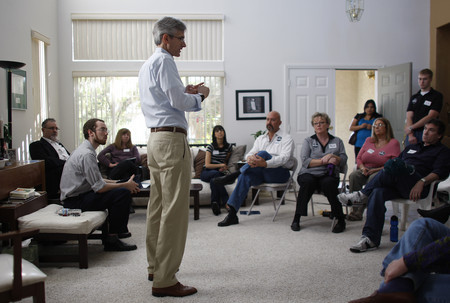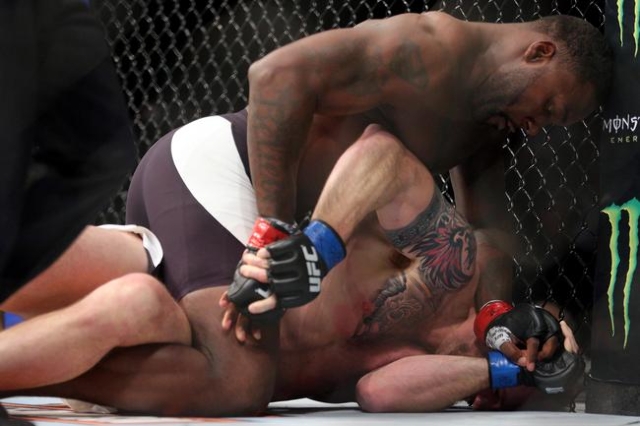 It was billed as a house party, but Rory Reid and the roughly 20 others who showed up at Audrie Dempsey's suburban Las Vegas home on a Saturday in mid-November weren't there for hors d'oeuvres and cocktail chatter.
They were there to talk turkey about how to make Reid, an attorney and chairman of the Clark County Commission, the next governor of Nevada.
"I'm not just here to meet you and have some cold cuts," Reid said during the two-hour gathering. "I'm here to recruit you."
Reid is projected to raise $3 million by mid-January, which makes him the presumed fundraising leader among the candidates.
Eleven months before the general election, Reid and leading Republicans — embattled incumbent Gov. Jim Gibbons, former federal Judge Brian Sandoval and former North Las Vegas Mayor Mike Montandon — already are positioning themselves to win the job.
This far out, candidates are cultivating the grass roots by meeting with voters and contributors one-on-one or in small groups. Television commercials and large rallies will come later.
For now, Reid is the lone Democrat seeking the office.
The Republicans, on the other hand, are positioning themselves for a June primary election that Montandon consultant Steve Wark says could be won with as few as 45,000 votes if all three candidates stay in the race.
All of the candidates are waiting to learn whether Las Vegas Mayor Oscar Goodman will shake up the race by joining the field as an independent.
A survey last week of Nevada voters by Mason-Dixon Polling & Research Inc. showed Goodman with the support of 35 percent of voters, followed by Sandoval with 32 percent and Reid with 24 percent in a hypothetical matchup. There were no scenarios that showed Gibbons or Montandon winning the race, according to the poll commissioned by the Review-Journal.
TAPPING OBAMA SUPPORTERS
Reid is going house-to-house to encourage supporters of presidential candidates Hillary Clinton and Barack Obama to recruit family, friends and neighbors to support his campaign for governor.
Dempsey agreed to host an event for Reid after housing volunteers and staffers for Obama during the 2008 campaign cycle.
"I was not political at all until the last election," Dempsey said. "Early on, I decided on supporting Obama. I had people staying here. I had 30 people on the floor making phone calls."
Reid, the son of the highest-ranking politician to come from Nevada, U.S. Senate Majority Leader Harry Reid, is seeking to establish his own identity with voters.
The house parties give the younger Reid a forum to showcase his 30-page policy handbook that covers ideas on job creation, technology, alternative energy and infrastructure.
The events are low key and give people a chance to seek in-depth responses to questions.
"We don't feel government policy is addressing the people's needs," said Kelly O'Neill who, along with her husband, John O'Neill, attended the event at Dempsey's house.
She said the politics of personal persuasion helped Obama move from obscurity to the Oval Office, proving that an early supply of passionate supporters can pay dividends on Election Day.
"If a change is going to be made, it has to be made at this level," she said of the neighborhood event.
John O'Neill, who in past elections has voted for Republican George W. Bush and Obama, described how small events with a candidate impact potential voters.
"It makes it personal," O'Neill said.
Almost as important as the interaction between Reid and potential voters is the work by his staff to keep in touch with folks who attend.
Staff members ask attendees to fill out cards pledging to support Reid. The information is added to a database for future communication.
Campaign manager David Cohen, who was Obama's state director in Nevada, calls the pledge cards "the currency" of the campaign.
"What we are attempting to do here is to walk people down a path of commitment," he said.
POLLS GOOD TO SANDOVAL
Reid has been fundraising and campaigning since November 2008. Now Sandoval, who stepped down from a federal judgeship in September to join the race, is trying to catch up.
Sandoval is traveling the state and privately reaching out to Republican donors at "meet-and-greet" events in homes and businesses. Some donors Sandoval is targeting contributed to Gibbons in 2006.
"I think he is upfront, very honest," Norm Dianda, founder of Q&D Construction in Sparks, said of Sandoval.
Dianda was a $10,000 contributor to Gibbons in the last cycle, but says he is open to supporting Sandoval or another candidate.
Of Gibbons, whose approval rating was just 19 percent in last week's poll, Dianda said, "I still think of Jim as a good person; that is about all I can say."
Sandoval made a big splash jumping into the race. In the hours and days following his announcement, Sandoval was on front pages and newscasts in Las Vegas and Reno.
A poll last month said he would beat Reid 49 percent to 34 percent in a two-way race.
Complimentary statements about Sandoval by Harry Reid when Sandoval was appointed to the bench will make it more complicated for Rory Reid's campaign to craft criticism against Sandoval.
Still, Sandoval has made missteps. Most recently he failed to submit a questionnaire to be considered for an endorsement by the Nevada State Education Association.
The association board, which represents nearly 30,000 education professionals, interviewed Reid and Montandon and ultimately endorsed Reid.
"It is unfortunate he chose not to participate in the process," said Lynn Warne, the association's president.
Board members were surprised Sandoval couldn't meet the deadlines, because he has been endorsed by the association in the past.
Sandoval said he eschewed the interview because he wanted to get more feedback from education professionals before committing to positions.
As for contributions, Sandoval said he is pleased with progress so far and intends to raise "more than my opponents."
MONTANDON STARTS SMALL
Like Reid, Montandon has been campaigning more than a year and wants to leverage small meetings with supporters into broader support.
Unlike Reid, Montandon hasn't raised millions of dollars. Wark said he expects that by year's end Montandon will have raised more than $500,000.
"We knew that fundraising was going to be tight," he said.
The Montandon campaign has been hosting as many as six meet-and-greet events per week for months, Wark said.
The events have contributed to a database he says helped the campaign identify and gain a commitment from 55 percent of the voters needed to win the primary, according to Wark.
"We've got a heck of a database of volunteers that are assisting the campaign in their list of friends and family," he said. "The most effective way of winning a campaign is through organization, not through media buys."
All of the announced candidates have campaign Web sites. Reid has several staff members. Sandoval recently hired a communications director. Montandon has Wark as a consultant. Gibbons has a campaign manager, Robert Olmer.
Although there's speculation Gibbons won't run if he can't raise significant contributions, Olmer says Gibbons is in the race to win but won't move into "high gear" until next year.
"The governor has been pretty busy running the state. That's his focus at the moment, not so much the campaign," Olmer said.
Candidates will report fundraising results to the secretary of state Jan. 15, and the filing period is in March.
With the election 11 months away, it is way too early to forecast a winner, said Fred Lokken, a political science professor at Truckee Meadows Community College in Reno. And with unemployment above 13 percent and the state facing a potential budget shortfall of $2.5 billion in 2011, all the candidates should expect to face plenty of voter angst during the campaign.
"Each of them in their own way has kind of a hard sell," Lokken said. "Voters are probably going to be far more skeptical than usual, because things have changed so dramatically since 2006."
Contact Benjamin Spillman at bspillman @reviewjournal.com or 702-477-3861.