Governor plans to tour state this summer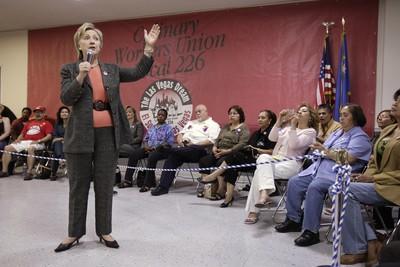 Gov. Jim Gibbons is going on the road.
In a bid to get to know the state workers he's been in charge of for six months, and possibly to reconnect with the rural voters who have always been his most reliable base, Gibbons plans to tour Nevada sometime this summer, he said in a recent interview.
"I'm going to be traveling and visiting state government offices around the state, telling them first of all thanks for the hard work they do, and asking and finding out what their needs and expectations are for them to do their job better, explaining what my view is for state government, and seeing how we can work better together," Gibbons said.
That way, he said, when he drafts his next budget proposal, in 2009, "not only does the state of Nevada and the agencies know who this governor is and what his ideas are, but they're all working for the same goal, the same ideas, the same general objective, and that is to operate as efficiently (as they are able) to provide the essential services for the people of the state of Nevada," he said.
Gibbons staffers said the trip is tentatively scheduled for late July.
It hasn't yet been decided whether the tour will take place aboard Gibbons' old campaign bus, the giant mobile home with "JAG2006" plates and Gibbons' picture on the side.
NO SNOW FORECAST
White House Press Secretary Tony Snow apparently couldn't stomach the prospect of coming to Las Vegas.
Snow was scheduled to speak at the Las Vegas Chamber of Commerce last week, but the planned event was canceled the same day it was announced.
A visit to the Review-Journal editorial board was also planned and unplanned.
The White House said medical reasons were behind the cancellation.
Snow had an intestinal blockage, unrelated to his cancer, White House spokesman Blair Jones said. He was hospitalized and treated and is back at work.
According to Congress Daily, Snow had also planned to stop in Denver and Los Angeles on the trip out West to talk to business groups about immigration reform.
There were no plans to reschedule.
CLINTON AND CULINARY OK
Although Hillary Clinton, like most of her rivals for the Democratic nomination, has come to kiss the ring of theCulinary union in recent weeks, its parent union had a bone to pick with the New York senator last week.
The presidents of Unite HERE and the Teamsters wrote a joint letter to Clinton expressing concern about the fact that the public relations firm run by her top strategist, Mark Penn, was working on an anti-union campaign at the uniform rental company Cintas.
The 60,000-member Culinary Local 226 in Las Vegas is the largest local of Unite HERE, which was formed in 2004 when the former Union of Needletrades, Industrial and Textile Employees merged with the Hotel Employees and Restaurant Employees International Union.
Culinary political director Pilar Weiss said the matter wouldn't be a deal breaker for the union's consideration of Clinton.
"We're not anti-Hillary Clinton. She has a great labor record," Weiss said. "The hope was that with highlighting the connection, she would keep true to her record and think about trying to remedy that."
Clinton spokesman Howard Wolfson said Penn had never personally done any work on the Cintas campaign, and in response to the letter, "going forward, he has formally and officially recused himself from working on any management-side labor relations work."
BARLOW UNSUPPORTED
In the wake of last week's municipal elections, much of the postgame buzz is focusing on the conspicuous silence from Clark County Commissioner Lawrence Weekly.
In the race to fill the Ward 5 seat he held since 1999, Weekly never made a public endorsement, despite the fact that Ricki Barlow had served as his ward liaison. Barlow beat attorney Stacie Truesdell 54 percent to 46 percent, in a race that was closer than many Barlow supporters had expected.
Multiple sources say Weekly's silence has led to friction between the two. Weekly did not respond to requests for comment. When asked why Weekly didn't endorse him, Barlow said, "I can't answer that. You'd have to ask him."
One source who followed the election closely said: "It seems like he (Weekly) did it out of some sort of mutated sense of self-preservation. He didn't want the negatives, somehow, to be passed along to him."
The Ward 5 council race became nasty, as Truesdell's campaign brought up an old domestic violence suit and questioned Barlow's residency. (Barlow also fired his share of shots.)
Barlow denied there was a rift between the two. "Not on my part. By no means," he said. As of Friday, though, Barlow said he had not talked to Weekly since he won the election.
Weekly, who was appointed to the County Commission when Yvonne Atkinson Gates stepped down, will face election next year.
NEVADAN ON NOTICE
When Henrietta Holsman Fore of Las Vegas was nominated for a State Department post two years ago, she ran into tough questioning from Sen. Barack Obama, D-Ill.
Now Fore has been proposed by President Bush to head the Agency for International Development, and Obama again is signaling he intends to scrutinize the nominee.
Obama and Sen. Robert Menendez, D-N.J., are seeking information about the recruitment, retention and promotions of minorities at the State Department, where Fore has served as Undersecretary of Management, the chief personnel director.
The senators sent Fore a letter last Wednesday also asking about her outreach to minority organizations and black and Hispanic members of Congress.
Obama briefly held up Fore's 2005 nomination while he probed reports that the businesswoman was accused in 1987 of making racial remarks to a class at Wellesley College, her alma mater. Fore said her comments were misinterpreted, and that she was committed to workplace diversity.
Obama "will carefully scrutinize Ms. Fore's record over the past two years at the State Department," his spokesman Ben LaBolt said. A confirmation hearing before the Senate Foreign Relations Committee has not yet been scheduled.
Review-Journal writer David McGrath Schwartz and Stephens Washington Bureau Chief Steve Tetreault contributed to this report. Contact political reporter Molly Ball at 387-2919 or MBall@reviewjournal.com.