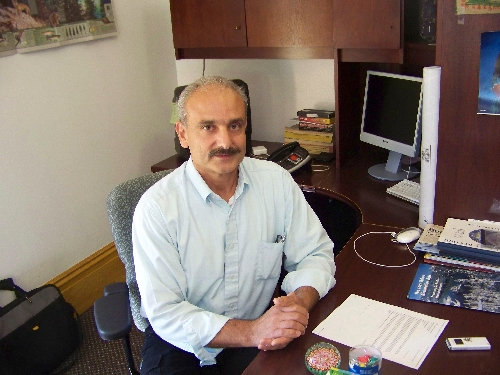 CARSON CITY — Independent candidate for governor Eugene "Gino" DiSimone insists people don't call him a kook when he talks about his pie-in-the-sky $6 billion plan to bail out state government and put the unemployed back to work.
"What I hear is, 'Wow that is innovative.' And the next thing they say is, 'How come we never heard of you?' "
Once he moves into the Governor's Mansion, political newcomer DiSimone, 52, of Reno, plans to pick up an extra billion dollars a year for the state by letting people drive as fast as 90 mph on selected roads for a $25-a-day fee.
He intends to collect another $3.6 billion by paying all state debts in gold or silver. Nevada would buy the minerals from companies willing to give a 20 percent price discount — and then mint its own coins.
In exchange for giving the state the discount, the state would give the land where the precious metals are found to the mining companies.
DiSimone also believes he can secure another $1.4 billion by pulling the Nevada National Guard out of the control of President Barack Obama and order it to round up illegal residents.
With illegal residents gone, the state would not incur the expense of providing emergency hospital care and public school education for them, now required by a U.S. Supreme Court decision and federal law.
Controlling illegal immigration is solely a state responsibility, according to DiSimone.
Once Nevada is rid of them, plenty of jobs will be left for the state's unemployed, he said.
"The laws are on our side," he said. "We haven't had a governor with a backbone. Governors have wishbones. They need backbones."
Nevada has had its share of unusual candidates.
In the 1991 Democratic primary for U.S. Senate, Harry Reid decisively beat a candidate named Almighty God.
In 1962, Gene Austin, a singer whose fame once rivaled that of Bing Crosby, ran a distant second to Grant Sawyer in the Democratic primary for governor.
But an independent never has been elected governor.
A couple dozen in­dependents have been elected to the Legislature, but none since 1941.
DiSimone is an intelligent man. He has a bachelor's degree in electrical engineering and a master's in executive management. He is a product development manager at GE Energy in Douglas County.
In normal times, DiSimone said, he would have sought a seat in the Legislature and tried to work up the ranks. But with the state in a mammoth recession, he felt compelled to run for governor so he can implement his plan to return Nevada to prosperity.
If he cannot turn the Nevada economy around in 24 months after winning the governorship, he pledges to resign.
But DiSimone never has run for any public office or argued with a Legislature. He was a Republican until after the 2008 election, when he switched to the Independent American Party, thinking that meant he was an independent, not a member of a minor political party with its own set of principles. He registered as a nonpartisan, or independent, on Jan. 6.
DiSimone said he has raised about $30,000 in contributions, but the official report he filed in late May with the secretary of state showed just $11,000 in contributions. That's below the $50,000 threshold that the Review-Journal and KLAS-TV, Channel 8 decided is the minimum needed before a candidate's name will be listed on gubernatorial polls they conduct.
In contrast, Democratic gubernatorial candidate Rory Reid reported at the end of May that he had raised $984,000 since the beginning of the year. He reported in January he raised $2.65 million in 2009.
Republican gubernatorial candidate Brian Sandoval reported in late May raising $901,000 since the beginning of the year. He reported in January raising $903,000 in 2009.
DiSimone won a spot on the November ballot through a state law that allows people to run as independents as long as they collect at least 250 signatures on petitions.
People who know about highways, the military and mining question whether DiSimone can deliver on his promises.
Scott McGruder, a spokesman for the Nevada Department of Transportation, said his agency would be concerned about the 90 mph speed limit because of safety concerns. Roads such as U.S. Highway 95 between Reno and Las Vegas are narrow and not conducive for high speeds, he said. There also might be problems for police in trying to enforce two sets of speed limits, he said.
"What if you get pulled over four times driving to Elko?" Magruder asked. "That kind of defeats the purpose of paying $25 to speed."
DiSimone's speed plan would rely on electronic transponders that would let police know whether the speeding motorist has paid in advance the $25 fee. He assumes 170,000 people, or about 10 percent of the state's drivers, would pay the speed fee every day.
"Everybody speeds," DiSimone said. "I go 90 to 95 (on Interstate 80) to Elko. I will go 90 to 95 to Vegas (on U.S. 95) except through towns or where the known speed traps are."
Alan Coyner, administrator of the Nevada Division of Minerals, said DiSimone's plan to buy gold at a discount would not generate near the amount of money he expects, if his idea is legal in the first place.
"About two-thirds of the gold in Nevada comes from private land," Coyner said. "What would be the incentive for these companies to give us a discount?"
Capt. April Conway, a spokeswoman for the Nevada National Guard, said at least one governor has tried to take control of the National Guard from a president, but lost in court.
"Federal law trumps state law," she said. "It is true the commander of the National Guard while in state service is the governor. But once federalized, the National Guard is owned by the president as commander in chief."
In 1957, Arkansas Gov. Orval Faubus used the Arkansas National Guard to block moves by nine black students to desegregate Central High School in Little Rock. President Dwight Eisenhower then federalized the Arkansas National Guard and also sent in the Army to ensure the students could attend the school.
DiSimone said he was allowed three minutes to explain his plan to a panel of legislators in Reno in February before the special session.
While he said he isn't going to pick a fight with them, he also insisted that as governor he would not need legislators' approval to carry out most of his plan's provisions.
"Governors report to the people, not the Legislature," he said. "The governor is the CEO. He is responsible for the economic health of the state. He has to create jobs and improve the economy. I come from Silicon Valley. It is the duty and responsibility of the CEO to increase value to the shareholders."
Besides turning around the state, DiSimone intends to challenge Obama's right to be president.
Unlike the so-called "birthers" who allege Obama was not born in Hawaii — though officials there say his birth certificate is genuine — DiSimone said Obama cannot serve because his Kenya father was not an American citizen.
"I am going to challenge his eligibility through an executive order," he said. "The governor wants proof of his eligibility to command my National Guard. He has five days to respond. If he doesn't, I will order them home immediately."
Eight years is long enough fighting wars in Iraq and Afghanistan, he said. The troops are needed to control illegal immigration in Nevada, he said.
"Most people don't know I exist," DiSimone said. "But the reception I get at small gatherings is overwhelming. If people knew about me, yes I would win."
Contact Capital Bureau Chief Ed Vogel at evogel@reviewjournal.com or 775-687-3901.
Find details of gubernatorial candidate Eugene DiSimone's plan to turn around the state at ginoforgovernor.com.