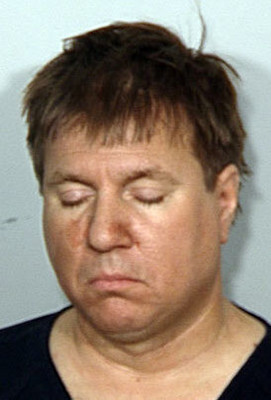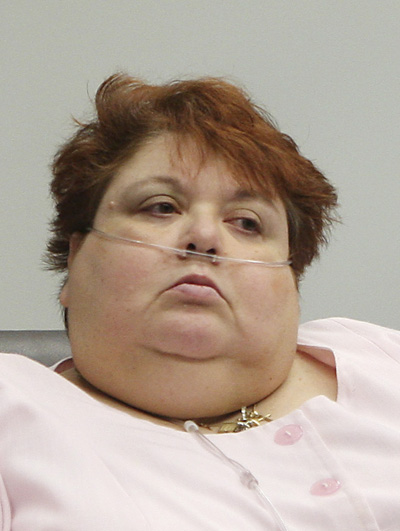 The husband of suspended District Judge Elizabeth Halverson is known as a devoted, patient spouse who would cook, shop and dote on his wife.
But on Thursday night, Edward Halverson, 49, was arrested and accused of beating the judge with a frying pan.
Nicknamed "Evil Ed" by his wife, Edward Halverson was booked into the county jail on charges of attempted murder and battery with a deadly weapon and battery with substantial bodily harm.
Elizabeth Halverson, who suffered severe injuries to her face, chest and upper arms, was taken to Sunrise Hospital and Medical Center, authorities said.
A hospital spokeswoman declined to comment on her condition, but Las Vegas police said her injuries were not life threatening. News reports stated that she underwent surgery and was in the intensive care unit at the hospital.
"It looks like she had been beat pretty bad," one police officer said.
Elizabeth Halverson, 50, called 911 at 10:50 p.m. to report that her husband was beating her and threatened to kill her, according to the Metropolitan Police Department.
Police went to her house, in the 4100 block of Oxnard Circle near Tropicana Avenue and U.S. Highway 95, and forced their way inside. Edward Halverson was in the living room, and Elizabeth Halverson was found in a rear bedroom with severe injuries.
The judge told officers that Edward Halverson beat and tried to kill her, police said.
Police took a shirtless Edward Halverson into custody and transported the judge to the hospital. Edward Halverson is scheduled to appear in Las Vegas Justice Court on Tuesday morning.
Elizabeth Halverson's motorized scooter, which she uses to get around, sat in the driveway of the house early Friday morning. A bloody towel was in the scooter's seat.
Richard Isitt, a neighbor and family friend of the couple, said he was shocked to learn that Edward Halverson was accused of beating his wife. He and others who know the Halversons described Edward Halverson, an electrician with an extensive arrest history, as a dedicated husband. Isitt said Edward Halverson drove his wife everywhere because she can't drive and even served subpoenas on people in her behalf.
"We thought he was going for sainthood," he said.
Isitt, who has known the Halversons for three years and worked on Elizabeth Halverson's 2006 campaign, said the couple didn't fight and he never heard yelling or screaming from their house.
"They were as normal as everybody else, to tell you the truth," he said.
The Halversons have been married since 1998.
Edward Halverson has been arrested at least 10 times in three states on various charges, including cocaine possession and breaking into a house and stealing property. He was convicted of three felonies and served almost four years in prison.
Elizabeth Halverson has been suspended from the bench since July 2007 but continues to draw her $130,000 yearly salary.
She recently lost her primary bid for re-election and is facing a Nevada Judicial Discipline Commission complaint that she mistreated staff, slept on the bench and improperly communicated with jurors.
She is awaiting a commission decision on whether she will be permanently barred from the bench.
People who worked with the judge testified at her August disciplinary hearing that Halverson screamed and berated her husband on the telephone in front of staff and said she wanted to kill him.
Her former bailiff, Johnnie Jordan, testified at the hearing that she said to her husband, "I am sick of your ass. Why don't you do what the (expletive) I tell you."
Elizabeth Halverson has said she suffers from diabetes, Crohn's disease, congestive heart failure and the after-effects of cancer. She has difficulty walking and uses oxygen to assist her breathing.
Michael Schwartz, a Michigan-based attorney who represents her in the disciplinary complaint, said he was stunned to hear that Edward Halverson was being charged with attempted murder.
"I am absolutely bewildered," he said. "I have no reason to believe anything like this would occur."
Isitt said he too was surprised by the arrest because Edward Halverson was so attentive to the judge's needs. Edward Halverson took time off from work to care for her and even cut back socializing with others because of her, he said.
"There's no doubt in my mind that he loves her to death," Isitt said. "I wouldn't have been able to put up with it."
Contact reporter David Kihara at dkihara@reviewjournal.com or 702-380-1039.