December 25, 2008 - 10:00 pm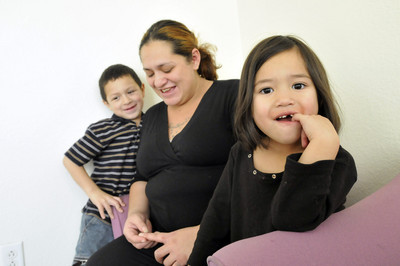 At a time when so many seem to be losing so much — jobs, homes, even hope — Nonami Perreira feels especially lucky this holiday season to have a real home for the first time in many years.
"Every day I wake up and thank God," said the 32-year-old, who is seven-months-pregnant.
Last week, Perreira sat in the living room of her new three-bedroom apartment and watched her two young children playing nearby.
"This is such a treat for us to actually have a home we can call our own."
Last year, Perreira was homeless for the holidays, often sleeping at Jaycee Park, and missing her children, who were in foster care.
This year, Perreira's 4-year-old daughter, Thaleah, greeted visitors to the apartment on Simmons Street near Lake Mead Boulevard with a giddy "Santa coming!" while 6-year-old Ronald stood by, smiling sweetly. The family's living room has three donated miniature Christmas trees and a few wrapped presents.
It all seems like a miracle to Perreira.
"It's wonderful," she said. "It's a gift from God. I'm so proud and happy."
Perreira, a native of Hawaii, has been homeless off and on since she was 16 years old. She landed in Las Vegas almost five years ago with Ronald, who was then just a baby. The two moved in with another family member. That didn't work out, Perreira said, and she and Ronald soon were sleeping in abandoned cars.
Perreira then gave birth to Thaleah. She also fell in with the wrong crowd and wound up hooked on drugs. It got harder and harder to feed Ronald and Thaleah.
"On the street, I couldn't care for them," she said. "I was surrounded by druggies. I didn't want that for them."
Perreira turned the children over temporarily to a family member, who in turn gave them to county Child Protective Services, Perreira said. The two youngsters ended up in foster care.
Meanwhile, she was arrested and sent to jail on drug-related charges. Instead of being bitter, Perreira was grateful. Nearly two years in jail gave her the opportunity to kick her drug habit.
"I prayed to God: I need to get locked up to get my kids back," she said.
Perreira was released, with nowhere to go, in August 2007. Dreams of eventually getting her kids back helped her stay straight, even while living on the street, she said.
Perreira was homeless until May, when a local organization that helps the homeless found her a place to stay. In August, Ronald and Thaleah came home, and the three moved into their new, spacious apartment shortly before Thanksgiving.
"They're happy to be home," Perreira said of the children, who were playing with their still wrapped Christmas presents. "This is the first time I've had a home I feel comfortable in, where I don't have to worry."
Today, Perreira has been drug-free nearly three years. She undergoes regular drug testing as a condition for keeping custody of her children and receiving help from Straight from the Streets, a local homeless outreach program that pays most of Perreira's rent. She knows she has to stay clean for Ronald, Thaleah and the new baby girl she's expecting in February.
"It's a good challenge," she said. "I never thought I'd be this healthy, this clean."
Perreira's dream is to eventually be self-sufficient, to be able to support her family on her own.
"I'm going to try to make it on my own," she said. "Not 'try' — I'm going to do it. I'm going to work, to get on my feet."
She's waiting until after the baby is born, though, to actively search for a job.
"Nobody wants to hire a pregnant lady."
The new baby's father lives out of state, she said.
Eventually, Perreira would like to attend culinary or nursing school. But she'll take just about any job she can get.
"I don't want to live off somebody else my whole life," she said. "God gave me this chance; I'm going to take it."
Contact reporter Lynnette Curtis at lcurtis @reviewjournal.com or 702-383-0285.